Our Services
Air conditioned
Bar
Coffee machine
Golf
Iron
Meeting room(s)
Car park
Swimming pool
Private bathroom
Restaurant
Wheelchair access
Internet access
Overview
Rixos Golf Villas And Suites Sharm El Sheikh located in beautiful scenery creates a destination full of natural beauty on the South Sinai Peninsula. Surrounded by magnificent gardens and a Golf field, the contrast of the blue waters and the lush green gardens creates a splendid resort. Rixos Golf Villas And Suites offer an All Inclusive & All Exclusive experience. Staying at Rixos Golf Villas & Suites offers more than the perfect accommodation, a portion of delicious food and superior service, a restaurant with a luxurious buffet, and a unique privilege at Rixos Hotels Sharm El Sheikh await your ultimate holiday experience. The hotel is located in the heart of the city, conveniently near the International Convention Center, 5 kilometres from the airport, and 5 kilometres into the main attraction tourist hub Naama Bay. Rixos Golf Villas & Suites accommodates Families and Couples only. Due to security reasons, the face has to be uncovered.

El Salam Road, Sharm El Sheikh, South Sinai Governorate
Egypt, Sharm El Sheikh
Rooms, Suites & Villas
Rooms
(1 type)




Deluxe Room
Bright room in modern design with twin beds or 1 king size bed, mini bar, 55 LCD, bathroom with bathtub or standing shower with bath amenities, AC, Espresso machine, tea and coffee making facilities, safe box, marble & porcelain floor, terrace.
Suites
(3 types)




Executive Suite
Luxury fully furnished with King Size bedroom with a spacious living area. Mini bar, 55 LCD bathroom with bathtub and standing shower bath amenities. AC, Espresso machine, tea and coffee making facilities, safe box, marble & porcelain floor, terrace.




Grand Suite
Stylish and fully furnished King Size bedroom with two 55 LCD separate living room, kitchenette, bath amenities, and separate guest toilet. AC, Espresso machine, tea and coffee making facilities, safe box, marble & porcelain floor, terrace.






Presidential Suite
Sophisticated and comfortable bedroom with king-size bed included a spacious separate living and dining area with 55" rotating LCD, kitchenette, bath amenities. AC, Espresso machine, tea and coffee making facilities, safe box, marble floor, terrace.
Villas
(3 types)






Queen Villa
The Queen Villa offers superb comfort and peaceful serenity for perfect pleasure. Each Villa has direct access to the generously-proportioned swimming pool and its own private sunbathing area.






Royal Villa
The Royal Villa is designed especially to make you experience an utterly different holiday with a private garden and private swimming pool and feel at home with all its well-considered details.






Presidential Villa
Presidential Villa is equipped with all comfort and luxurious details affording the utmost seclusion and the perfect balance of indoor and outdoor living, an outdoor swimming pool as well as an inviting lush green garden.
Dining
Restaurants (5)

Turquoise
Turquoise our main restaurant delights your senses as we take you on a journey of international tastes. The biggest buffet is full of various food created to satisfy an appetite.

People's
A journey of international flavours awaits you at People's Restaurant, where the highest quality of food meets exquisite service and an extensive array at dinner of unique dishes and refreshing beverages, prepared by talented in-house chefs.

Asian Restaurant
Feel the atmosphere of Asian traditions through the ultimate dining experience. The majestic food and essence of Asian cuisine are reflected by exceptional dishes.

Duccio
Discover the original Italian cuisine in the warm and cozy atmosphere of Duccio restaurant. Our dishes will take you into a world of Italian culinary delight.

Lalezar
Enjoy our luxurious Turkish, Moroccan and Lebanese dishes and enjoy culminating in a true traditional culinary fusion enjoyed by many around the world.
Bars and pubs (6)

Lobby Bar
The Lobby Bar is open all day and offers a selection of fine teas and excellent cocktails as well as special drinks. In the afternoon, it serves cookies and cakes and in the evening.

Panorama Bar
Panorama Bar is an elegant spot where you can unwind while savoring a delightful cup of tea or cocktail.

Irish Pub
If you're looking for an elegant venue that combines luxury and comfort to complement its surroundings, Irish Pub is the ideal place.

Relax Pool Bar
Discover poolside relaxation by drink varieties and refreshments in the Relax Pool Bar. Experience a pure pleasure along with relaxing cool cocktails.

Entertainment Pool Bar
The Entertainment Pool Bar is renowned for its rich, opulent interior and menu of new and classic cocktails.

Beach Bar
Under the sun light, take a cool break at the Beach Bar. Refill your energy with soft drinks and bottled water along with fresh juices and cocktails.
Meetings & Events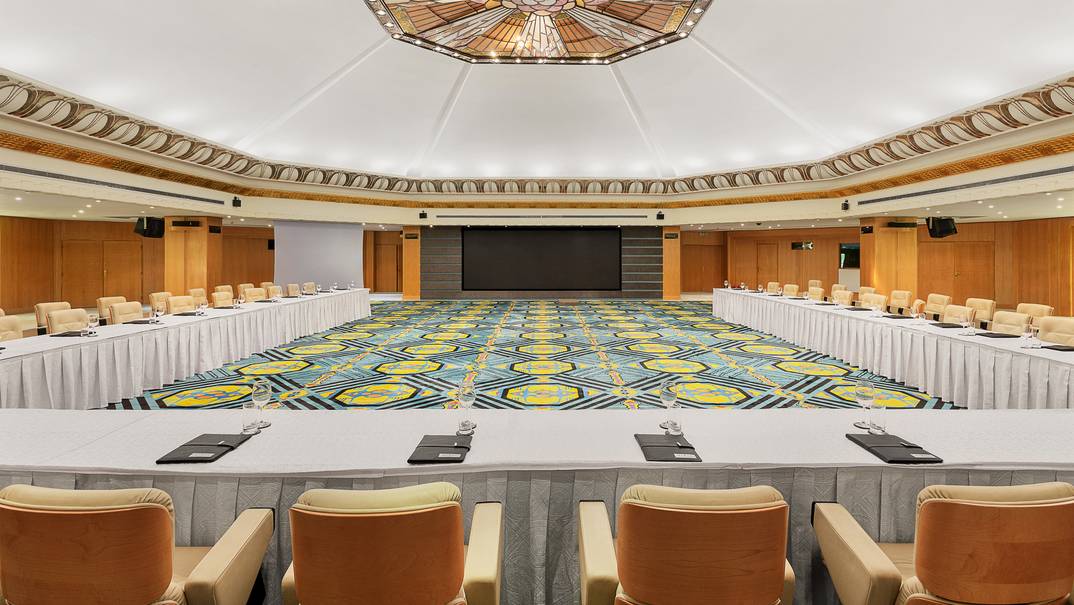 At Rixos Golf Villas & Suites Sharm El Sheikh meeting facilities provide you with everything you need to host a professional client meeting. With a dedicated receptionist and administration team, Our meeting facilities are available for all your meeting and conferencing requirements. Whether you're holding an informal business meet and greets, high-end corporate negotiations, client meetings or interviews, or require a conferencing space for larger presentations.

All our meeting facilities include everything you need to ensure a successful and completely professional experience for both you and your clients.
go to active tab