Welcome to
Rixos Gulf Hotel Doha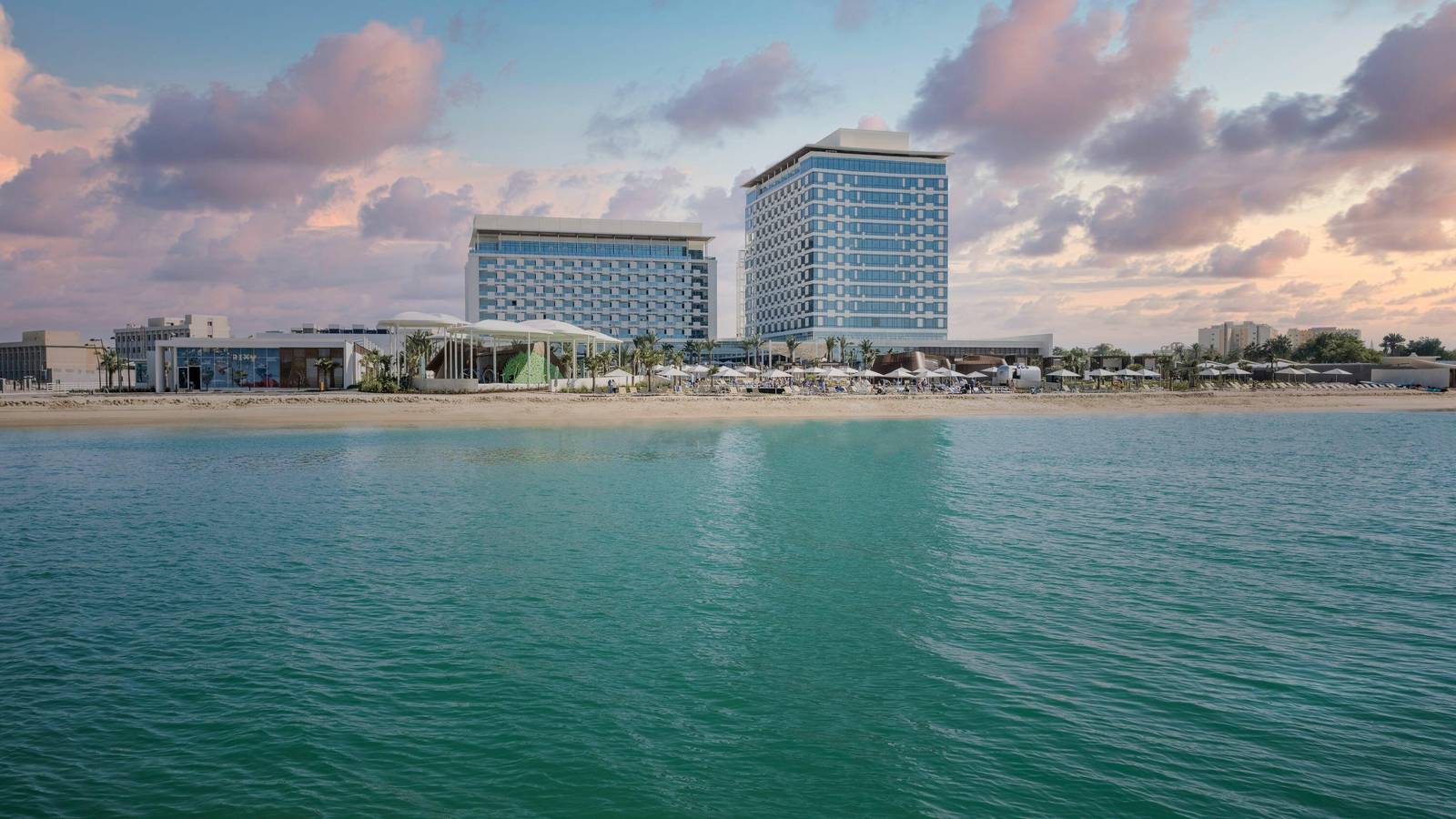 The first all-inclusive resort in Qatar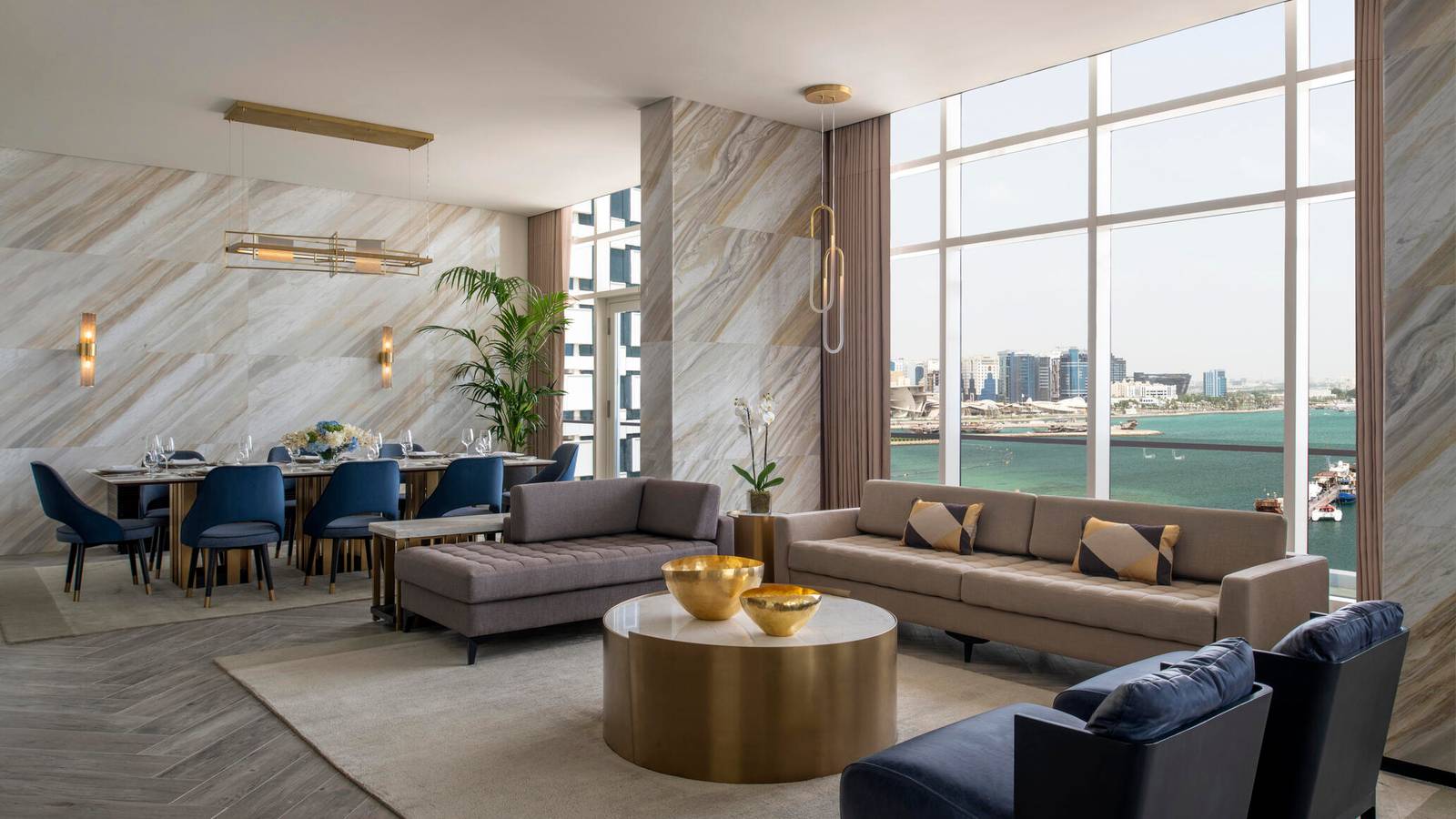 Opulence and exclusivity await you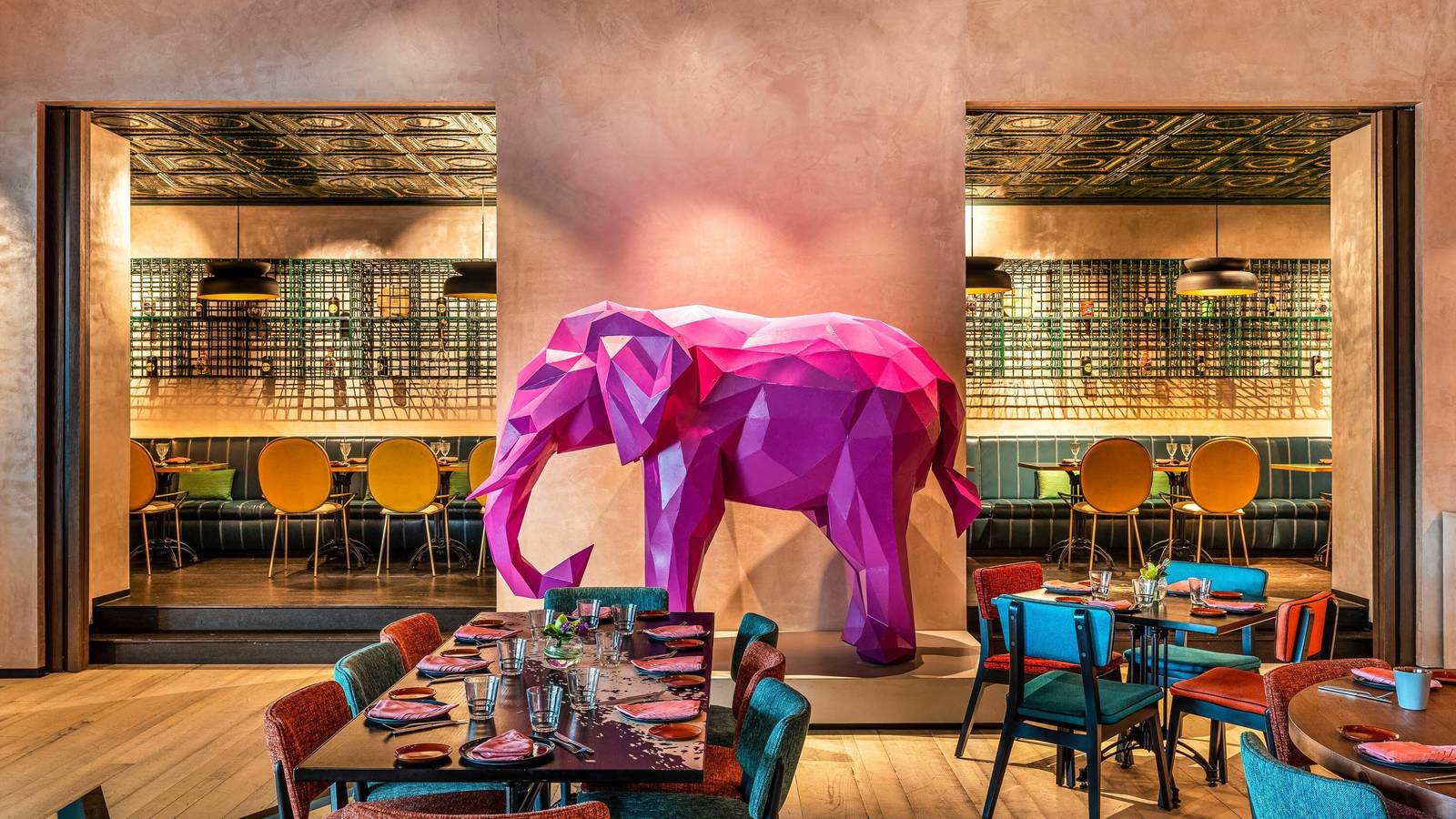 RASA - Contemporary take on Indian cuisine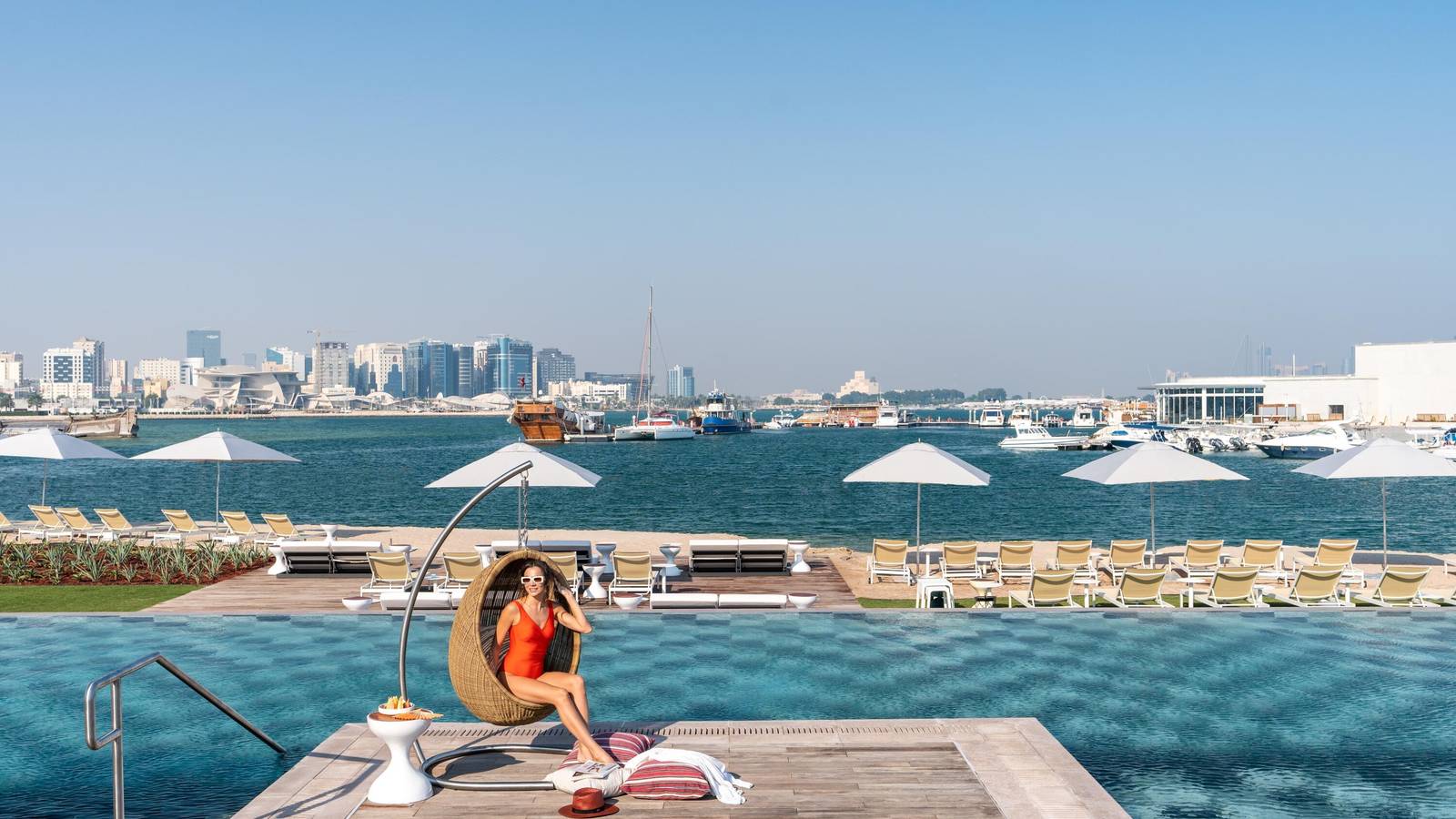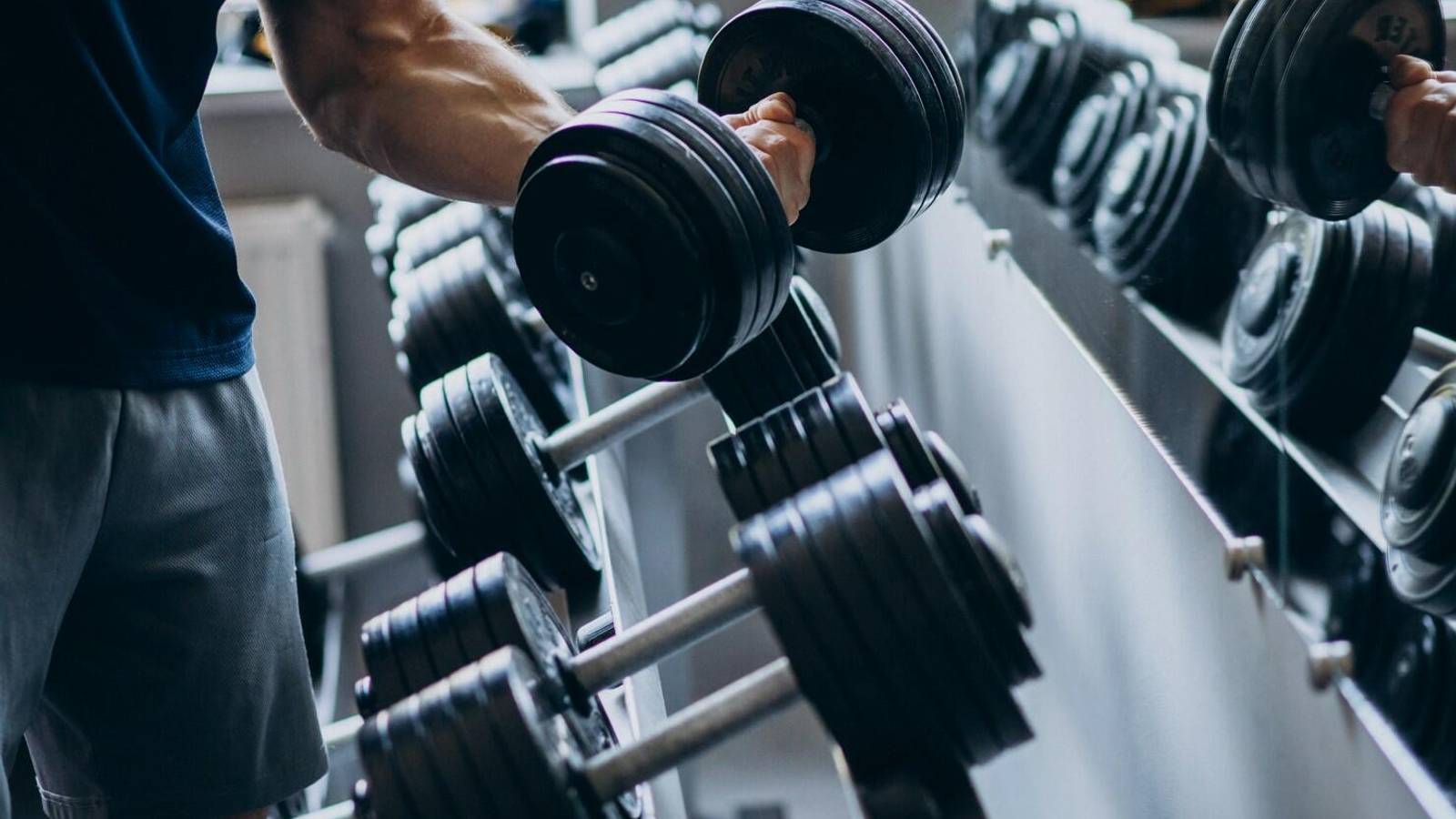 EXCLUSIVE SPORTS CLUB MEMBERSHIP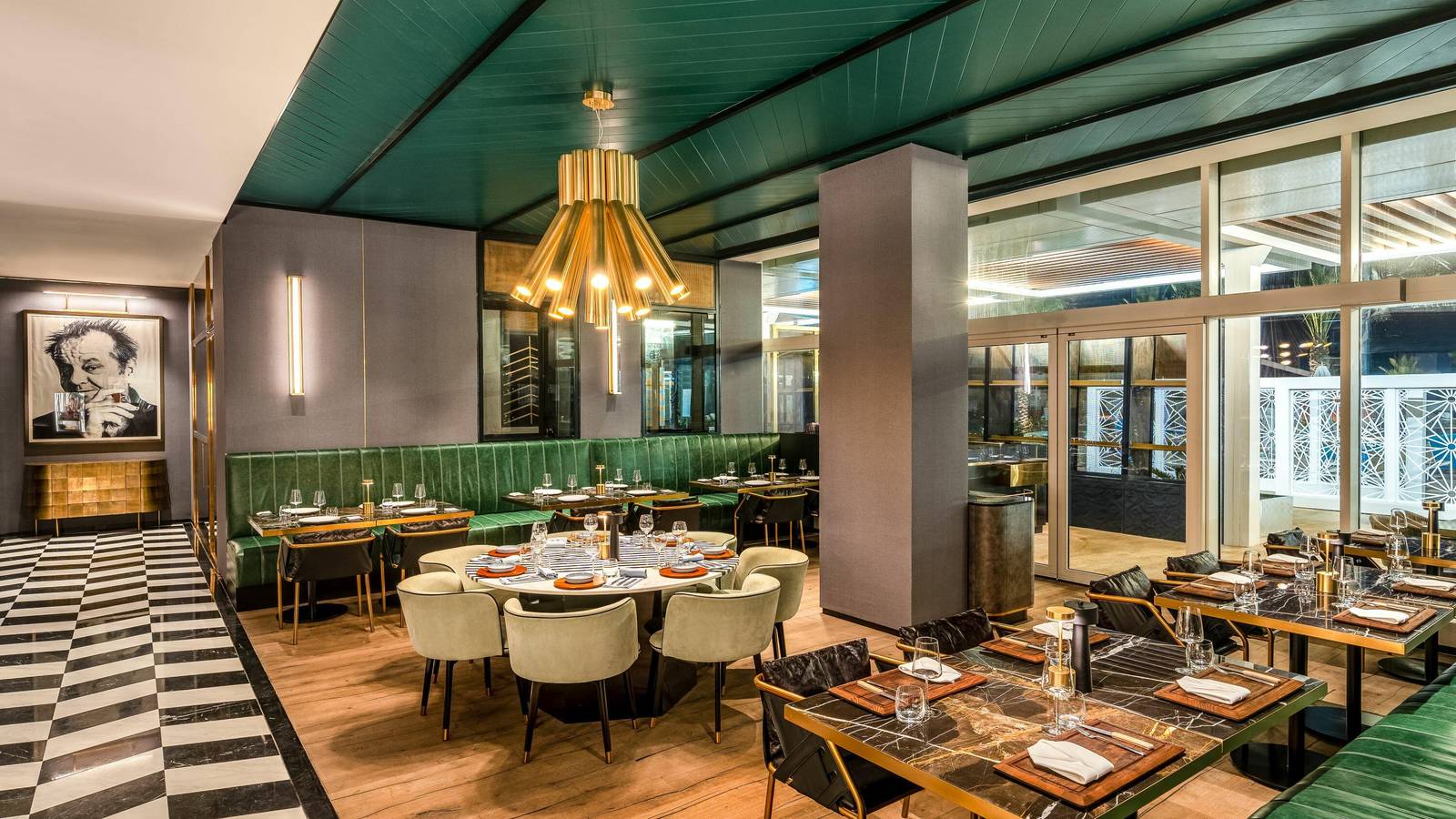 Photo gallery
Our services
Swimming pools
Room services
All inclusive
Concierge
Beach and water sports
Well-being
Internet access
Wheelchair access
Bars
Restaurants
Meeting room(s)
Massage
Overview
Rixos Gulf Hotel Doha is the first luxury beach resort in Qatar to pioneer the all-inclusive lifestyle concept. Our guests will revel in panoramic views of the azure waters of the Arabian sea and Doha's iconic shimmering skyline. Located near Hamad International Airport and Doha's popular tourist and entertainment destinations, the hotel is easily accessible to business and leisure travellers alike. The hotel is situated within an iconic building; Qatar's first 5-Star hotel, established in 1973 and is considered the cornerstone of the hospitality industry within the country. This new venture reimagines the iconic property with luxurious offerings under the Rixos all-inclusive concept, wherein guests will embark on a memorable journey: abundant with delectable food and premium beverages, engaging entertainment, stimulating sports and kid's activities, and immersive spa experiences.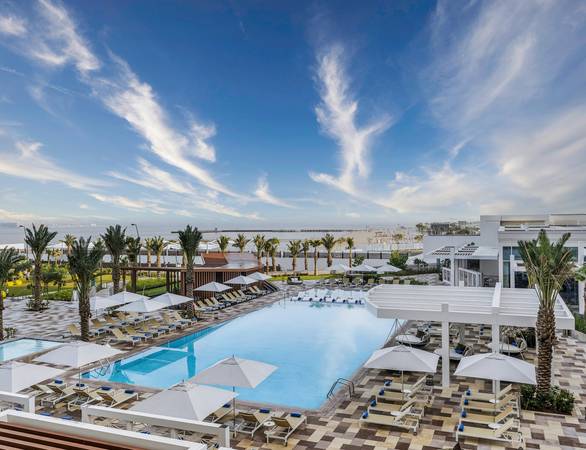 Ras Abu Aboud Street
Qatar, Doha
All-Inclusive, All-Exclusive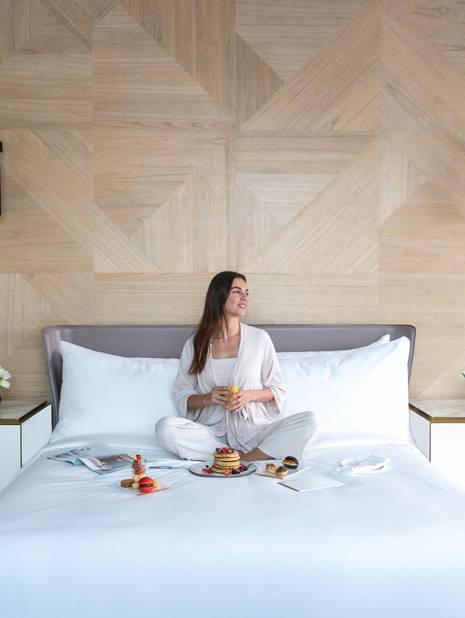 Indulge in an All-Inclusive All-Exclusive experience at Rixos Gulf Doha designed for you to feel a new sense of freedom and discover a world of possibilities through luxurious stays, lavish stream of worldly cuisines, energetic entertainment, fun-packed activities, and an exemplary display of Turkish hospitality.
At Rixos, our service is personal and our vision ensures guests have an individual and meaningful experiences. Create exceptional #RixosMoments through All Inclusive experiences across Rixos Gulf Doha that offer a fresh perspective on your kind of luxury and lifestyle paradise.
Our Offers
Experience adventure, luxury, wellness, romance, and family bonding with our variety of offers 
- Luxury Retreat
- Wellness Retreat
- Romantic Retreat
- Family Retreat
- Book Early, Pay Less
- Stay Longer, Pay Less
See details +
Indulge in the ultimate relaxation experience with our wide range of activity offers that cater to your every need
- Rixos Day Pass
- Recreation Membership
- Premium Cabana Experience
See details +
Savor every bite and sip and experience the culinary journey of a lifetime with our enticing restaurant offers
- Mr. Tailor's Brunch
- Akte Brunch
- Rasa Business Lunch
- Rixos Afternoon Tea
- Akte SHE Night
- Akte Hour
 
See details +
Rooms and Suites
Rooms
(3 types)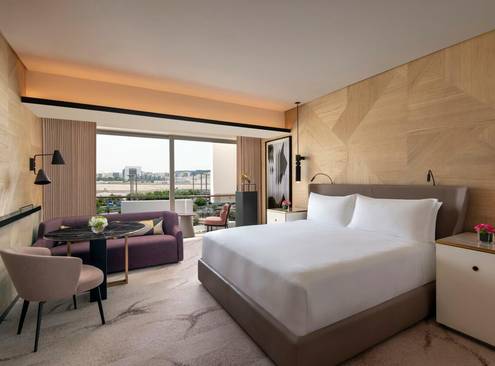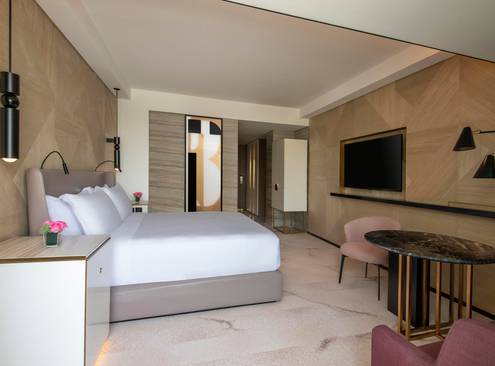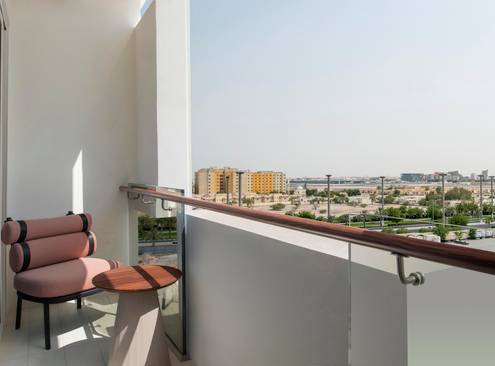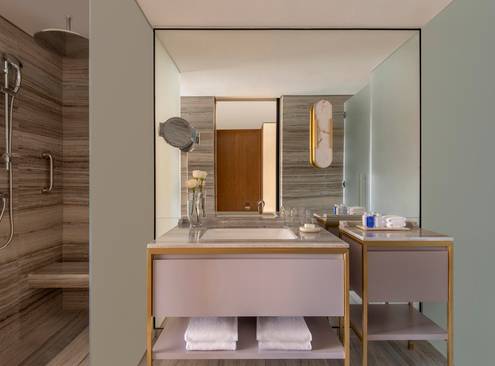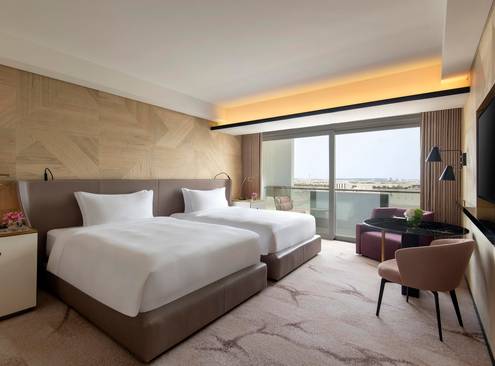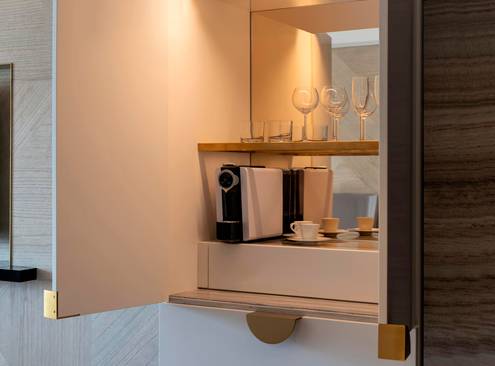 Superior Room
Experience the comfort of our spacious Superior Rooms Enjoy stunning views of Doha city from your private balcony. These 34 m² rooms feature a King or Twin bed, free WIFI, a safe, coffee tea facilities, and a bathroom with bath or shower Select between courtyard or cityscape views and explore the available sofa bed options.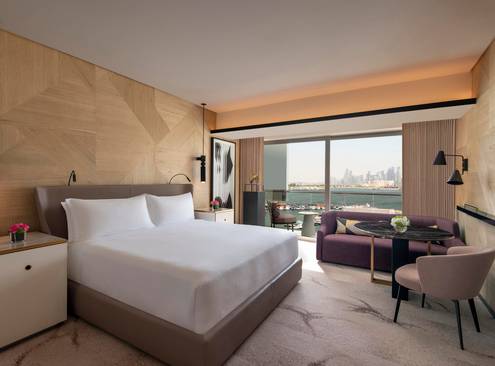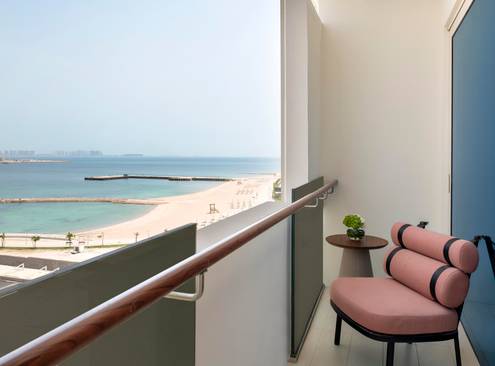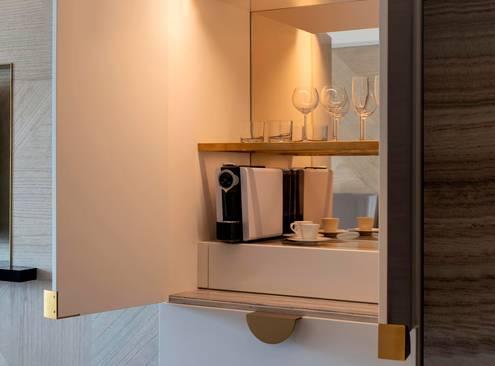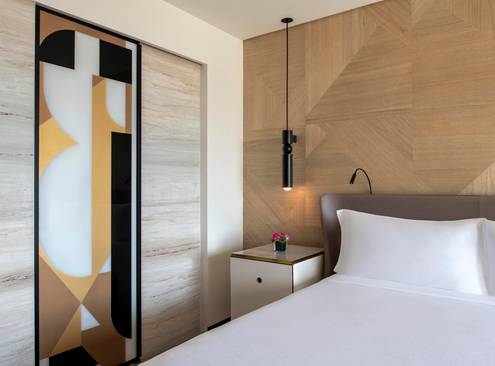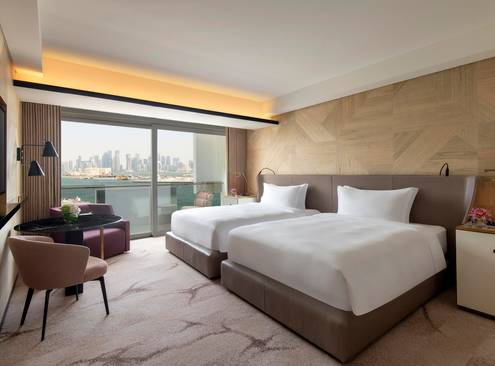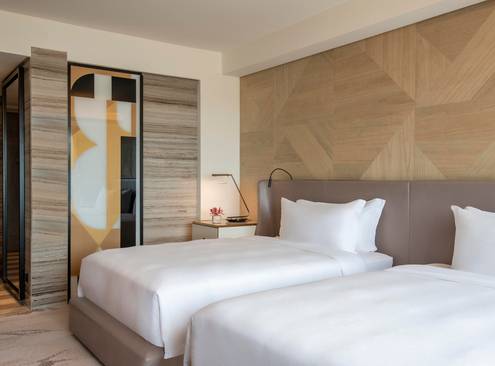 Deluxe Sea View Room
Discover the charm of our Deluxe Rooms, boasting breath taking ocean views. These spacious rooms provide a serene escape from urban life Covering 34 m², each room includes a King or Twin bed, a balcony, and sweeping sea scenery. Enjoy complimentary Wi Fi, tea/coffee facilities, and a rejuvenating rain shower.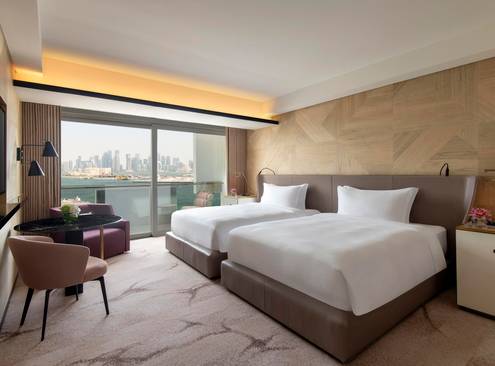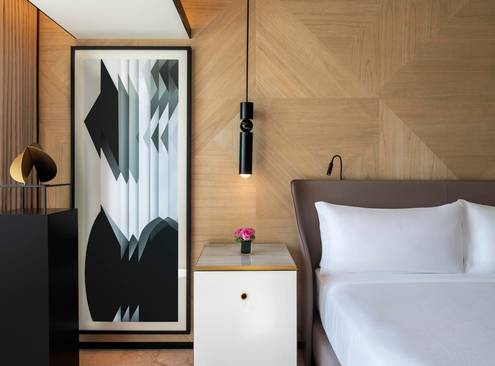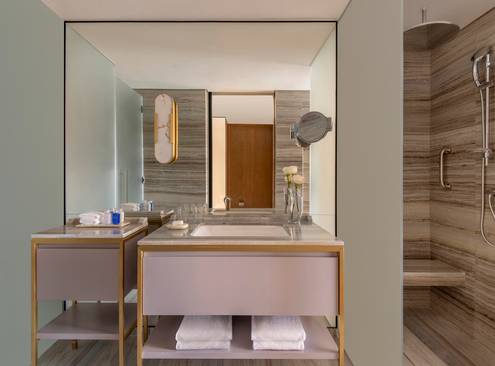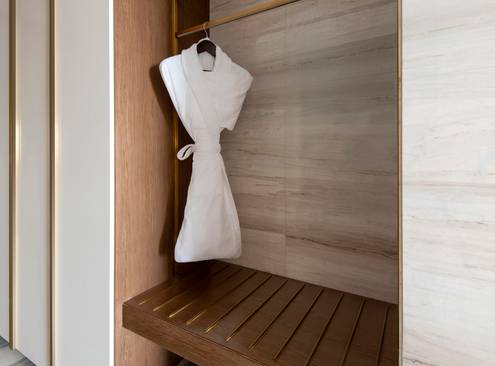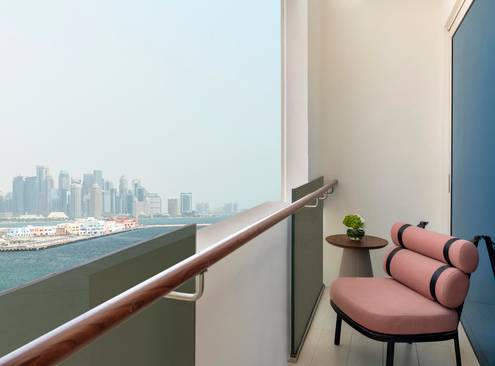 Premium Sea View Room
Elevate your stay with a Premium Room, boasting stunning ocean views At 34 m², these rooms feature a king bed or twin bed and stunning Arabian Gulf vistas Enjoy natural light, elegant decor, and a balcony. Stay connected with Free Wi Fi, and savour complimentary tea coffee, and a rain shower.
Suites
(6 types)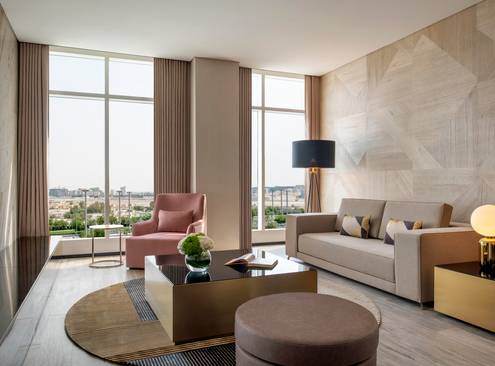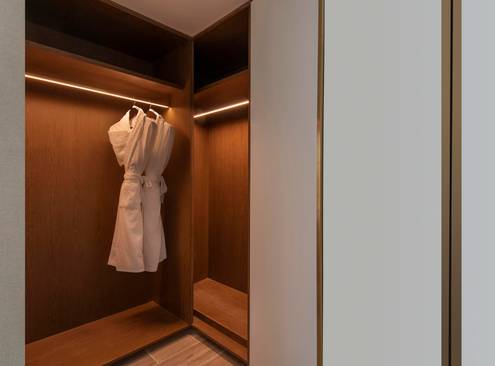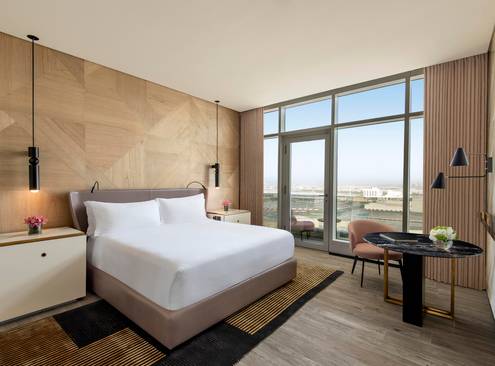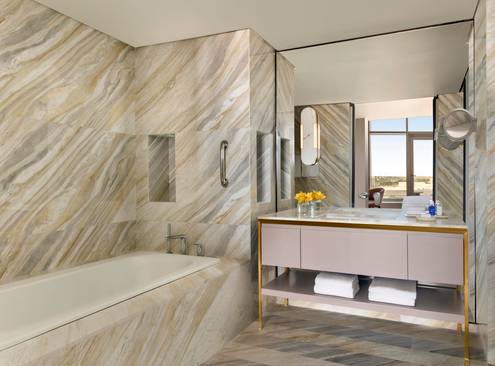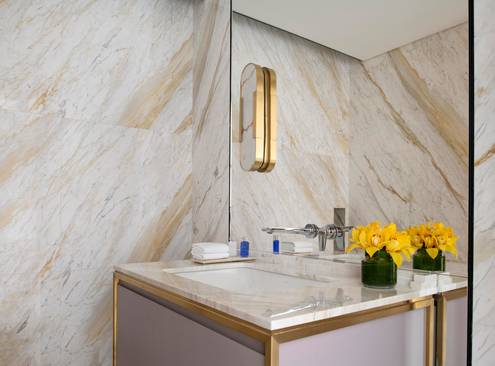 Junior Suite
Explore the lavish Junior Suite, which presents a captivating city view of Doha Encompassing an area of 50 m², this suite features a King bed and a private balcony, effortlessly combining a bedroom and a living room for both style and comfort Indulge in luxury amenities, bask in abundant natural light, and take advantage of complimentary Wi Fi, tea coffee facilities, as well as the convenience of having both a shower and a bath.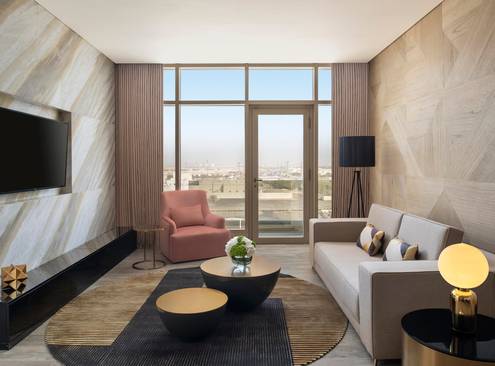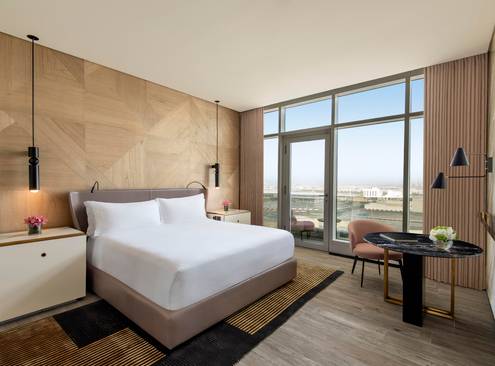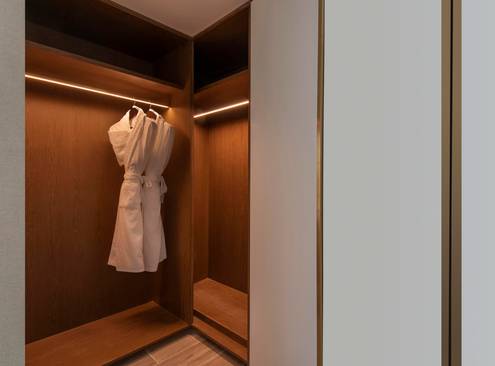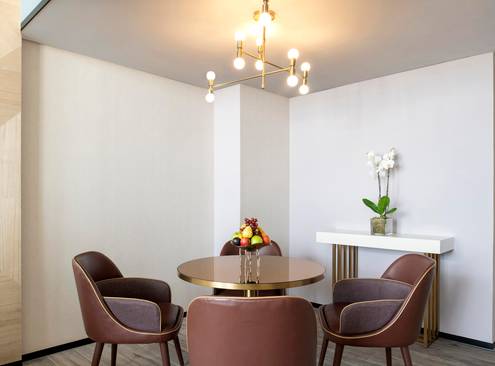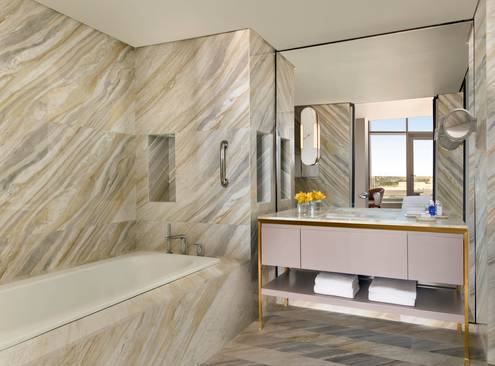 Senior Suite
Experience the epitome of luxury, comfort, and style within our Senior Suite Spanning an impressive 52 m², the Senior Suite showcases a king sized bed and living room, all complemented by an exquisite vista of the Arabian Gulf's waters from your own private balcony. The Senior Suite effortlessly blends chic style with unparalleled comfort, featuring expansive bathrooms with both a shower and a bath with lavish amenities Moreover, delight in an array of offerings including complimentary Wi Fi and tea and coffee facilities.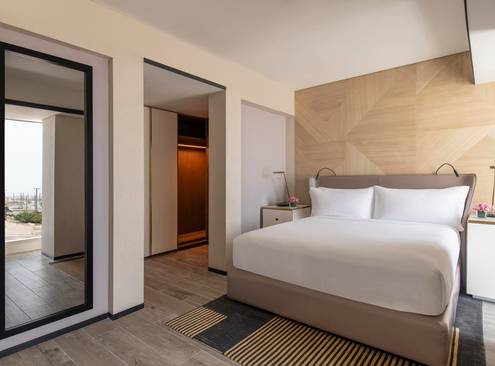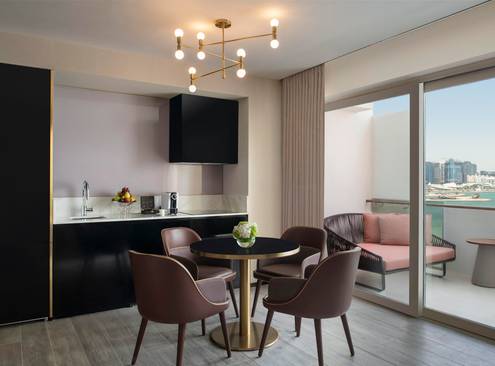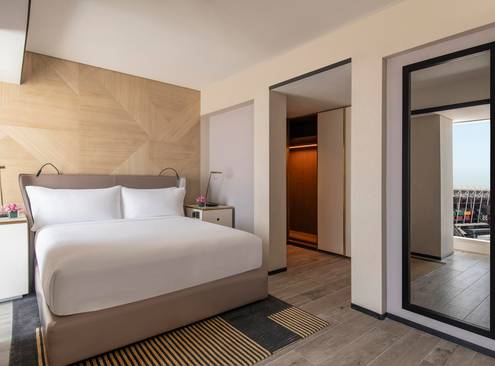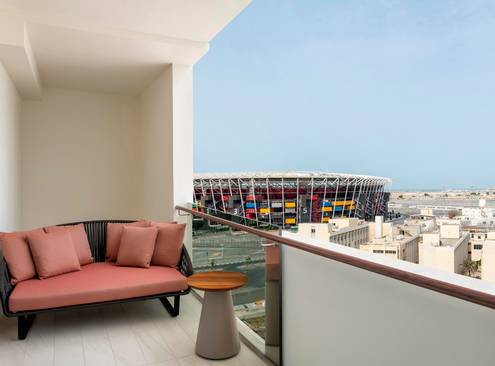 Executive Sea View Suite
Improve your experience in our expansive, fashionable Executive Suite, showcasing breath taking views of the Arabian Sea and the skyline Delight in the lavish decor, amenities, and a 52 m² area with a living room, dining space, a shower and a bathtub, and a spacious private balcony Immerse yourself in comfort and refinement, enveloped by opulent decor and amenities Take advantage of complimentary Wi Fi and inclusive tea/coffee facilities.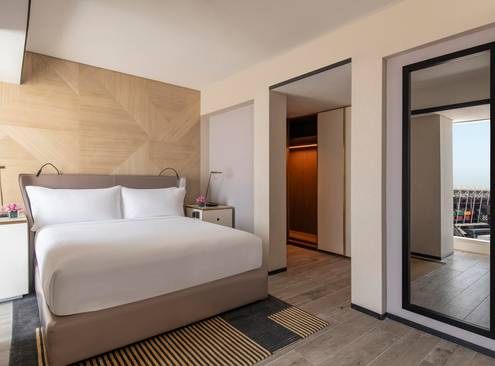 One Bedroom Premium Suite
Indulge in a remarkable stay within a spacious one bedroom suite featuring stunning views, comfort, and amenities. These suites offer all you need to feel at home The 67 m² One Bedroom Premium Suite provides sea views, a living room, a dining area, and a large private balcony with elegant furniture, as well as both a shower and a bathtub. Enjoy amenities such as free Wi Fi and complimentary tea and coffee facilities.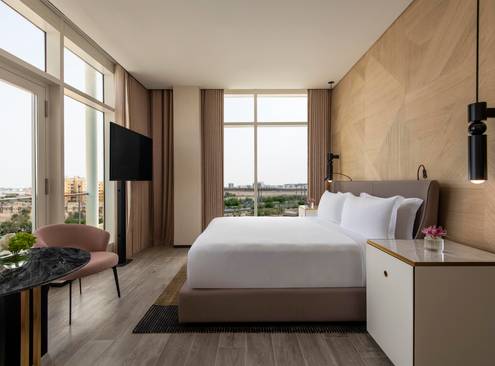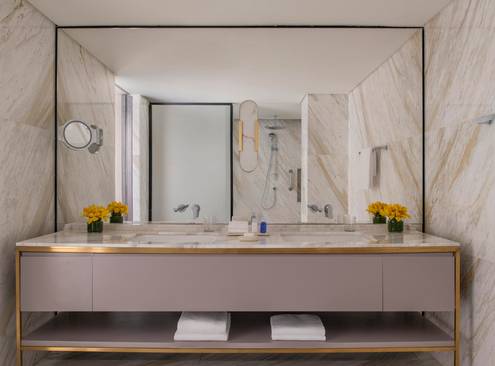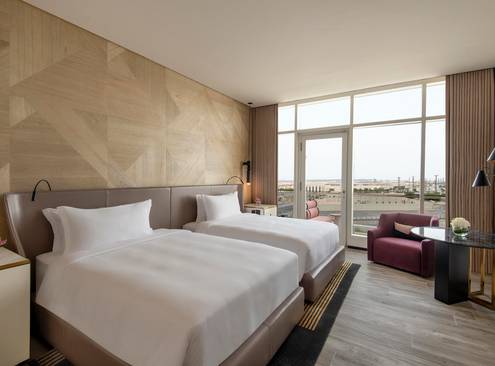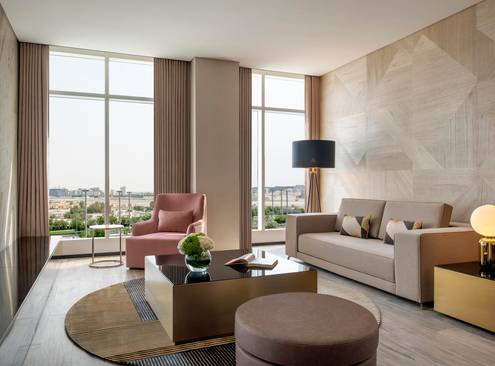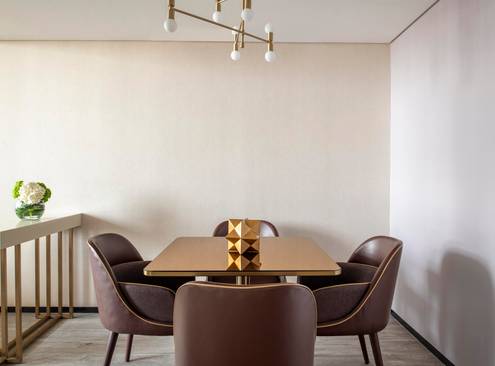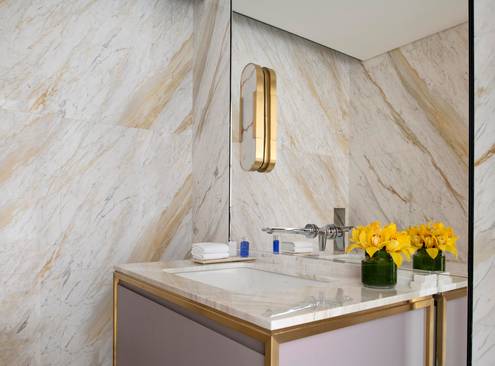 Two Bedroom Family Suite
Indulge in quality family moments within our stylish 2 bedroom family suite. Relish the expansive living area, dining room, and two bedrooms furnished with a King size bed and a twin bed. This 86m2 suite features a private balcony, inviting ample natural light, bathrooms within each bedroom and a guest bathroom. Delight in our complimentary tea and coffee amenities.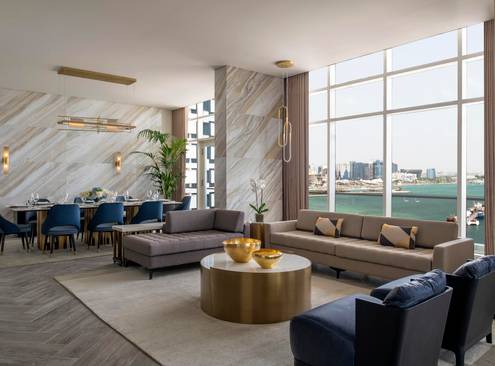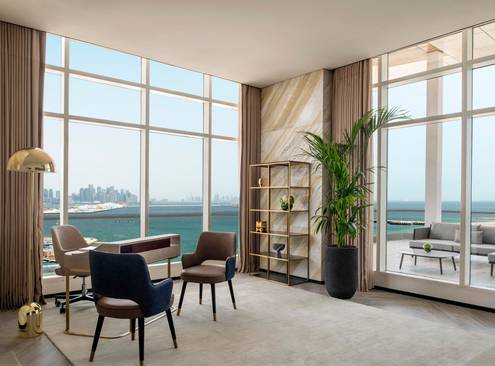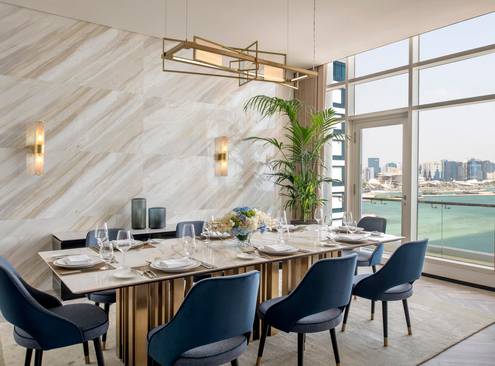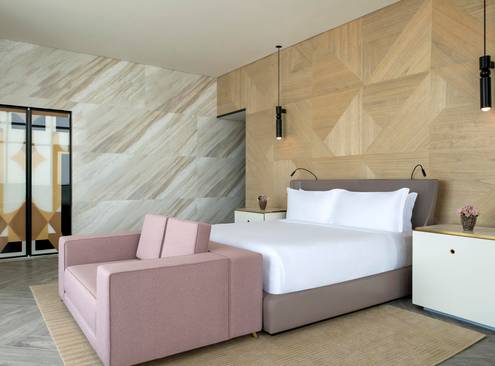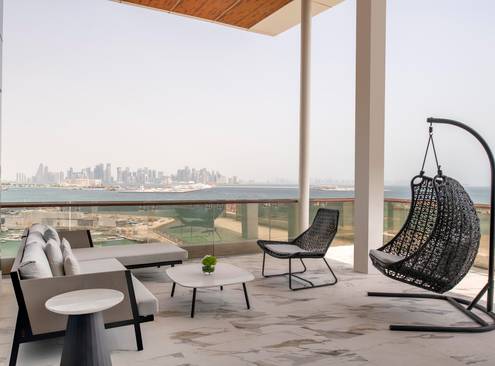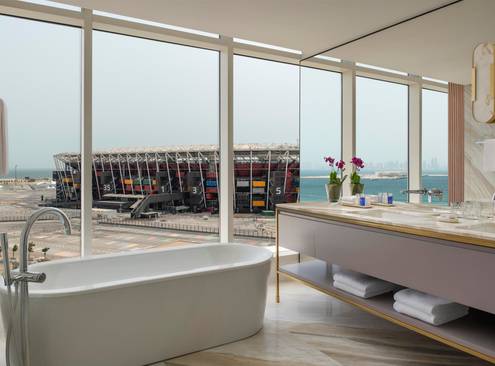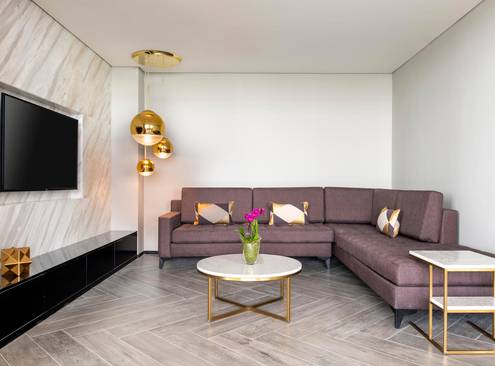 Katara Suite
Discover opulence and exclusivity within our chic Katara Suite, perfect for extended stays or VIP guests craving privacy. Enjoy a stunning 360 degree sea and city view from the balcony. With three living areas, a kitchenette, dining space, spacious bedroom, guest bathroom, and private butler entrance, the 180 m 2 Katara Suite redefines luxury Revel in signature ocean views from the bathroom and balcony, and relish the Corniche and Arabian Sea panorama from the butler service entrance.
Gourmet Experiences
Restaurants (6)
Rixos Gulf Doha takes guests on an inspiring international gastronomic journey from elegant lounges, bountiful buffets and casual poolside bars, the hotel offers lavish outlets for every dining desire.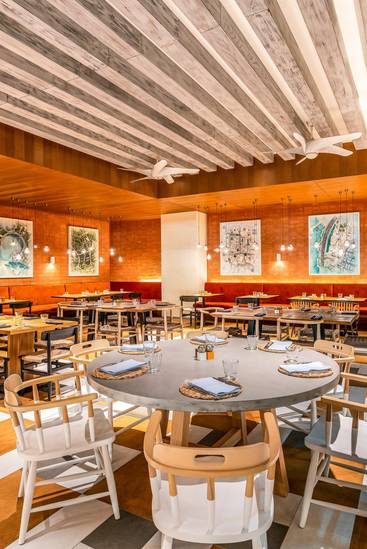 Farmhouse
At Farmhouse, guests savour heart-warming food that reflects the farmer's work ethics and care. Every dish is infused with the farmer's passion for his craft and commitment to delivering unparalleled quality and taste. Farmhouse serves delightful breakfast, lunch and dinner.
Mr. Tailor Steakhouse takes inspiration from a tailor's meticulous approach and applies it to every dish with prime and unusual cuts carefully prepared to ensure exquisite flavour. Every ingredient is meticulously chosen and perfected to provide an exceptional culinary experience.
Visit Website
With delectable cuisine, refreshing cocktails, and timeless style, Akte is the ultimate dining destination.
Visit Website
Rasa offers Pan Indian cuisine, making for a truly unique culinary experience. Discover the culinary treasures of the region with every bite, as Rasa's chefs bring the exotic tastes and scents of the Pan Indian spices to your plate.
Visit Website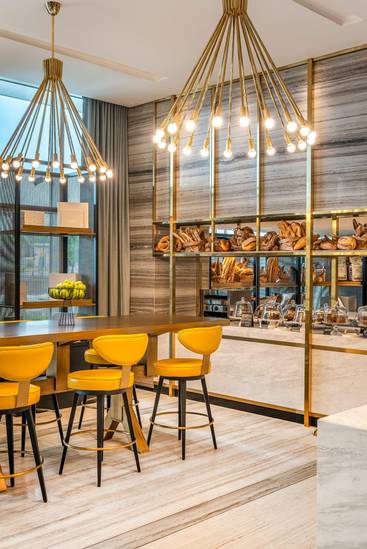 Crust & Lobby Lounge
Crust is an artisanal bakery that is open 24/7. Its fusion of contemporary offers a unique dining experience.
Lobby Lounge features a chic design aesthetic that combines contemporary open space with Arabic-inspired majlis seating, creating an unforgettable experience in the heart of the hotel.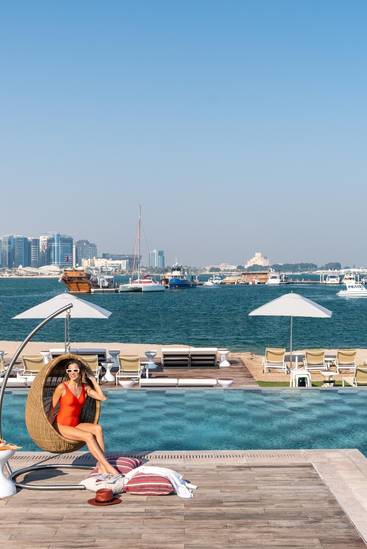 ZOH Lifestyle Deck
ZOH offers a fun and easy-going dining experience inspired by the sandy beaches of Ibiza. Enjoy a variety of classic lunch options by the infinity pool or on the beach, or indulge in Shisha lounge for a relaxing afternoon or evening. Discover the picturesque setting and laid-back vibe that ZOH has to offer.
Bars and pubs (6)
Step into a world of pure elegance and unforgettable moments; immerse yourself in the exquisite ambiance of Rixos Gulf Doha's enchanting bars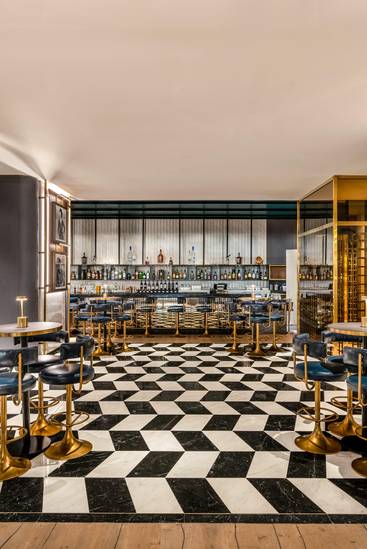 Mr. Tailor Bar
Sip, savor, and indulge in the rich flavors of perfectly paired drinks.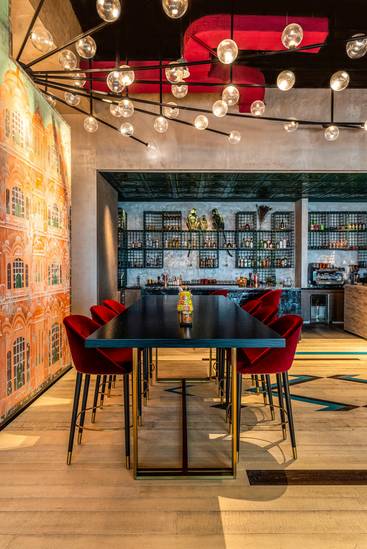 Rasa Bar
Delight your senses with exotic flavors and colorful cocktails at Rasa Bar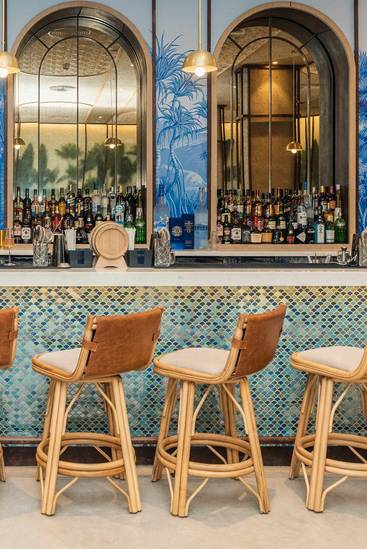 Akte Bar
Indulge in the art of mixology at Akte Bar, where handcrafted perfection meets refreshing bliss.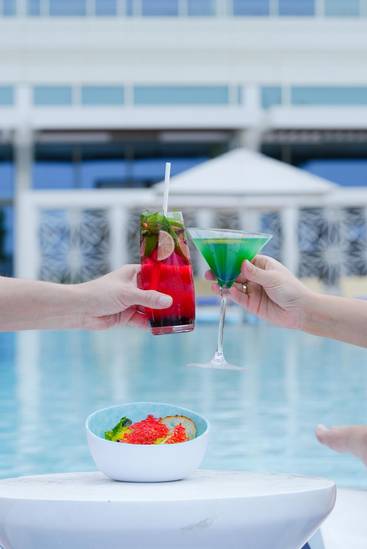 ZOH Pool & Beach Bar
Enjoy stylish drinks by the poolside or bask in the sun at the beach.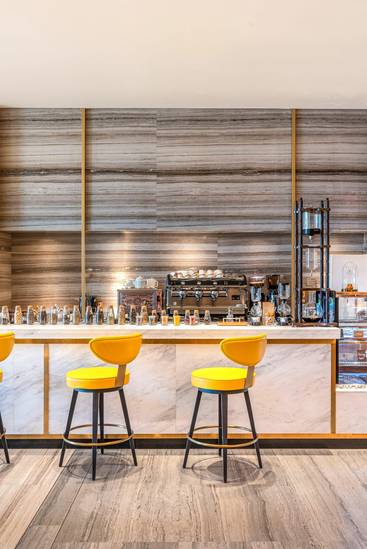 Crust & Lobby Lounge
Enjoy the variety of drinks at Crust & Lobby Lounge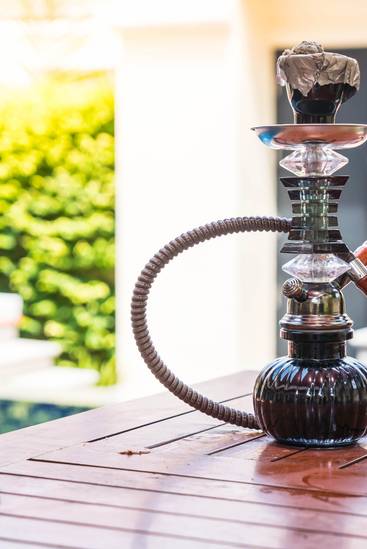 Shisha Lounge
Relax and unwind in our Shisha lounge.
Activities & Entertainment
Guests reviews
100% genuine reviews from our guests
Best Experience in Qatar
Friendly staff from Valet, Austin at Reception, Bincent at Zoh .
Every thing is perfect except some little issues
If was amazing Wonderful view Stay was comfortable Stuff sooooo kind specially the reception was helpful and professional Food was tasty and have many varieties specially sweets The kids club and animations team was amazing and my son was so happy What were dislike 1- when i requested reservation in tailor restaurant they informed us we should booked 2 night not 1 although it was all inclusive reservation what was un logic for us 2- need more stuff on beach 3- the beach is smaller than we expected but still not bad 4- the teeth paste was dry we cant use it
Best location in town and likewise the best stay in town
The overall experience was excellent, - all from the guys in front of the hotel, the tall beautiful girl just inside the entrance welcoming you with drinks and fruit, - the amazing people at the check-in desk and then the outstanding room. I would likewise mention the nice manner of calling me a day before arrival to make sure that everything is ok. And of course also the amazing pool area as well as the delicious resturant, - just an awesome ecperience to be with you at Rixos.
Met our expectations 100%
Comfortable rooms, nice staff and good food.
Perfect stay
Absolutely perfect stay, every service was excellent and all the standards were met with perfection.