Overview
Rixos Gulf Hotel Doha is the first luxury beach resort in Qatar to pioneer the all-inclusive lifestyle concept. Our guests will revel in panoramic views of the azure waters of the Arabian sea and Doha's iconic shimmering skyline. Located near Hamad International Airport and Doha's popular tourist and entertainment destinations, the hotel is easily accessible to business and leisure travellers alike. The hotel is situated within an iconic building; Qatar's first 5-Star hotel, established in 1973 and is considered the cornerstone of the hospitality industry within the country. This new venture reimagines the iconic property with luxurious offerings under the Rixos all-inclusive concept, wherein guests will embark on a memorable journey: abundant with delectable food and premium beverages, engaging entertainment, stimulating sports and kid's activities, and immersive spa experiences.

Ras Abu Aboud Street
Qatar, Doha
All-Inclusive, All-Exclusive

Indulge in an All-Inclusive All-Exclusive experience at Rixos Gulf Doha designed for you to feel a new sense of freedom and discover a world of possibilities through luxurious stays, lavish stream of worldly cuisines, energetic entertainment, fun-packed activities, and an exemplary display of Turkish hospitality.
At Rixos, our service is personal and our vision ensures guests have an individual and meaningful experiences.Create exceptional #RixosMoments through All Inclusive experiences across Rixos Gulf Doha that offer a fresh perspective on your kind of luxury and lifestyle paradise.
Rooms and Suites
Rooms
(3 types)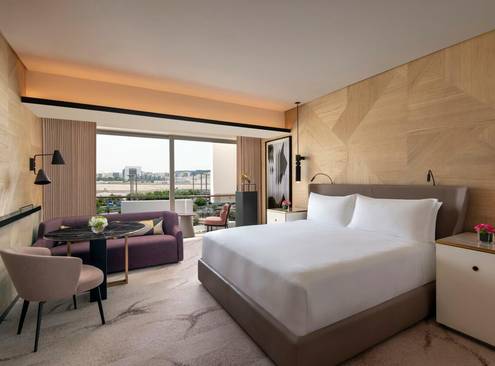 Superior Room
A home away from home, the generously proportioned Superior Rooms ensures you can enjoy the ultimate luxury and comfort while travelling for business.
Soak up the gorgeous views of the city of Doha while unwinding on your balcony.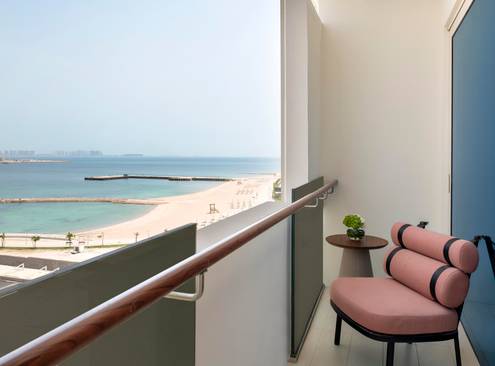 Deluxe Sea View Room
With breathtaking views of the ocean, the Deluxe Rooms are spacious, light and airy, offering guests a relaxing and comfortable retreat away from the hustle and bustle of city life.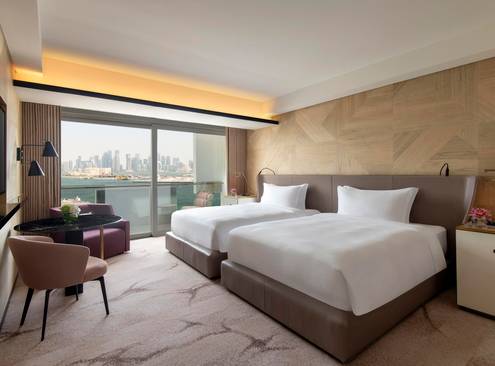 Premium Sea View Room
Elevate your stay with a Premium Room, offering spectacular views of the ocean from a height.
These rooms are spacious with the amenities, comfort and style expected of a five-star stay.
Suites
(6 types)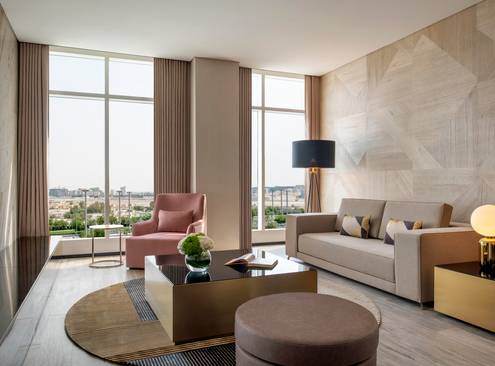 Junior Suite
The opulent Junior Suite provides visitors breathtaking view of the city of Doha.
The perfect retreat at the end of a busy day.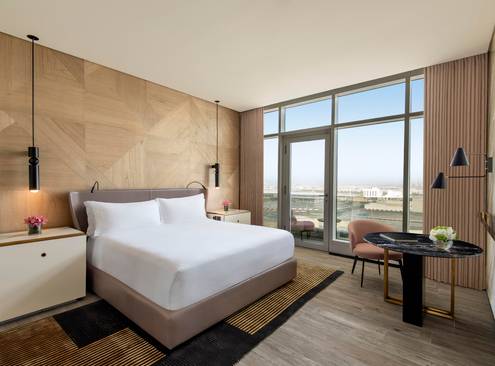 Senior Suite
Indulge in ultimate luxury, comfort and style in our Senior Suite.
Enjoy a peaceful ambience and a blissful night's sleep in a plush king-sized bed.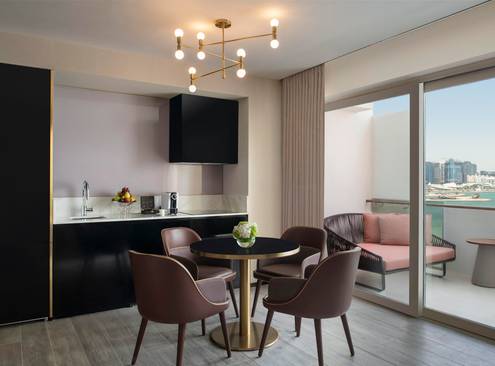 Executive Sea View Suite
Elevate your stay in our spacious and stylish Executive Suite, offering spectacular views of the Arabian Sea and Doha's skyline.
Indulge in comfort and style with luxury decor and amenities.

One Bedroom Premium Suite
Enjoy a memorable stay in a spacious one-bedroom suite that offers spectacular views, comfort and amenities.
These suites provide guests with everything they need to feel at home.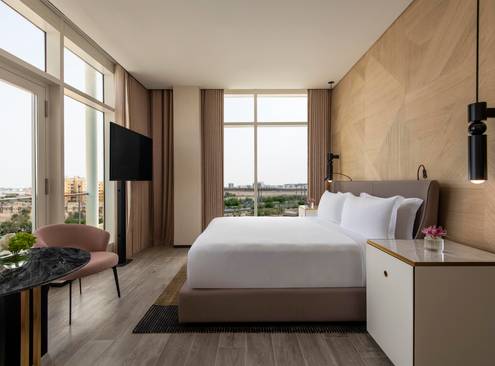 Two Bedroom Family Suite
Enjoy quality family time in comfort and style in our family 2-bedroom suite, offering spectacular views of the city of Doha, comfort and amenities.
The suite includes 1-living area, dining room, 2-bedrooms, and guest bathroom.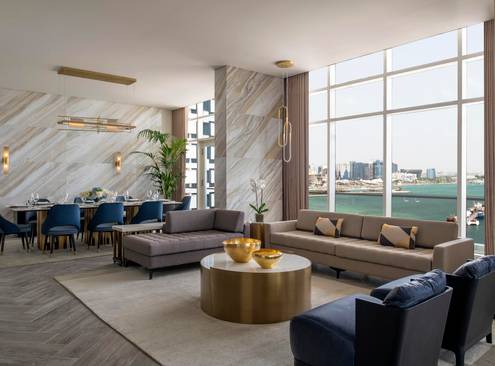 Katara Suite
Opulence and exclusivity await you with our chic and utterly charming Katara Suite, perfect for extended stays or VIP guests who prefer their own, private space.
The suite is a breakaway in itself with a spectacular 360 degrees sea view and the city of Doha that you can enjoy while unwinding on the balcony.
The suite includes 3-living areas, a kitchenette, dining room and living area, large in-suite bedroom, guest bathroom, and a private entrance for butler service.
Private Cabanas

Indulge in your own private garden front cabanas overlooking Doha's magnificent skyline.
Create timeless memories in your own space while enjoying Rixos personal service, minibar, coffee maker, TV, access to the beach, pools and other facilities.
Opens,
Daily from 08:00 to 20:00
Gourmet Experiences
Rixos Gulf Doha takes guests on an inspiring international gastronomic journey from elegant lounges, bountiful buffets and casual poolside bars, the hotel offers lavish outlets for every dining desire.
Restaurants (7)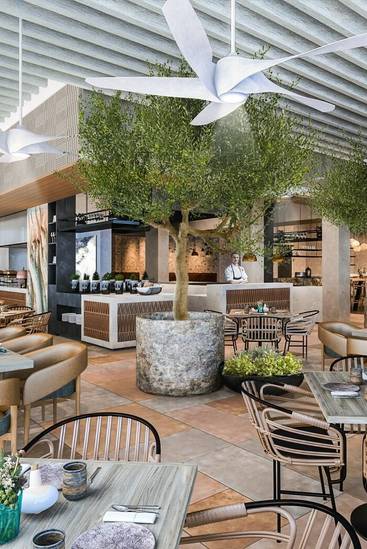 Farmhouse
At Farmhouse, guests savor heart-warming food that reflects the farmer's work ethics and care. We serve a variety of dishes that are family favorites and exhibit a freshness of product in a rustic presentation, that creates a casual atmosphere akin to dining in a farmhouse.
Guests are served high quality, farm-fresh ingredients, with an emphasis on the authentic dishes from the rich Turkish cuisine.
Serves daily,
Breakfast 06:30–11:00
Lunch 12:30–15:30
Dinner 18:30–22:30
Friday Brunch 12:00–16:00

Mr Tailor
The steakhouse is inspired by the tailor's attention to details which is translated into every dish through meticulous preparation and an obsessive approach to the art of cooking.
Prime and unusual meat cuts are carefully prepared to provide a feel of class and depth of perfection.
We source the finest meat from butchers spread across five different origins, USA, Brazil, Scotland/UK, Australia and Japan. Wepay homage to the meat's country of origin by preparing it in an authentic style.
Serves,
Tuesday to Sunday 18:00–00:00

Rasa
A contemporary take on traditional Indian cuisine, Rasa is entirely unique. The menu is inspired from the cuisines of Delhi, Calcutta, Mangalore, Kerala, Karaikudi, food print from culinary benchmark cities of pan-India.
Enjoy playfully presented classics, modern take on the appetizer combining international ingredient to Indian essence.
Tiffin lunch, tea time, bar snack, small plates are features of the menu, as well a special feature on vegan & gluten free menu.
Serves,
Monday to Saturday 12:30–00:00

Zoh
Inspired by the sandy beaches of Ibiza, ZOH entices with easy going and fun American inspired lunch and a variety of stylish drinks while our guests enjoy the day by infinity pool side or bask in the sun at the beach.
Guests can have mouth-watering snacks by the poolside or indulge in comfort food offered through the stylish food carts.
Serves,
Daily 06:00 – 23:00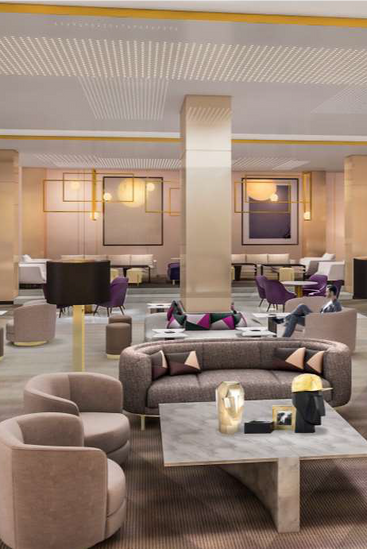 Crust
Crust is the 24-hour artisan bakery that is tucked along the hotel's lobby lounge. The venue showcases various design elements via a setup that is a fusion of Arabic inspired majlis and contemporary open space.
In line with the design of the venue, the plates are designed rather than plated where a collaboration with a local designer was created for all food and beverage accessories.
Savor a variety of signature bakes and cakes every hour specific to the time of the day.
Serves,
Daily 24hrs

M-Lounge
M-Lounge is Doha's most anticipated luxury lounge, boasting decadent food, and premium beverages in an elegant lounge setting.
Our guests can revel in limitless luxury and exclusivity amidst designer art collectives and a variety of tailored connoisseurs.
M-Lounge hosts eligible VIPs during breakfast and lunch, and welcomes all-inclusive and guests dining on A-La Carte basis.
Serves daily,
Continental Breakfast Buffet 06:30–11:00
Lunch- Snack Buffet 11:30–17:00
Chillout Bar- A La Carte Snack Menu 17:00–00:00

Akte Pier 51
Akte Pier 51 pays homage to Aegean cuisine. Our recipes sailed across the Mediterranean sea bringing bright citrus flavors, grilled sea-foods, and vibrant fresh accompaniments that embody the spirit of its origin.
Our food and drinks are inspired by the heart of explorers that cherish evenings in front of the fire pit that turn to nights under the stars.
Serves,
Sunday to Wednesday 18:00–22:00
Thursday to Saturday 13:00–02:00
Activities & Entertainment
1