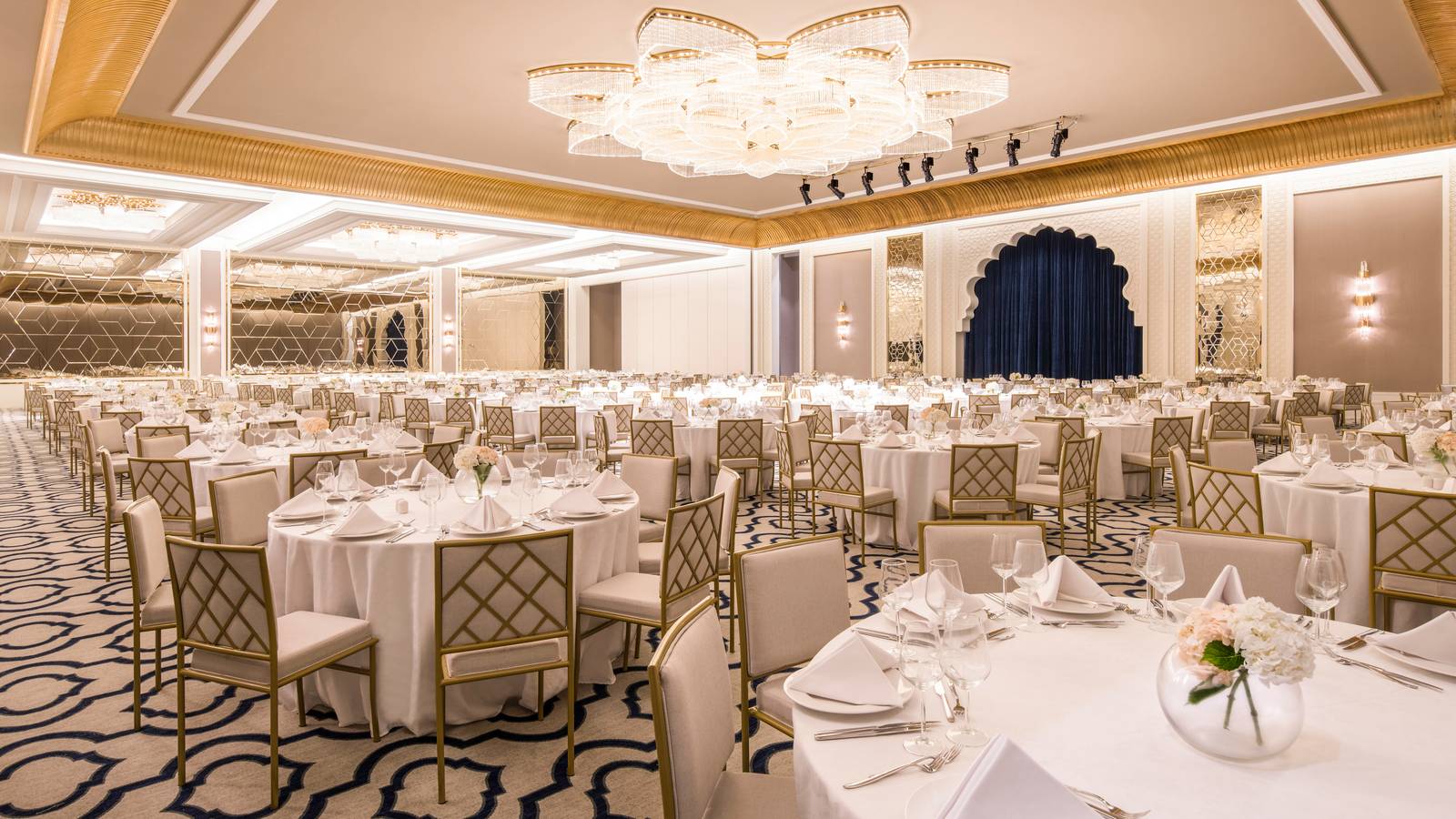 We don't Just Host. We Entertain.
Rixos creates the occasions that become treasured memories, all taken care of by our attentive and dedicated team. Our hotels and resorts are unique, unforgettable venues. Traditional or contemporary decor, downtown, by the beach or in the mountains. Whatever your preference, we have the hotel for you, whether your event is an intimate celebration or a large-scale family gathering. We will take care of every detail from booking accommodation and arranging transfers to arranging the entertainment. With our all-inclusive resorts, you can relax knowing that your event will be delivered on budget.
When planning your private event at Rixos, you can be assured of excellent services including:
Inspiring Spaces
Sophisticated Catering
Live(ly) Entertainment
Services: WLAN, signage, dedicated team
Audiovisual (on request)
Versatile Venues
Imagine one hundred guests dancing in a glittering ballroom or a barefoot reception on pristine white sand. Whatever your vision is for the perfect event, we have an exceptional venue to match. Our resorts have been delighting guests by delivering dream weddings, extravagant soirees and intimate parties for more than two decades.
Our spectacular resorts are bursting with versatile venues. Restaurants, bars, banqueting rooms and ballrooms. Beautiful, lush gardens, rolling lawns, beachfront and poolside, we can offer as many venues alfresco as we do inside. Our flexible spaces can be tailored for your specific event, whether that is size, time of day, or the style of your celebration.
Ceremonies and Receptions
Our unique Turkish heritage and our passion for hospitality make any Rixos resort a splendid setting for your event. Every milestone is a reason to celebrate, and our specialist teams love nothing more than to plan a fabulous event. Effortless planning takes away all of the stress of hosting any event, intimate or lavish. It is our privilege to be a part of your special occasion.
We have played host to milestone birthday's proposals, weddings, baby showers and anniversaries. Our resorts have unique multi-generational appeal with families returning to enjoy the place 'where it all began'.
Festive Feasts
Rixos takes event catering to a whole new level. Our chefs are renowned for creating sensational buffets.
Inspired by the best local and international cuisine and offering world-class dining, our catering teams tempt your guests with our generous, indulgent food and beverage. Our events teams will help you plan menus for brunches or lunches, rehearsal dinners or wedding breakfasts. Any flawless event is arranged down to the smallest details.
Let us take care of celebration cakes and stylish centrepieces. For a truly bespoke event, our famed bartenders can create a signature cocktail (or mocktail) for your event, and our sommeliers will pair wines for your chosen feast.
Live Entertainment
Rixos is renowned for its entertainment. Our expert teams are imaginative and bold when creating the ultimate in holiday entertainment. Let us create a celebration that is uniquely yours from a themed event to DJ sets and fireworks. Be as bold as you dare, whatever your style, we will surprise and enchant your guests with breathtaking entertainment.
Technology and Services
Our resorts and their venues are all equipped with best-in-class technology, including WiFi and audio-visual equipment. All designed to work seamlessly with your equipment, our technical teams are available to support every event.
You can be assured that the smallest details will be attended to, ensuring your event is a runaway success. Our attentive and dedicated events team will be available to guide you through the planning of your special occasion. From the moment of your first enquiry until we say farewell, we will be with you every step of the way. We can accommodate any request. Share your vision and dreams for your occasion with us and allow us to work our magic.