Our services
Air conditioned
Bar
Breakfast
Child facilities
Coffee machine
Golf
Meeting room(s)
Car park
Swimming pool
Private bathroom
Restaurant
Tennis
Overview
Rixos Premium Belek is set amongst pine on the Mediterranean coast. Belek's immense sandy beaches and magnificent landscape make it a destination full of natural beauty. It is located in the middle of historical, cultural, and natural beauties with proximity to the Taurus Mountains, national parks, and archaeological sites. Rixos Premium Belek does not only offer a luxury vacation for you and your loved ones, but it also provides a unique vacation culture and extraordinary rituals thanks to its eye-catching blue sea, fascinating nature, beach, chefs and delicacies creating a gastronomic culture, sparkling entertainment, a game culture that turns learning into discovery, and a sports culture that turns movement into motivation. Offering a holiday culture that you will be a part of, Rixos Premium Belek is waiting for you at 50 kilometers from Antalya city center, 40 kilometers from Antalya International Airport and only 5 kilometers from Belek city center.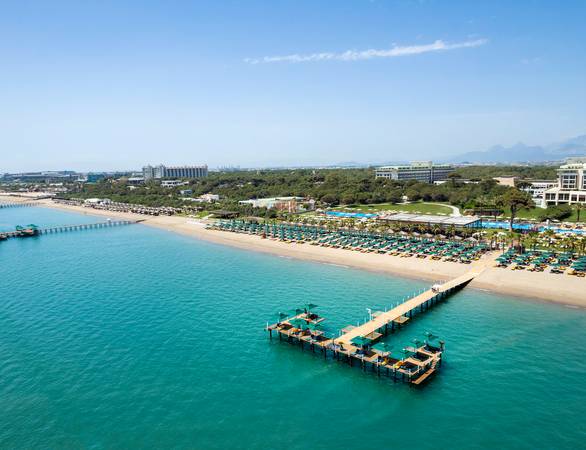 İleribaşı Mevkii Belek
Turkey, ANTALYA
Rooms & Suites
Rooms
(4 types)
Deluxe Room, Garden View
Our Deluxe Room Garden View room is positioned to offer you a sumptuous lush landscape, all rooms with balcony to enjoy sunrise and sunset. Rooms are perfectly appointed to rest and rejuvenate in delightfully serene setting. 37 m² deluxe room.
Deluxe Room, Sea View
Elegantly decorated in modern style, enjoy our 37 m² deluxe rooms, with your own private balcony and amazing views of the Sea. Benefit from both the sunrise and sunset. Marble modern bathrooms and state of the art amenities finish to ensure you relax.
Family Room
Perfect for families, our 49 m² Family Suite can accommodate up to 4 guests in perfect style and luxury. Family Suite guests enjoy lush garden views, a marble bathroom and a lavish private balcony to ensure relaxation throughout your stay.
Deluxe Family Room
You can have a spacious and pleasant time with your family in our large 74 m² Deluxe Family Room, every detail of which has been carefully designed. Our room, which has 2 bedrooms, 2 bathrooms and 2 balconies can accommodate up to 4 adults and 2 children.
Suites
(6 types)
Legendary Suite Garden View
Our Legendary Suites with garden view are situated among the trees, a perfect getaway for those who treasure privacy. Our 64 m² Legendary suite with garden view can accommodate up to 4 guests.
Legendary Suite Swim Up
Our Pool Suites are situated among the trees and surrounded by waterways, a perfect getaway for those who treasure privacy. Our 64 m² pool suite can accommodate up to 4 guests. Equipped with a private terrace and direct access to the waterways.
Deluxe Suite, Sea View
This delightful Deluxe Suite with magnificent Sea View to be enjoyed from your private balcony. Tastefully decorated, the 73 m² Sea View Suite includes one double bedroom and living area with sofa bed.
Superior Suite, Sea View
Two Bedrooms Sea View Suite with view of calm blue waters. Enjoy relaxing in a spacious living room and a large balcony. The two bedrooms with private bathroom of this 94 m² elegantly decorated Suite accommodate 4 adults.
Queen Suite
Queen suite has located in the top floor of hotel with a stunning view, has 1 bedroom and one living room. The terrace from the living room makes the beautiful picture that unites the blue of the Mediterranean Sea with the green the pine trees.
Royal Premium Suite
Royal Premium Suites are noted for a breathtaking sunset experience beyond the spectacular Mediterranean view. 315 m² with 2 bedrooms, 1 sitting room and 1 spacious terrace. Modern design and a Jacuzzi add to a privileged holiday experience.
Villas
(4 types)
Club Villa (Private Airport Transfer)
Club Villa offers comfort and peaceful serenity for perfect pleasure. The spacious swimming pool is dedicated to be shared by all guests of Club Villas, and a private sunbathing area per villa.
Villa Prive (Private Airport Transfer)
Villa Privé with its 264 m² designed especially to make you experience an utterly different holiday with a private garden and private swimming pool and feel at home with all its well-considered details.
Paris Residence
Paris Residence with its 615 m² is equipped with all the comfort and luxurious details. Situated in a lovely landscape and with its emerald green garden, the Paris Residence has a private swimming pool, sunbathing area and private pavilion on the beach.
Helen Residence
With the classic design affording the utmost seclusion and the perfect balance of indoor and outdoor living, six bedroom Helen Residence has a glass-walled indoor pool, an outdoor swimming pool, as well as an inviting lush green garden.
Our offers
Rixos Premıum Belek
Discover our exclusive advantages of 10 days or more stays at Rixos Premium Belek.
See details +
Rixos Premıum Belek
Complete your passion for golf with a unique holiday culture located on the Mediterranean coast among pine forests.
See details +
Rixos Premıum Belek
Treat yourself and your loved one to our unforgettable honeymoon package includes All Inclusive-All Exclusive concept and many surprises!
See details +
Rixos Premıum Belek
Rixos "Silver" Micro - Wedding Package
See details +
It's Childrens's Turn To Serve!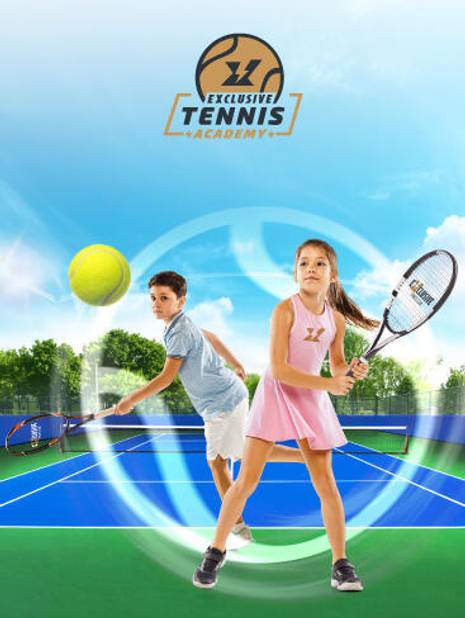 IT'S CHILDRENS'S TURN TO SERVE!

Academic programs, professional trainers, special training programs and everything about tennis await children at Exclusive Tennis Academy.

ACADEMIC PROGRAMS | 1 MAY- 1 OCTOBER

TRAININGS | 10:00 (A.M) – 18.00 (P.M.)
FEELING RAMADAN SPIRIT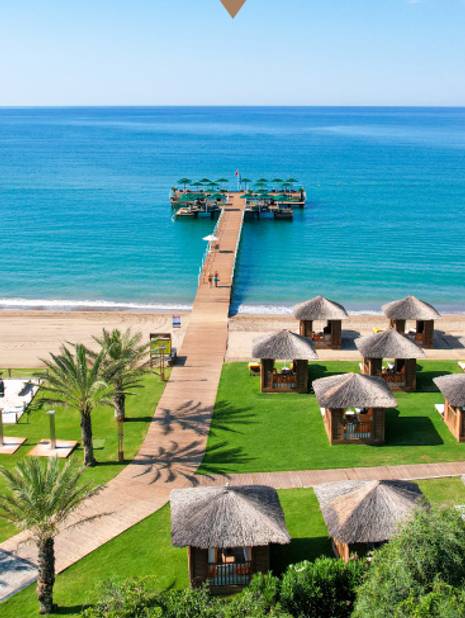 FEELING RAMADAN SPIRIT,
IS A CULTURE HERE
Become a part of it with your family.
Rixos Premium Belek invites you to an unforgettable holiday. Experience the joy of Feast of Ramadan to the fullest at Rixos Premium Belek with it's privileged rooms, suites and villas, restaurants of world famous cuisine, Rixy Kids Club's fun-filled activities for children, unique sports activities with Exclusive Sports Club.

20 APRIL | FLAME ORCHESTRA | ALAADDIN SHOW | DJ VIOLIN
21 APRIL | 35&07 ORCHESTRA | BOHEMIAN SUNSET
22 APRIL | RUSTY WEST | WONDERLAND PARTY
23 APRIL | DRIFTERS | DELLA MILES
RIXY KIDS CLUB
All day long activities and events special for our little guests and impressive shows in the evenings.
20 APRIL | SCIENCE SHOW | QUEST ACTIVITY
21 APRIL | MADRIGAL KIDS SHOW
22 APRIL | ALICE SHOW | INTERACTIVE TECH GAMES
23 APRIL | SNOOPY SHOW | 23 APRIL CELEBRATION & BUBBLE SHOW
*Rixos Premium Belek has the right to change the program without any prior notice.
HolidayCheck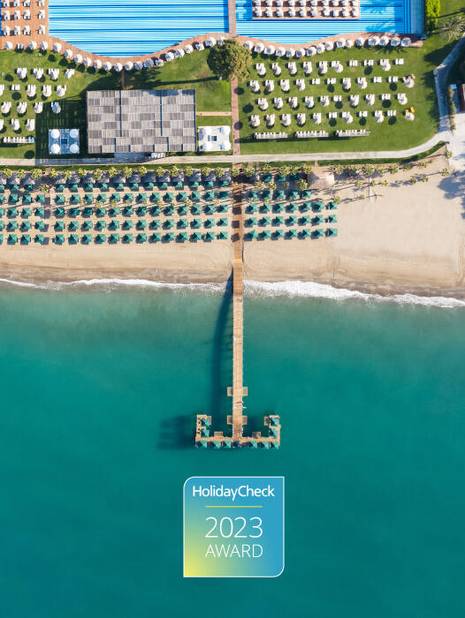 We are pleased to announce that Rixos Premium Belek get an award from Holidaycheck as one of the most popular hotels worldwid.
A holiday culture of your own.Become a part of it. Live it.
Dining
Restaurants (9)
Rixos Premium Belek is a gastronomes dream with eight restaurants serving the most exquisite cuisine. Authentic Turkish dishes, the freshest locally caught seafood and family-friendly favourites are all served by our chefs whose passion for food goes into every plate served.
Akşam restaurant is the real power and energy that comes from the courteous service provided by our staff, and the indescribably delicious grilled courses prepared by our professional kitchen team according to the fine dining standards.
Discover the origins of Italian family dining in a warm and cozy setting.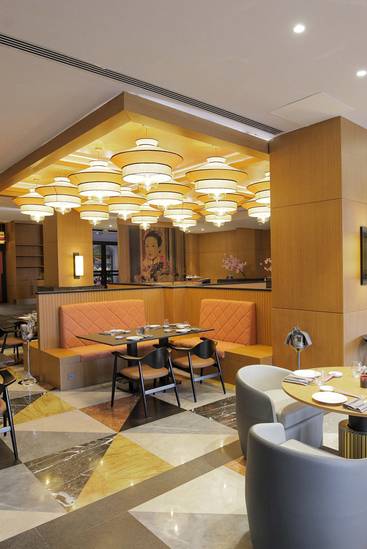 Z'ASYA
The best of the east come to the Mediterranean with Pan Asian inspired cuisine.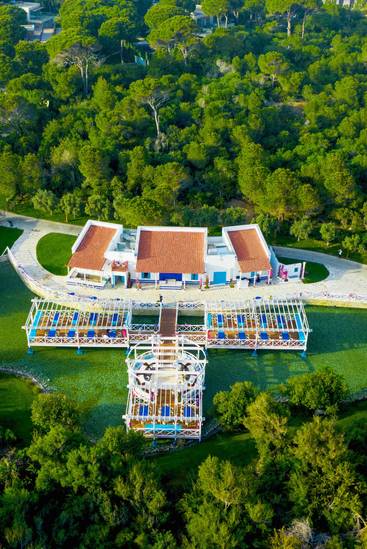 MYKORINI
The breezes of Mykonos and Santorini are at the same restaurant.
As the main restaurant, Turquoise Restaurant provides services for breakfast, lunch, dinner and night meals. Serving world cuisine selections on open buffet, the restaurant is composed of 4 different parts, with a special area for children.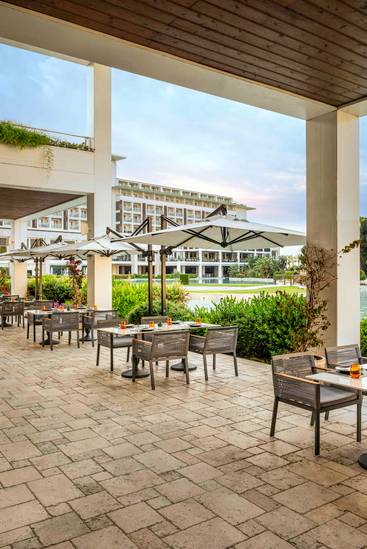 PEOPLE'S
Discover the best dining from our chef's during 24 hours 7 days in a week!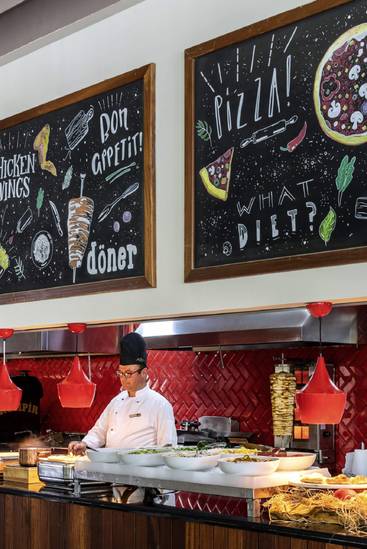 FOOD COURT
Tell us what you want, the Food Court team will make it real for you. While enjoying your time by the pool or by the sea, the most delicious way to assuage your hunger is the Food Court. Refreshing drinks and delightful snacks will make your day.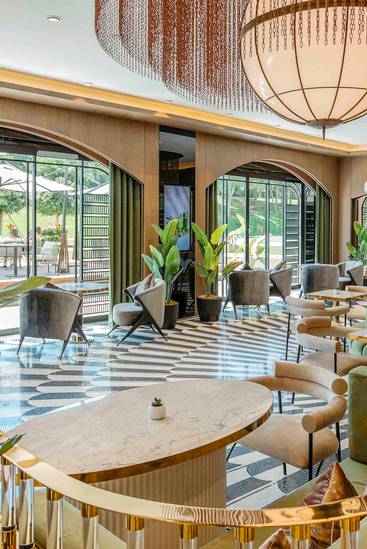 ÉCLAIR PATISSERIE
Waking up to a morning with the charming smell of crispy croissants... Insanely desiring to gulp down something sweet and calming down with French cakes.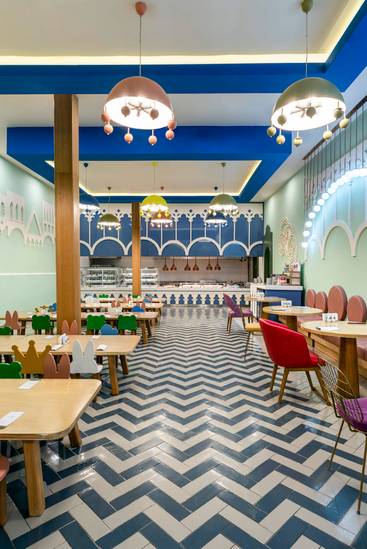 RIXY RESTAURANT
Everything in Rixy restaurant has been created considering the wishes and needs of our little guests. Enjoy warm family atmosphere and keep the spirit of a child with an open buffet lunch.
Bars and pubs (8)
Seven bars take you from sunrise to sunset at Rixos Premium Belek. Traditional Turkish coffee, energy stimulating juices and creative cocktails are all served alongside our excellent wine lists and ice cold soft drinks.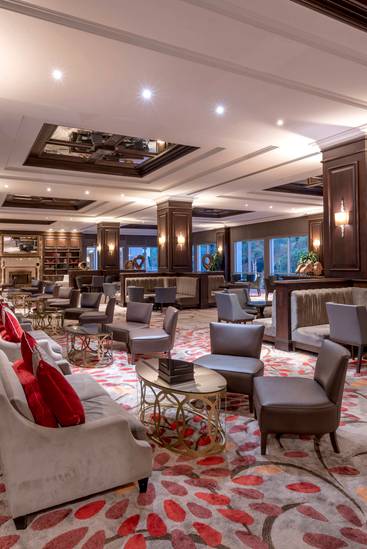 RIXOS LOUNGE
Rixos Lounge is your host for the most special moments. Sipping the distinguished drinks and cocktails, you will enjoy your time in this relaxing decoration by the fireplace, library and in an elegant ambience.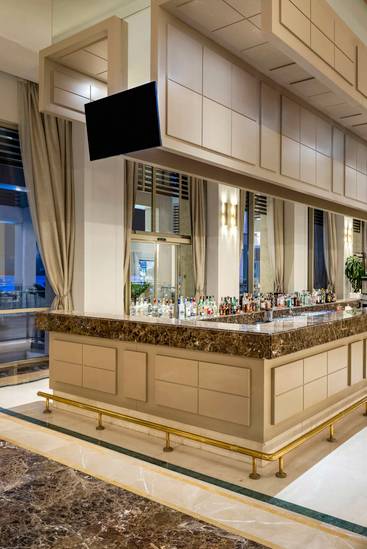 LOBBY BAR
Feel your privilege at the lobby bar, where a wide selection of tea and unique coffee varieties are complemented with cookies and small flavors, with a pool-view terrace and classic cocktails.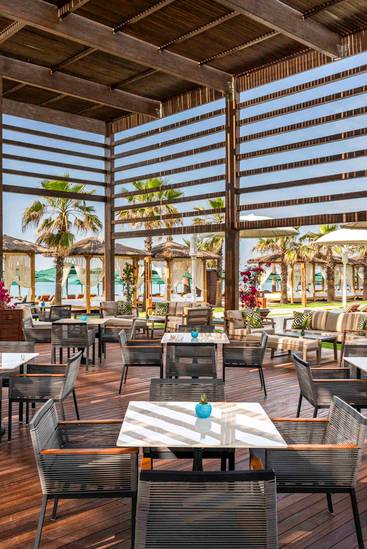 BEACH BAR
Full Bar beverage service and live music in summer season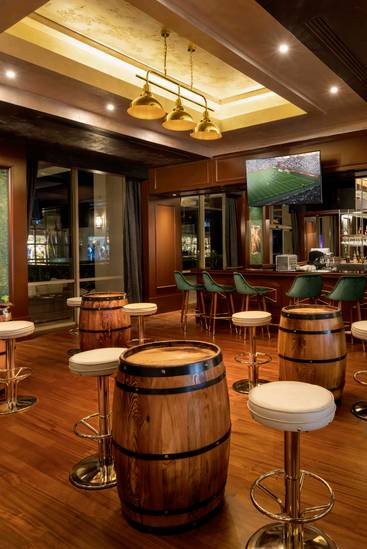 IRISH SPORTS BAR
Standing out with its sports concept, Irish Sports Bar offers an unforgettable experience with a lot of varieties of whiskey, cognac and beer, as well as a magnificent nature view.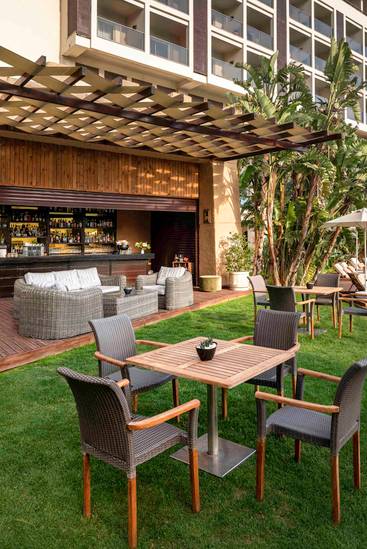 TROY BAR
Coffee varieties and refreshments by the pool, exclusive for Legendary Suites guests at Troy Bar.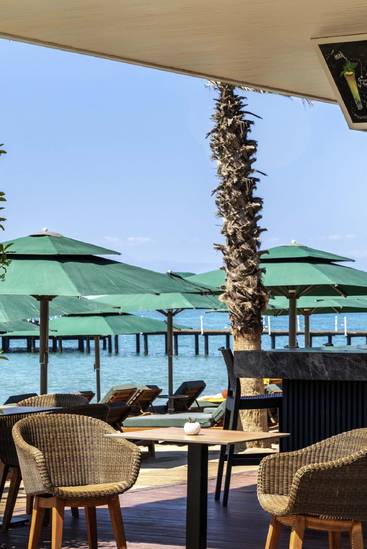 STARBUCKS
Enjoy the world's best Coffee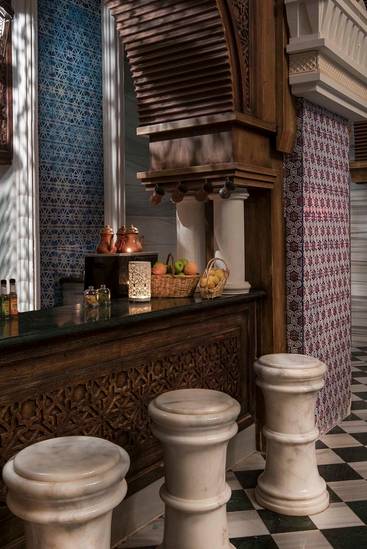 C BAR
Stimulate your energy with refreshing drinks at C Bar, when you feel thoroughly purified and fit after enjoying Anjana Spa at Rixos Premium Belek.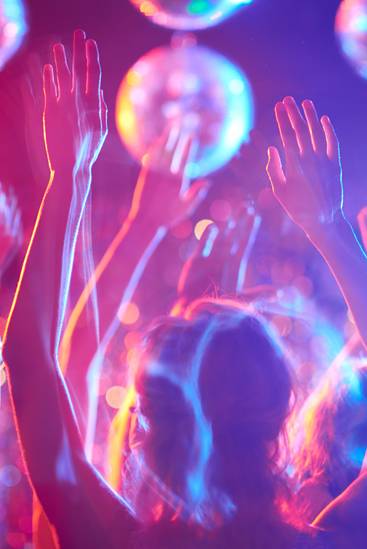 MOOD NIGHT CLUB
You will feel the excitement of pushing the limits at Night Club where entertainment at Rixos Premium Belek is at its peak.
Pools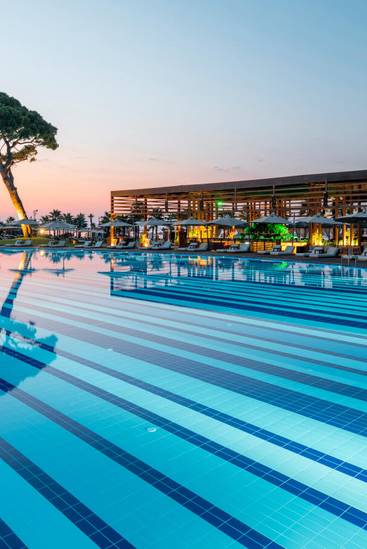 Main Pool
Rixos Premium Belek
Every moment of summer can be more enjoyable when you have main pool.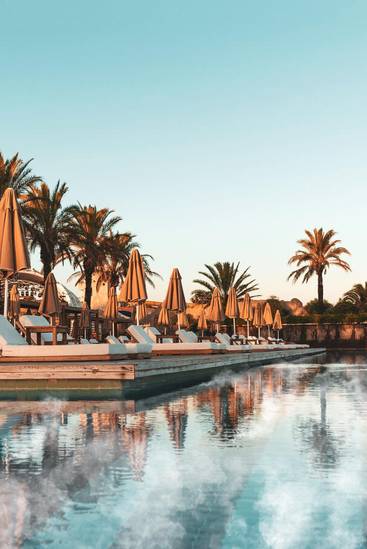 Outdoor Heated Pool
Rixos Premium Belek
Nothing better than enjoying wonderful winter days in outdoor heated pool.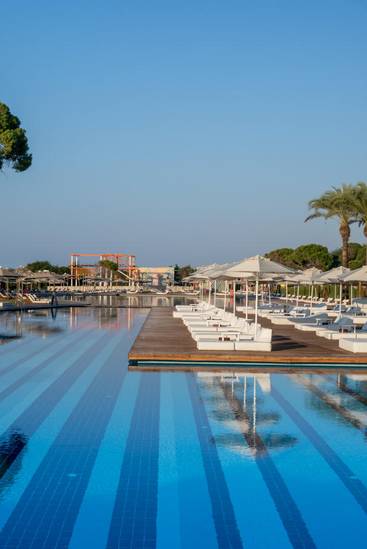 Cool Pool
Rixos Premium Belek
Nothing better than enjoying wonderful summer days in the cool pool.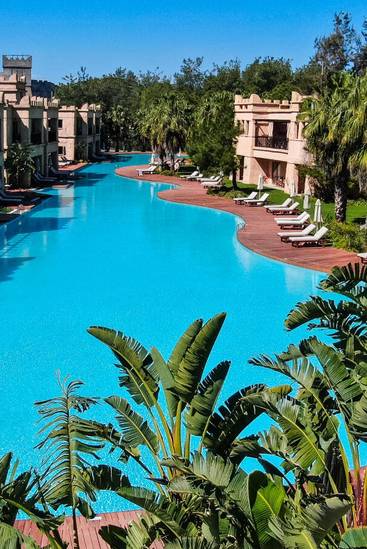 Legendary Suites Pool
Rixos Premium Belek
In the heart of a lush nature, this pool surrounded by banana trees is waiting for you to experience the coolest and most relaxing moments of the day.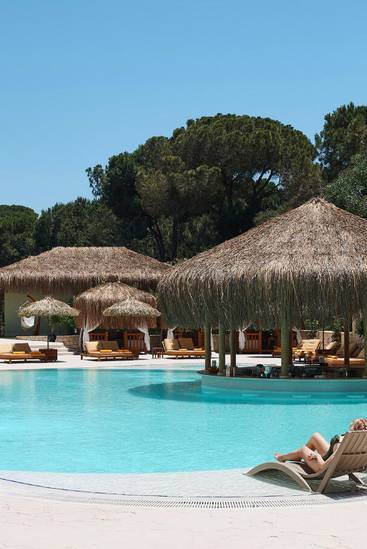 Anjana Spa Pool
Rixos Premium Belek
It's not an ordinary pool. A completely different experience awaits you with the seawater pool that will warm you up in winter and refresh you in summer.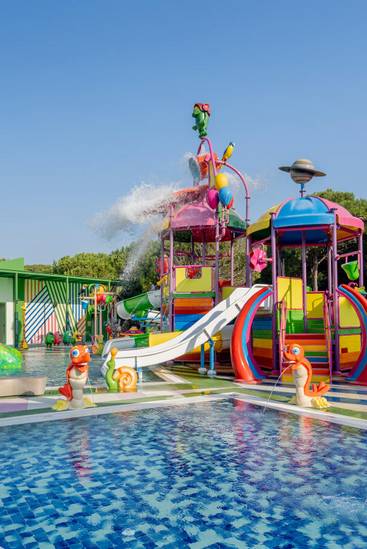 Rixy Kids Club Pool
Rixos Premium Belek
Let their bodies and minds swim free at Rixy Kids Club's pool.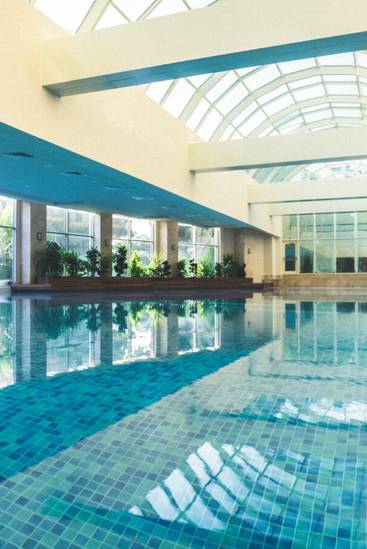 Indoor Pool
Rixos Premium Belek
The most perfect place to refresh yourself with relaxing atmosphere.
Activities and Entertainment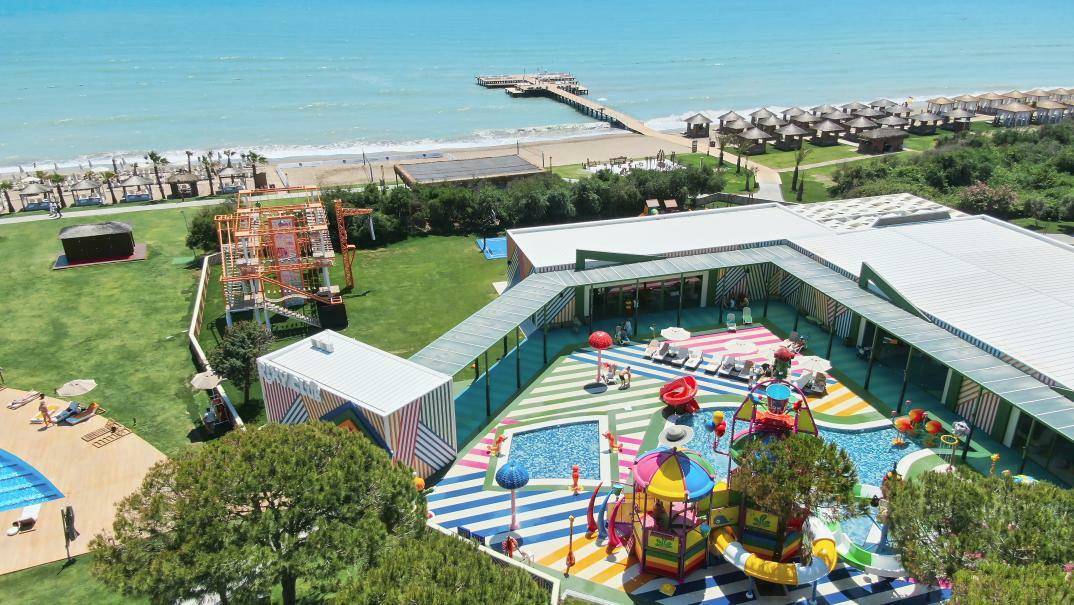 A fun game culture. Become a part of it. Explore it. This is Rixy Kids Club. It is a culture here to play the most joyful games of fun vacations and to explore while playing. Children between the ages of 4-12, who are part of the game culture exclusive to Rixy Kids Club, spend their holidays learning and discovering with adventurous activities. The experienced and caring team of Rixos Premium Belek provides all children with a quite special holiday regardless of their age and bounds friendships across the world. Rixos Premium Belek Rixy Kids Club offers everything down to the finest detail for a perfect vacation for children with its restaurant exclusively designed for children, pool with slides, art studio, PlayStation room, special shows and workshops.
go to active tab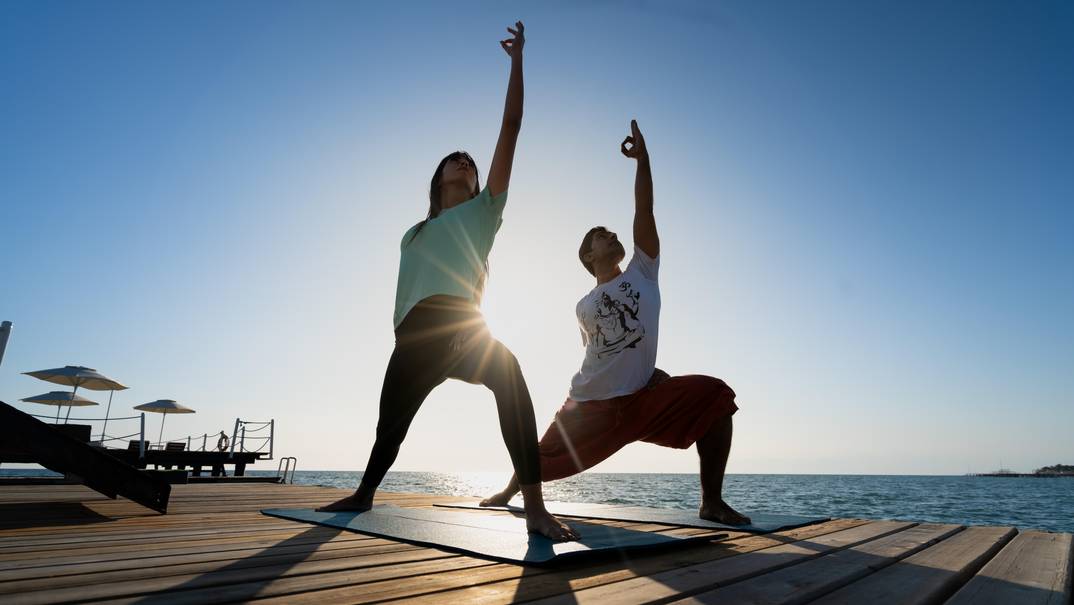 Exclusive Sports Club
Motivational sports culture. Become a part of it. Challenge. Rixos Premium Belek enables you to perform all kinds of sports with its expert trainers, facilities equipped with advanced technology and the variety of its sports activities. Rixos Premium Belek allows you to store motivation on vacation. Because it is a culture here to challenge the rules and limits and turn movement into motivation. Be a part of this sports culture, whether you sweat with TRX or CrossFit, play a football or volleyball match in which you can meet with sports-loving friends, or enjoy a pleasant family tennis match.
go to active tab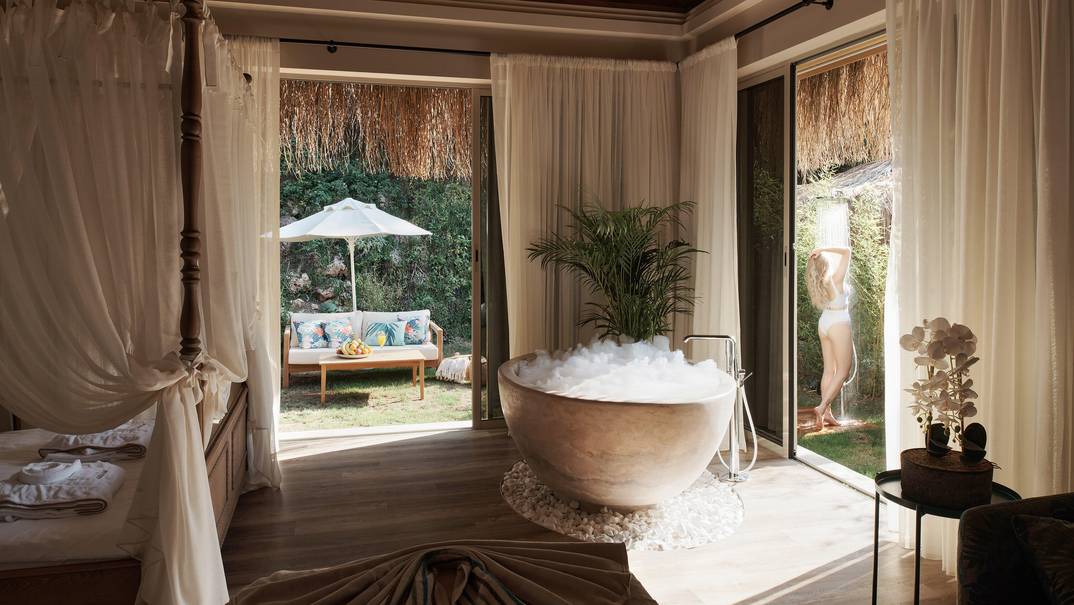 Anjana Spa
A culture of refreshment that would make you feel good. Become a part of it. Feel it. This is a refreshing and rejuvenating spot that makes you feel good thanks to its fascinating rituals and massages, relieves you of fatigue and stress, and takes you on a journey towards inner peace. This is Anjana Spa. It is a culture here to be refreshed mentally and physically, and to feel good.
go to active tab

Live(ly) Entertainment
Rixos Premium Belek offers an awesome programme of world-class entertainment. With different events, concerts and shows each evening, the programme will wow and delight. From DJ sets to live bands, opera, dance and theatrical circus shows, there is something for everyone to enjoy. There is even a special programme of workshops and entertainment for our families and youngest guests so everyone can get into the holiday vibe. Each month brings something new with everything from pool parties to Rixy Kids Olympics and adrenaline-pumping Sports Fest competitions to create a spirited vibe for your holiday against the beautiful backdrop of the Rixos Premium Belek resort.
go to active tab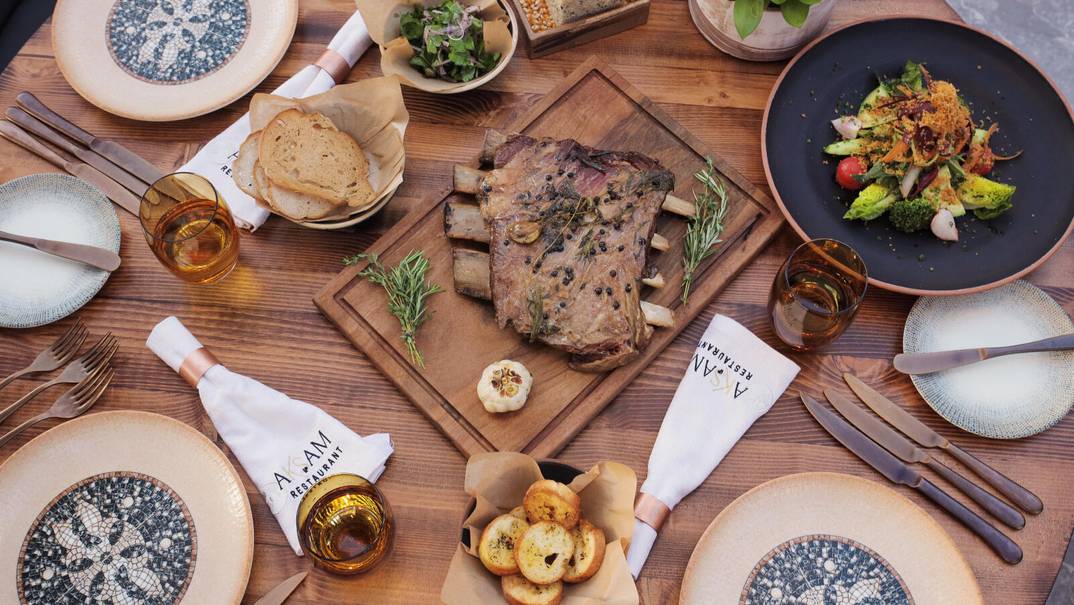 Abundant Flavours
A  apetizing gastronomic culture. Become a part of it. Enjoy it. Rixos Premium Belek offers the most special tastes of the world cuisine with its chefs creating a unique gastronomic culture, eight different restaurants, and bars. Here, from delicious A'La Carte menus to flamboyant buffets and from casual snacks to drinks, you will find endless options to please the gourmet in you.
go to active tab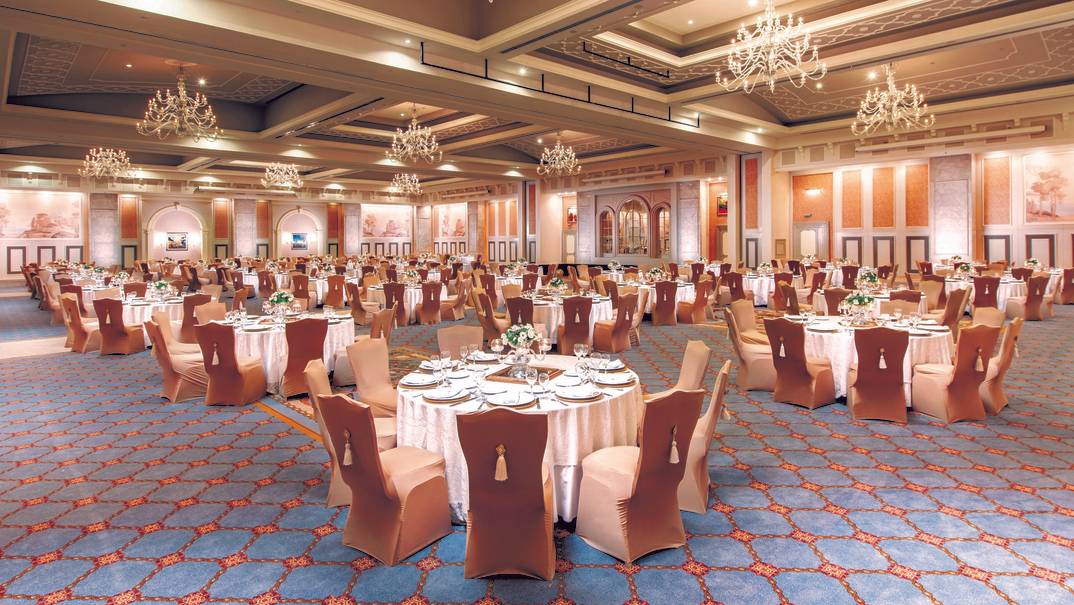 Exceptional Events
With seven halls and a spacious foyer area, Rixos Premium Belek has excellent facilities for events of all sizes such as business meetings, conferences, seminars, workshops. From an extravagant dream wedding for 500 to an intimate product launch or family celebration, we have a venue that is perfect for you. Our professional team are always on hand to ensure everything from layout to menu planning and setting up state of the art technology all go smoothly.
In addition to the convention centre, there is also a business centre at Rixos Premium Belek. The business centre provides services such as correspondence and photocopying for the attendees of conventions and seminars and the hotel's guests. So if work beckons, even on holiday, relax and we will offer you the support you need.
go to active tab
Happy Nowruz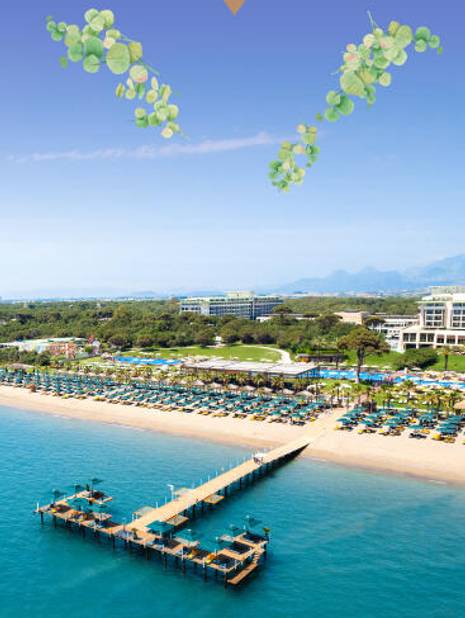 CELEBRATION OF SPRING
IS CULTURE HERE
Become a part of it. Celebrate it.
Discover more
HAPPY EASTER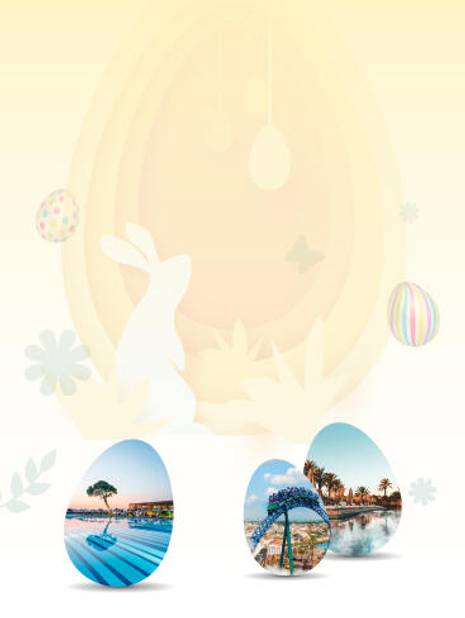 CELEBRATION
IS A CULTURE HERE

WE WISH YOU A
HAPPY EASTER
AND INVITE YOU TO
RIXOS PREMIUM BELEK
FOR AN AMAZING EASTER PROGRAM.
JOIN US
 
Discover more
Sports with PRO's in May!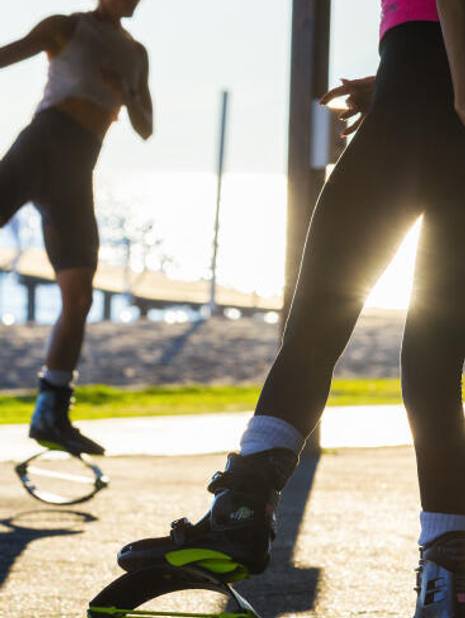 Exclusive Sports Club brings together professional trainers from many different countries of the world for you with Sports with PRO's 2023. Push your limits with unique sports branches!

RUTVELA | Kangoo Power | 1 MAY
ADEL MAALI | Sound Therapy | 2 MAY
MARINA MARTYNYUK | Zumba | 4 MAY
LEVİN TAHMAZ | Group Cycle | 5 MAY
ATEŞ BORAN | Crossfit | 6 MAY
NAILTON HERINGER | Jumping Fitness | 7 MAY
GABRIELA TUFANO | Aqua Boxing | 17 MAY
ELIZA | Kangoo Power | 19 MAY
ALINA ALEKSEEVA | Jumping Fitness | 20 MAY
YULIA KORNEEVA | Pilates | 25 MAY

Feel the vibe keep the energy up!

*Rixos Premium Belek has the right to change the program without any prior notice.
Rixos Holiday Assistant Team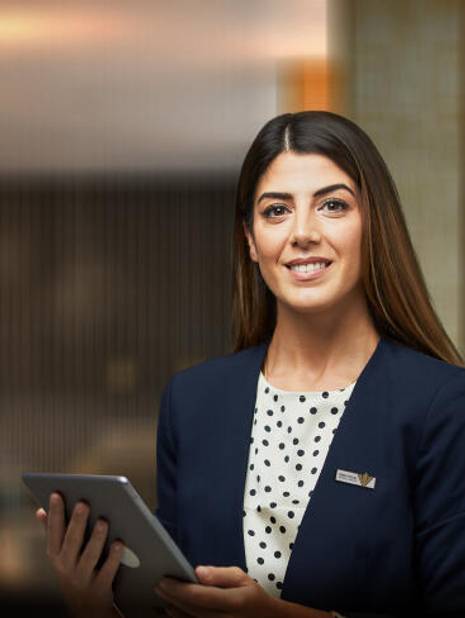 NOT DEALING WITH DETAILS IS A CULTURE HERE MEET THE RIXOS HOLIDAY ASSISTANT TEAM Enjoying vacation more, spending more time with loved ones and not dealing with details is a culture here. So let us introduce you to the Rixos Holiday Assistant team. Rixos Holiday Assistant team awaits to arrange all desires, needs and wishes you may need while pre-arrival duration and during accommodation for an unforgettable moments of Rixos experience. Our English, Turkish, Russian, Ukrainian, German, Arabic, Romanian, French and Persian speaking team consists of 50 personal assistant. Wishes, preferences, A'la carte reservations, special dates arrangements and follow-up of all the guests of all room types between 08:00 - 00:00 are done by this team. Please click here to meet our Rixos Holiday Assistant team and experience unforgettable Rixos moments before you even start your vacation.
Club Privé by Rixos Belek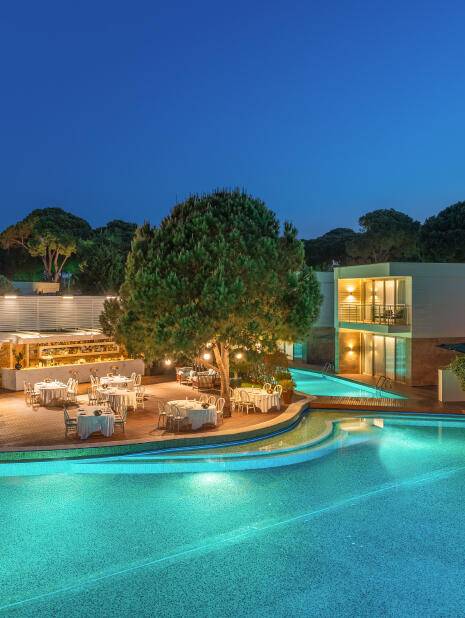 Look closer to harmony of seclusion and luxury. Club Privé by Rixos Belek...
Discover more
0
Guests reviews
100% genuine reviews from our guests
Good services in all areas
Cleaning, room, location, food, drinks, kids areas are perfect.
very good hotel , best.
good foods, nice pool, location, staff, I will come back again.
Great stay
Lovely stay, great service. A shame a few things were going under maintenance during our stay but it was only minor
well located at heart of antalya
Room was clean the staff are so friendly aksam is the best restaurant with good ambience and lovely tasty food.
The best ever
The best and the perfect property ever to escape from the busy world. It has it all required by any Generation.