Our services
مكيّف الهواء
شريط
وجبة افطار
مرافق الأطفال
غرفة لضعاف السمع
قاعة الاجتماعات
ملكية لغير المدخنين 100٪
حمام خاص
المطعم
التنس
إمكانية التنقل بالكرسي المتحرّك
إتصال بالإنترنت
Overview
Rixos Water World Aktau is the first and only five-star luxury resort hotel with "All Inclusive All Exclusive" concept in Kazakhstan. The luxurious hotel is located on the picturesque coast of the Caspian Sea with the marvelous sandy beach and crystal clear azure water. Unique family resort is located 20 km km from Aktau City and immerses guests in an atmosphere of unforgettable beach holidays. A pure luxury haven with quintessentially essence of Turkish hospitality and Kazakh culture.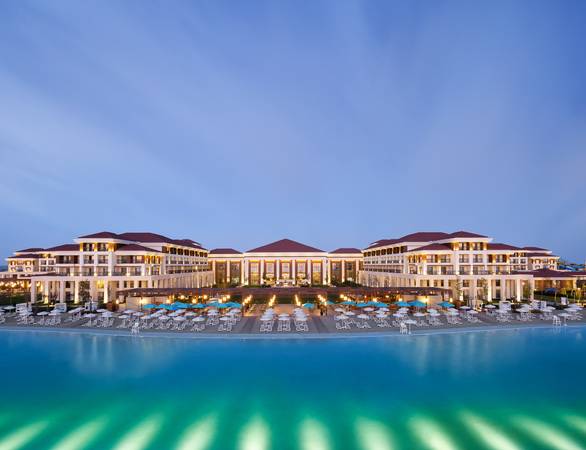 0
آراء الضيوف
تقييمات أصلية 100٪ من ضيوفنا
Amazing Service & Team for b2b Events
I would like to thank Lyudmila Tsvetkova & Anel Amanbek for an amazing KDR-2023 show! Great support and service. Look forward to get back to you guys in a future!
Room, receptionist Service, food could be better aligned for 5*
-Shower drainage system is blocked, water instantly collected. -reception service, laundry service could be better aligned, personnel kept the ironed clothes demanding for payment instead of bringing them back to the room with bill and mobile credit card reader, this caused waiting for ironed cloths for 5hrs, involving reception. Had to insist on delivery of clothes to reach the reception, as didn't have another alternative cloth to wear. Seems that reception was not aware about mobile card reader availability to sort out this issue. -food sameness for breakfast, lunch, dinner. Fish and meat was a bit dry. Food tasted similarly. Thanks for having a great variety of bread, bakery, sweets, ice cream and beverages. Thanks, Anar
Spacious rooms and clean area
This is my second visit to this hotel. I think this time the food was worse than the previous time. In comparison, last time, two years ago, the seafood menu was more varied. Also, the second courses at dinner were monotonous and not tasty.
Stylish, good facilities and cuisine for less demanding guests who are more interested in calories than fine dining.
Facilities, atmosphere and design are grand. From a culinary perspective the experience is more muted. Compared to another Rixos Hotel in Borovoe, the difference in the quality and creativity of the cuisine is quite large. At the Rixos Borovoe the food at the buffet is much better. Plus the a la carte at the various restaurants in the Borovoe Ressort is of much higher standard than at the Rixos Aktau. The Rixos Aktau is clearly geared towards customers with lower culinary demands and expectations.