Overview
Rixos Water World Aktau is the first and only five-star luxury resort hotel with "All Inclusive All Exclusive" concept in Kazakhstan. The luxurious hotel is located on the picturesque coast of the Caspian Sea with the marvelous sandy beach and crystal clear azure water. Unique family resort is located 20 km km from Aktau City and immerses guests in an atmosphere of unforgettable beach holidays. A pure luxury haven with quintessentially essence of Turkish hospitality and Kazakh culture.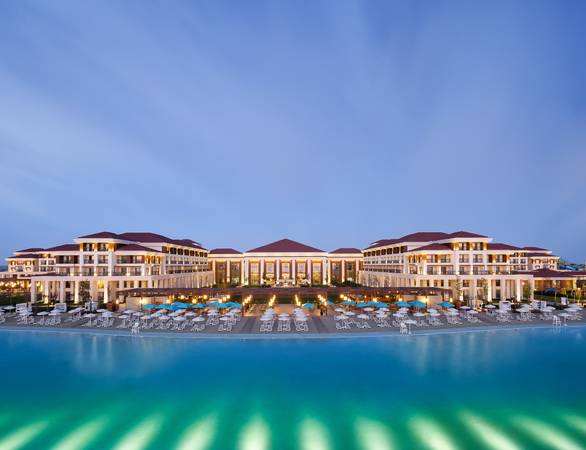 Warm Beach 34, Aktau
Kazakhstan, AKTAU
Our offers
Rixos Water World Aktau
With Rixos Water World Aktauprivileges, it is time for a wonderful holiday together with your loved ones.
See details +
Relax Days Package
Forget about the hustle and bustle in Rixos hotels and relax completely thanks to the unforgettable "Relax Days" offer.
See details +
Rixos Water World Aktau
We invite you to spend unforgettable romantic days of your life surrounded by Rixos Water World Aktau.
See details +
Rixos Water World Aktau
An exciting program and activities for children of all ages.
See details +
0
Guests reviews
100% genuine reviews from our guests
Good place for relax
All liked it. great hotel and area around. I liked the water park and the amusement park too. food is sometimes the same.
Extremely Relaxing
Overall the stay was fantastic, we requested a particular Room & it was allocated for us, so big, big thanks you to the staff for taking the time to facilitate our request, it was greatly appreciated. Only one small complaint, the breakfast food is always cold, especially the fried eggs & sausages................
Cosy stay
Excellent and very welcoming!
Good stay
Good location, food, parks, pools, sports. Staff work could be better.
Ok in general. But transfer arranging service is disappointing. I have arranged and paid few days in advance the transfer arrangement via hotel (from airport to the hotel). The day before travel i have reminded on the requested transport. I was assured all is booked. Upon arrival i found no car. It simply didn't show up. Had to pay again and take a taxi by myself.