Overview
Rixos Marina Abu Dhabi is an iconic architectural landmark that unites the very best of Arabic and Turkish culture, dining and hospitality. Located in the heart of Abu Dhabi's retail, entertainment and residential hub, Rixos Marina Abu Dhabi is a multifaceted resort presiding over sparkling waters and a sandy shoreline. Rixos Marina Abu Dhabi reflects the versatility of Abu Dhabi as both a cosmopolitan city abounding with enriching experiences and an archipelago with a rich natural and aquatic heritage. Rixos Marina Abu Dhabi seamlessly fuses sophisticated aquatic and arabesque design to tell the story of Abu Dhabi from its ancient seafaring origins to a thriving cosmopolitan city that takes pride in its heritage and ultimate luxury experiences. As a destination, Rixos Marina Abu Dhabi dares to be different, elevating guest experience through incredible design, amenities, ambience, gastronomy, entertainment, and leisure.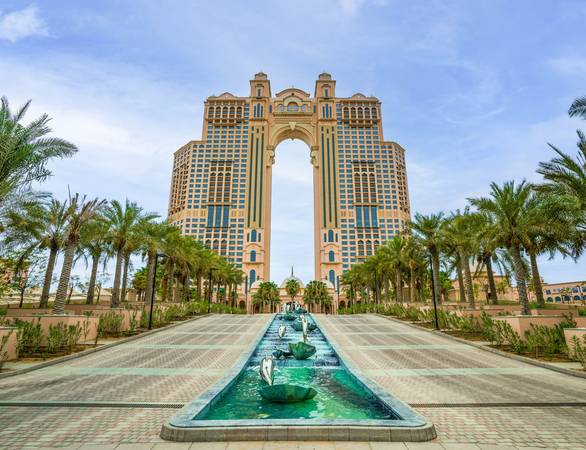 Marina City Ring Road
United Arab Emirates, Abu Dhabi
Multiboard Experience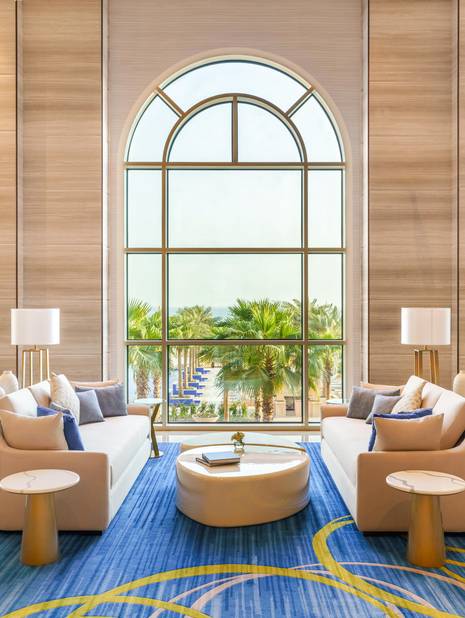 The Rixos Marina Abu Dhabi's Multi-Board Experience is designed to meet the needs of all types of travellers. This experience enables guests to discover a new sense of freedom and explore a world of possibilities via award-winning world cuisines, luxurious accommodations, vibrant entertainment, thrilling activities and authentic Turkish hospitality. Guests at Rixos Marina Abu Dhabi can enjoy individual and meaningful services, consisting of full or half-board packages and all-inclusive or room-only offers, ensuring their stay is uniquely memorable. 
Rooms & Suites
Rooms
(7 types)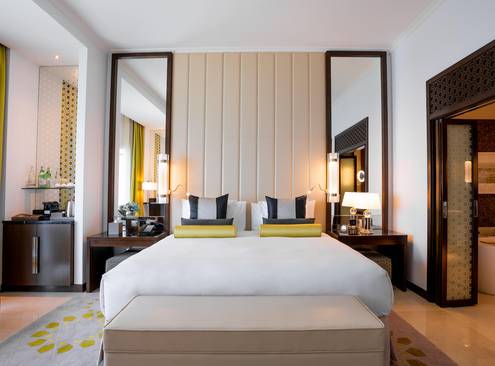 Superior Room
An elegant blend of Arabian décor with modern functionality, Superior Room King bed or Twin beds offer the perfect escape for rest and relaxation. The guest rooms feature luxury amenities and uninterrupted views of lush greenery.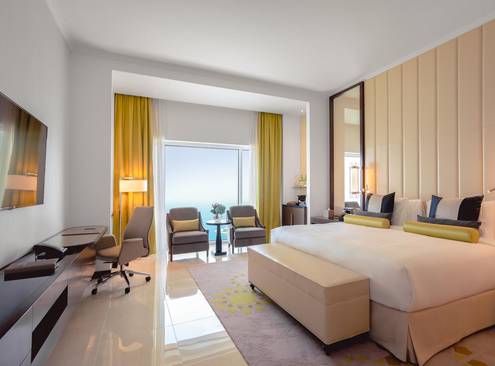 Superior Room - Sea View
Superior Sea View rooms offer bonafide luxury fitted with plush King bed or Twin beds. Guest rooms offer floor-to-ceiling windows with luxury amenities that paint an opulent scene, with uninterrupted views of the Arabian Gulf.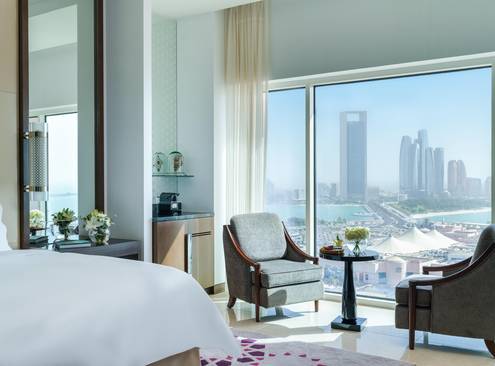 Deluxe Room - Corniche View
Spacious and opulent rooms offer gorgeous views of the Abu Dhabi Corniche strip. The rooms are fitted with a King bed or Twin beds , 65" smart TV, and luxury amenities to make time spent in the room blissful.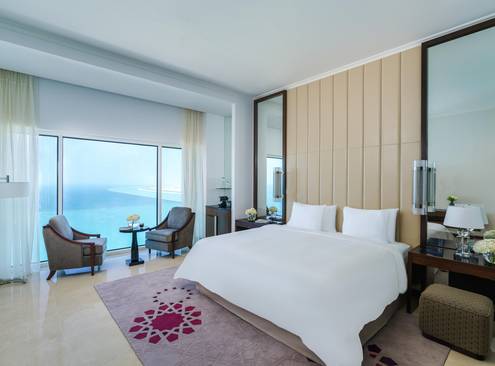 Deluxe Room - Sea View
Equipped with luxurious King bed or Twin beds, the Deluxe guest rooms with sea views are comfortably furnished in warm tones with a seamless combination of contemporary decor and distinct Arabian design complemented by unmatched views of the Arabian Gulf.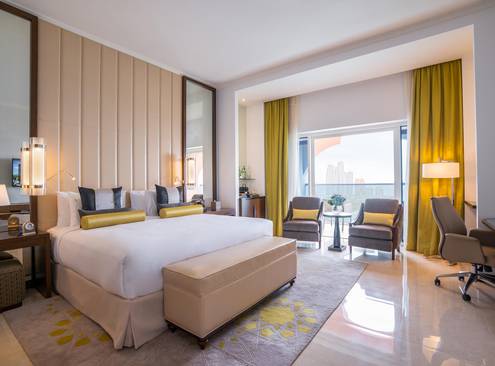 Premium Room - Corniche View
Furnished with warm tones and offers a panoramic view of the stunning Abu Dhabi Corniche and its opulent cityscape. Guests can choose a King bed or Twin beds and are able to relax and enjoy the serene surroundings of the luxurious haven and its amenities.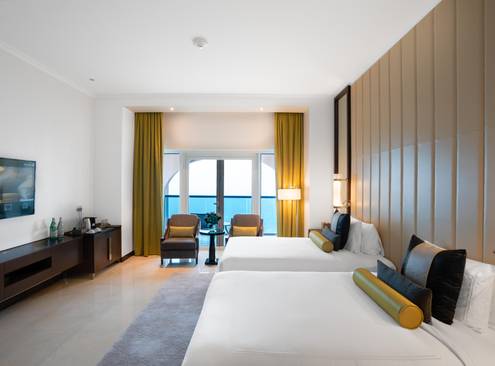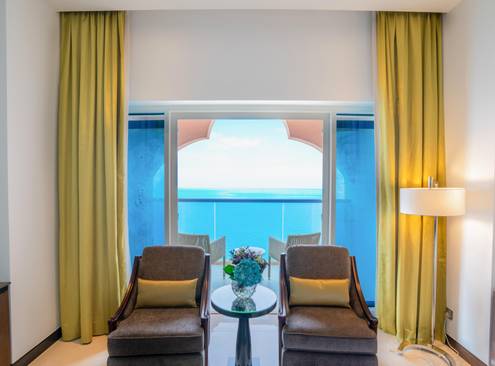 Premium Room - Sea View
In addition to breathtaking Arabian Gulf views, the Premium Room Sea View was designed with a sophisticated flair. It is fitted with lavish Kind bed or Twin beds with amenities and a 65'' smart TV, for guests' entertainment.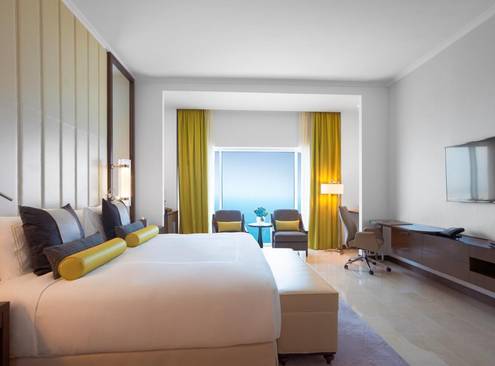 Two-Bedroom Family Room
Our Two Bedroom Family Rooms are perfect for versatile families looking for an exemplary getaway. The king-sized guest room is connected to the parallel-twin bed with floor-to-ceiling windows and beautiful views of the landscape.
Suites
(6 types)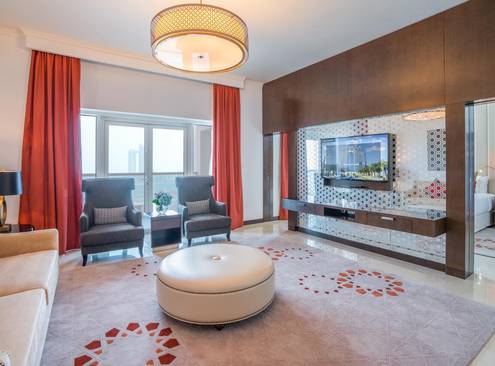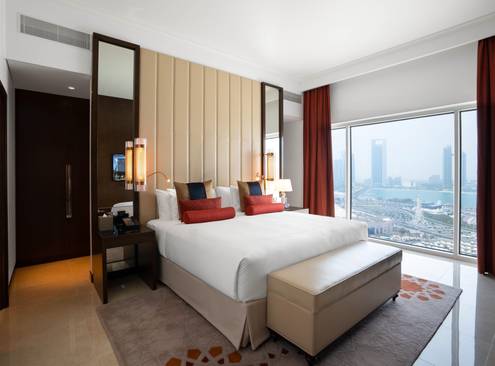 Junior Suite
The Junior Suite features uninterrupted scenic views of the gorgeous Arabian Gulf. Junior Suites are elegantly trimmed with a 65" Smart TV and complemented with spacious living spaces offering luxury amenities that provide a perfect escape for rest and relaxation.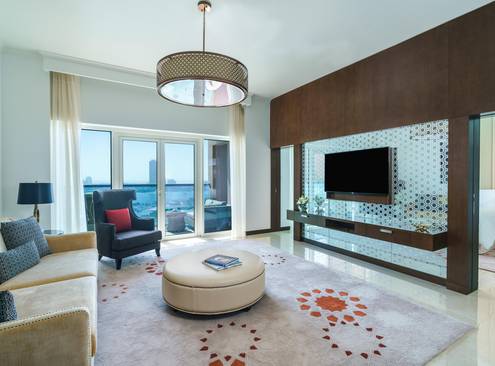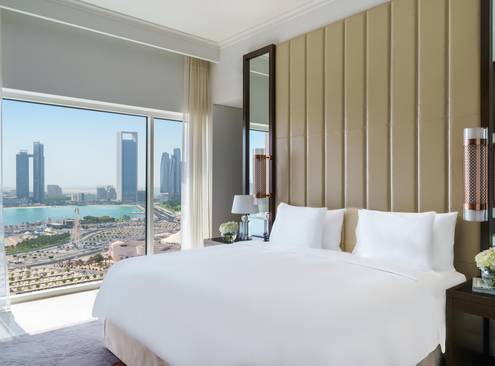 Senior Suite
The Senior Suite is like a home away from home, with spacious interiors highlighting elegant Arabian décor with a modern twist. The suite boasts uninterrupted views of the city and gorgeous Arabian Gulf, which may be enjoyed from the optional balcony or a luscious king-sized bed.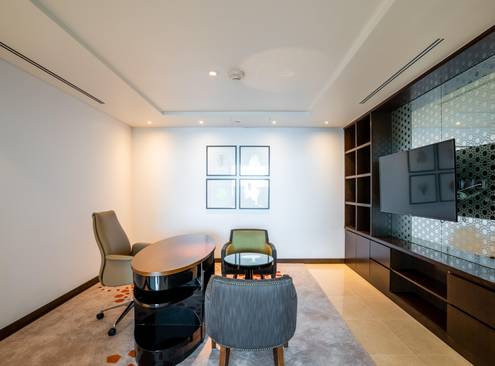 Executive Suite
For those looking for next-level luxury, the Executive Suite offers a separate lounge to the bedroom and office space for the executive traveller. The suite is enhanced with scenic views of the Arabian Gulf, and a heavenly king-sized bed, offering luxury amenities to ensure a relaxing stay.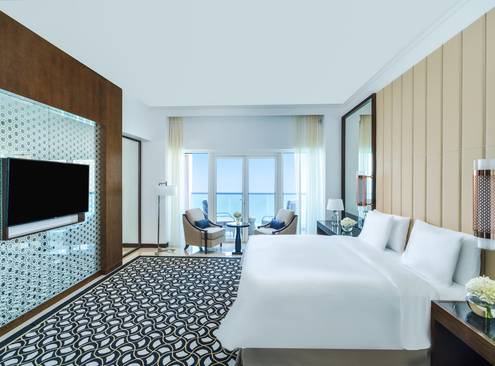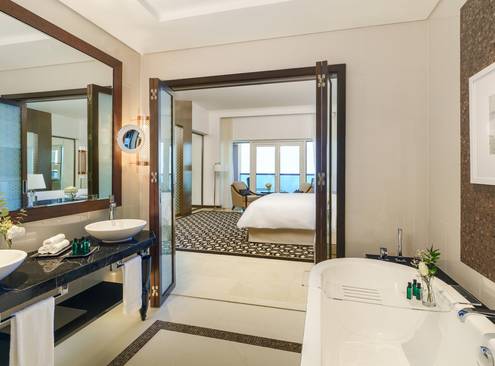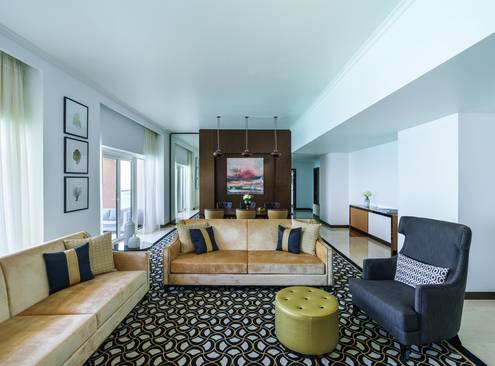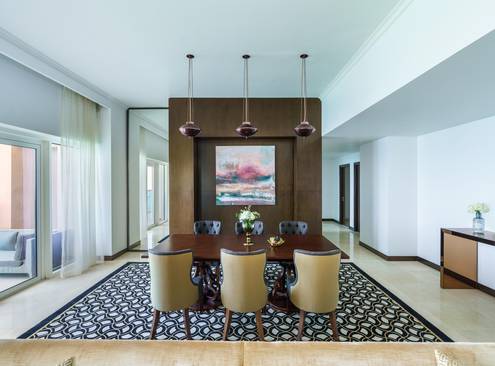 King Suite
Opulent luxury sets the tone for King Suite excellence. It features elegant Arabian décor, modern functionality and luxury lifestyle convenience spread in a spacious separate lounge and bedroom with floor-to-ceiling windows that lead onto a breathtaking balcony with unforgettable views of the capital's city landscape and gorgeous Arabian Gulf.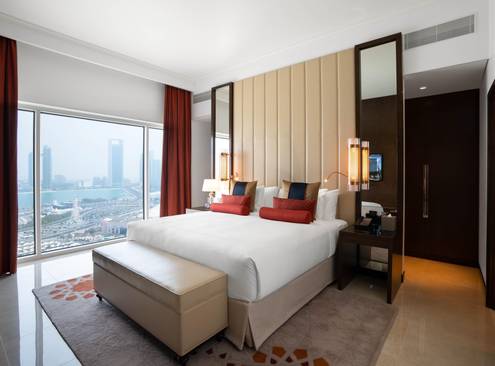 Presidential Suite
The Presidential Suite is the embodiment of luxury. It is desirably fitted with an on-suite kitchenette, separate bedroom and lounge with floor-to-ceiling windows leading onto a balcony boasting unforgettable views of the Arabian Gulf.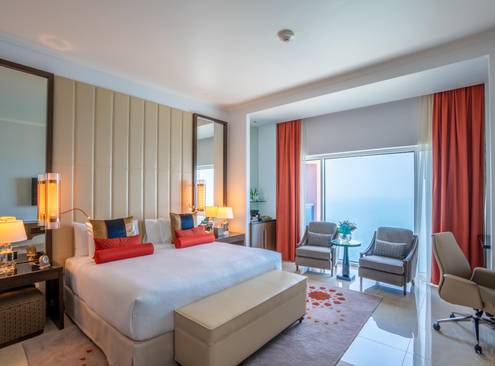 Royal Suite
The Royal Suite is perfect for those who enjoy an opulent lifestyle with its supreme views from up high. This auspicious living space offers a private lounge and dining area, two luxurious guest rooms elegantly fitted with a private sauna and a steam spa perfect for rest and relaxation.
Dining
Discover extraordinary culinary experiences like no other. Rixos Marina Abu Dhabi is home to 10 distinctive outlets that will satisfy even the most discerning palates and unleash a flavor of gastronomic experiences from around the world complemented by an unforgettable ambience.
Restaurants (6)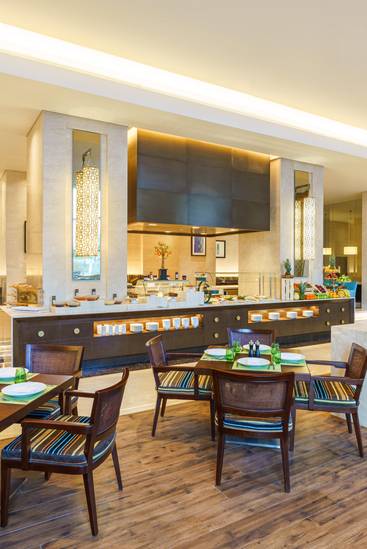 Turquoise Restaurant
Breakfast: 06:30 – 10:30
Lunch: closed
Dinner: 18:30 – 22:00
Turquoise is renowned as our leading signature all-day dining restaurant. This gastronomic dining experience offers a wide variety of flavors from world-class cuisines served in an open-buffet concept. Savor a variety of international dishes complimented with refreshing hot and cold beverages.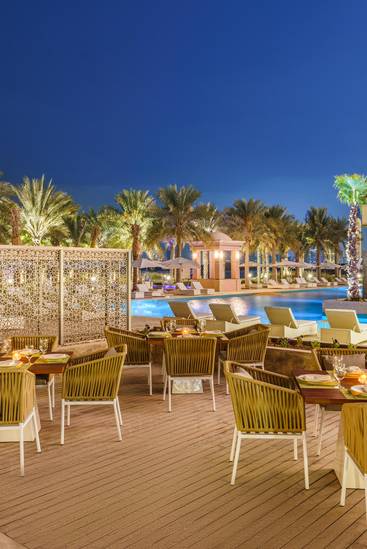 People's Restaurant
Lunch: 11:30 – 17:30
Dinner:19:00 – 23:00
Stop by our casual all-day dining restaurant for a captivating array of flavors from around the world. Mastering the culinary journey of international cuisines, our speciality chefs, inspired by their travels and passion for food, have curated a casual dining menu full of flavor and favorable to every guest looking for the perfect social atmosphere.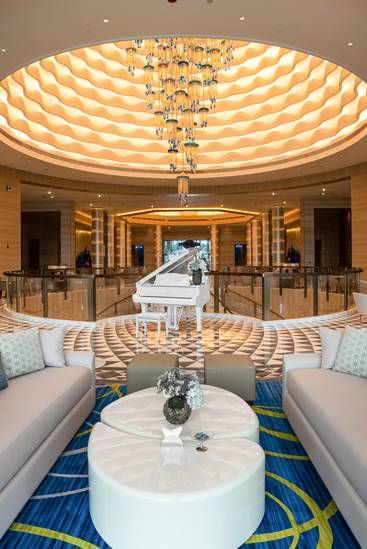 Godiva Cafe
24 hours operations
The world-famous Belgian chocolatier offers an assortment of curated hot and cold beverages, patisserie bites, and distinctive new chocolate creations.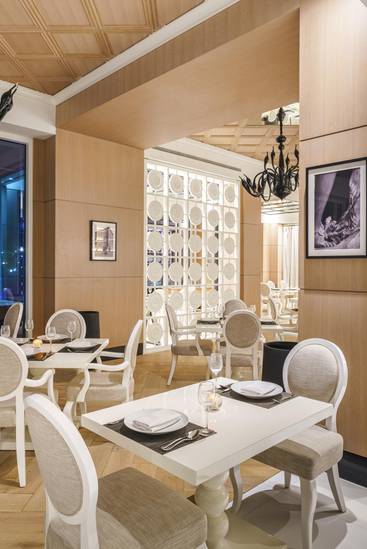 Vero Italiano
Opening soon.
A classic and wholesome Italian ristorante bringing the traditional flavors of Italy to the city. With a warm and authentic ambience, your senses are piqued by the smell of fresh ingredients as you walk through the door. Vero Italiano Ristorante offers the best of Italian cuisine in a vibrant yet sophisticated setting, reminiscent of the emblematic Amalfi Coast.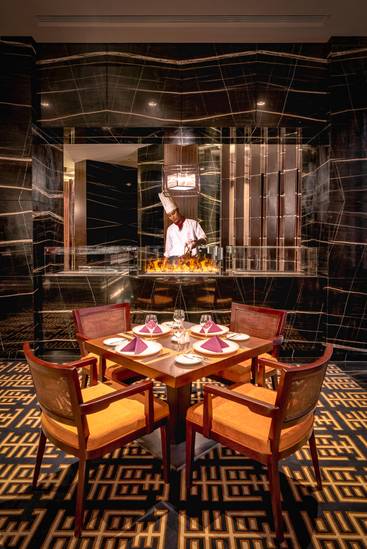 The Flame Steakhouse
Opening soon.
Delivering Argentinian a-grade cuts perfectly seasoned and aged to perfection, the Flame Steakhouse offers the very best when it comes to a carefully curated infusion of Argentinian Grills with Portuguese cuisine. The 168-seated venue showcases its fine cuts through various open live kitchen stations for an optimal view of how truly fresh the food is.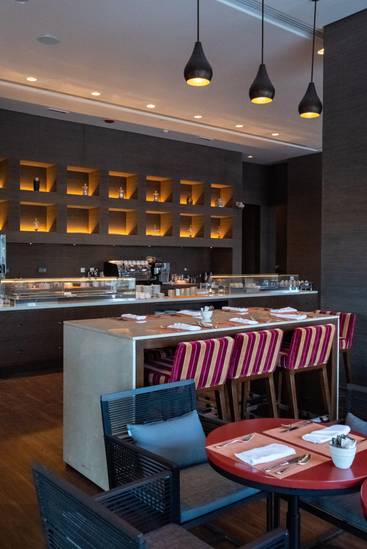 The Bakery Club
Opening soon.
A stylish yet charming café bringing wholesome food culture and baked delights to the city. With a well-lit interior and 80 seats, this chic café boasts a wide selection of tasty treats, stunning sea views, and lush greenery.
Bars and pubs (4)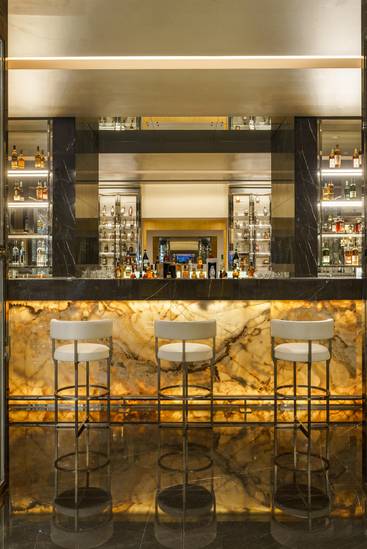 Anti-Dote Bar
Opening soon​​​​​.
Anti-Dote is a cosmopolitan bar boasting a chic atmosphere and world-class cocktails. Anti-Dote offers a wide variety of cocktails, mocktails and mouth-watering bites to alight the senses. Taking mixology to another level, this fabulous bar creates experimental cocktails designed for adventure seekers looking for their newest insta moment.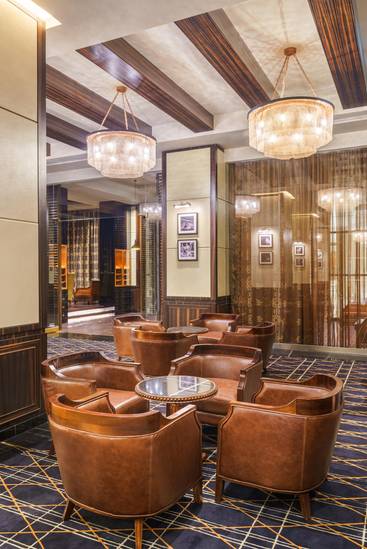 Cuba Cigar Bar
Opening soon.
Cuba Cigar Bar is the ideal place to relax and unwind as you enjoy a selection of world-class rolled cigars while sipping cocktails in an intimate setting. Revel in aperitifs and sundowners before dinner while listening to soothing jazz piano and laid-back Latin music.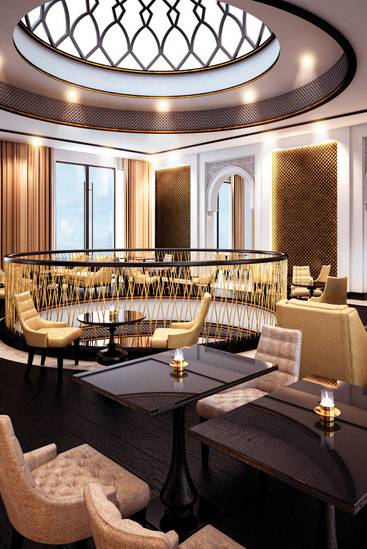 Privé Lounge
Opening soon.
Prive Lounge is Abu Dhabi's most anticipated luxury venue. Nestled on the sky-high 37th floor rests an exclusive fine-dining restaurant and lounge with unparalleled views of the capital's cityscape and azure Arabian Gulf. Prive Lounge infuses the elusive culinary secrets of ancient China with the Peruvian tastes of Latin America, creating a memorable culinary experience for guests. Indulge in decadent food, drink and entertainment in an upscale lounge setting amidst designer art collectives and a variety of tailored connoisseurs.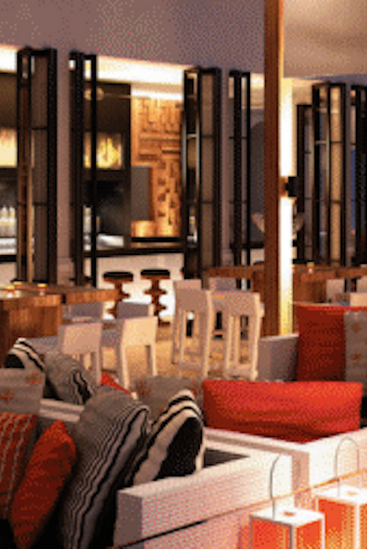 Isla Beach Bar
Opening soon.
An elite beach bar inspiring an assortment of favorable hot and cold tapas with a selection of intriguing and refreshing cocktails, mocktails and other Havana-inspired beverages.
Activities & Entertainment
Meetings & Events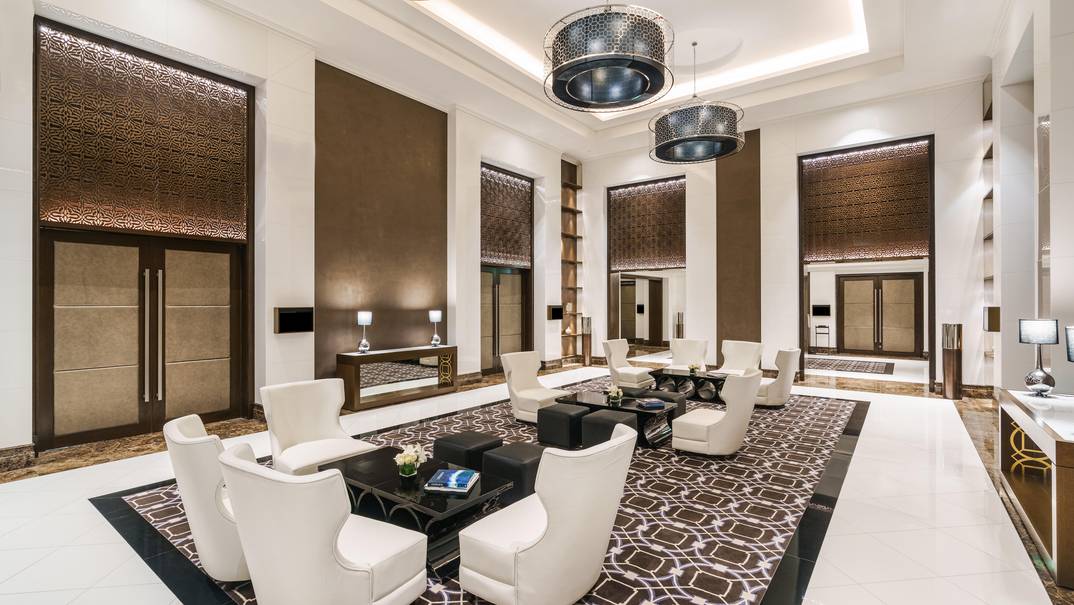 Exceptional Events
We take your events to the next level with state-of-the-art audio visual technology wherein we can showcase logos, personal messages and theme colours to compliment the occasion.
Rixos Marina Abu Dhabi offers multiple venues, including a grand ballroom,spacious meeting rooms, an expansive outdoor garden and beach venue to set the scene for truly memorable events
go to active tab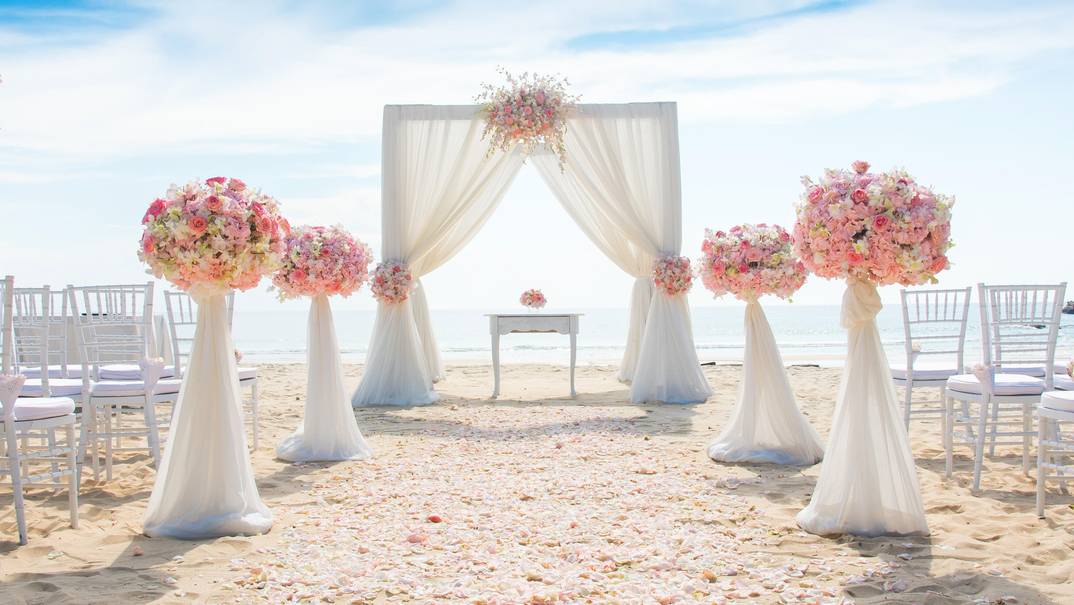 Weddings of Wonder
At Rixos Marina Abu Dhabi, you and your spouse-to-be can experience a secluded, sun-soaked wedding paradise on a dreamy sandy shoreline. This iconic destination offers everything you need for a memorable barefoot wedding ceremony.
go to active tab
Our Offers
Romance Escape
Perfect for an amazing honeymoon, a special wedding anniversary or a quiet weekend away for two. Our Romantic Escape will help you relax, unwind and celebrate love with your loved one. Immerse yourself in an indulgent escape at Rixos Marina Abu Dhabi.
See details +
1
Guests reviews
100% genuine reviews from our guests
Great hotel and services!!
We had a late check-in and room upgrade. The hotel has a perfect view and excellent services. We will return for sure!!
Superb service and experience
Loved our 4 days stay. It was excellent service.
Excellent hotel
A great hotel for a family holiday, I really liked it, we will definitely come back to this hotel. Many thanks to the staff, especially Milena at the reception. The waiter by the pool is a real pro, delivering orders on roller skates – it's just amazing!!! I definitely advise you to come to this hotel.
Well located and staff is wonderful. Housekeeping, lifeguards near the pools and all others are just amazing.
Merhaba, Overall my experience was fine. The only confusion I still have is regarding deposits and payment. While checking in I have paid $1776.46(which is around 6525 dirhams, including 2000 dirhams for deposit)+$216.45 paid separately for additional persons(my wife and 1 year old kid). Total paid on 15.Jan: $1992.91(around 7320 dirhams). While checking out on 20.Jan more money was charged from the same debit card, to be more precise $982.85 was charged. I asked receptionist colleague for the reason(his name was Ali, I guess) and he really wanted to explain why that happened, it still not fully clear to me. So all in all, $2779.31(10208.31 dirhams)+$216.45(paid separately) was charged from the card, while the price for the room number was 4,154.32 dirhams. So there is quite big difference for +6000 dirhams. All screenshots or bank statement can be sent to you if required. I would really appreciate your comment. Thank you. Anar Kerimov.