Our services
Babysitting on request
Bar
Child facilities
Meeting room(s)
Car park
Swimming pool
Restaurant
Tennis
Internet access
Spa
Convention centre
Villa
Overview
Every morning at sunrise, the silhouette of Tahtali, which is the most magnificent peak of Taurus Mountains, reflects on Rixos Premium Tekirova facing the serene waters of Mediterranean. Offering an unforgettable vacation for its guests with a sense of luxury service nested in nature, Rixos Premium Tekirova is located under this silhouette and right next to Phaselis, the harbor city of Land of the Light, Lycia. Rixos Premium Tekirova creates a mystical and mythological ambiance in a quiet bay surrounded with red pine trees in the Olympos - Bey Mountains Coastal National Park by blending comfort, convenience and privileges. Rixos Premium Tekirova offers 24 hours full of activities for all ages from the youngest member of the family to the oldest, with its motto "Happy Child, Happy Family", and also highlights healthy life. Our hotel supports the increase and preservation of the quality of life of its guests, while enabling those who want to stay active during their holidays to motivate themselves with body and soul regeneration.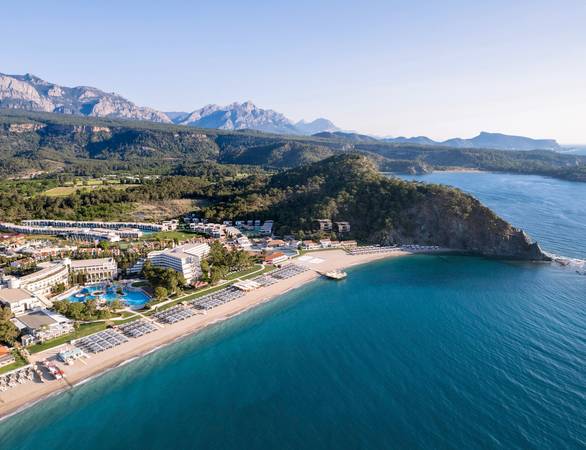 Tekirova Beldesi P K 137
Turkey, ANTALYA
Abundant Flavours
At Rixos Premium Tekirova guests are spoilt for choice with restaurants and bars. Family-friendly or romantic? Casual or stylishly elegant? Buffet or a la carte? Wine or cocktail? The resort has an outstanding collection of places to eat and drink.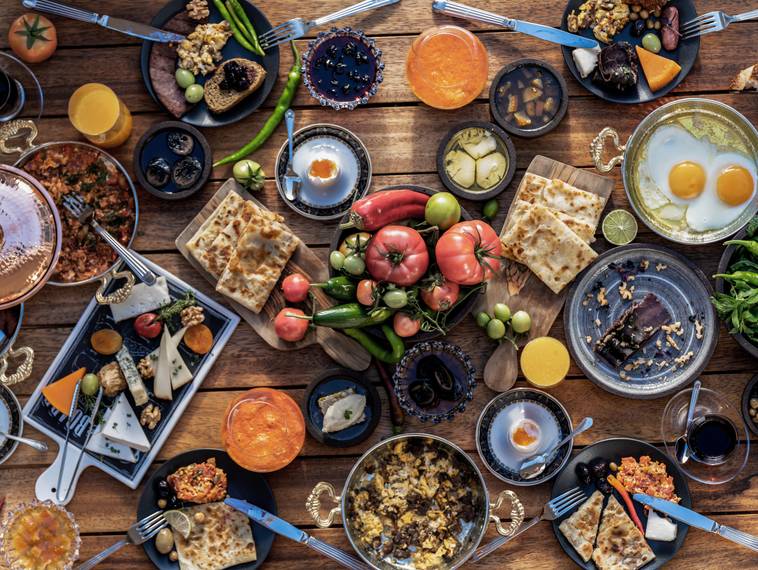 At Rixos Premium Tekirova guests are spoilt for choice with restaurants and bars. Family-friendly or romantic? Casual or stylishly elegant? Buffet or a la carte? Wine or cocktail? The resort has an outstanding collection of places to eat and drink.
Rooms & Suites
Rooms

(4 types)

Standard Room, Garden View
All our standard rooms come with private balcony to enjoy the summer mornings and evenings. Rooms are perfectly appointed to rest and rejuvenate in delightfully serene setting. 26 m² standard room accommodating up to 3 guests (2 adults + 1 child)

Standard Room, Sea View
Enjoy our 26 m² Sea View rooms, with your own private balcony and breathtaking views of the Sea, relax and benefit from both the sunrise and sunset. Bright and spacious to ensure you relax and unwind. (Max. Accommodation is up to 2 adults + 1 child)
Deluxe Room, Land View
Room includes 1 double or 2 single beds, work table, LCD TV, satellite broadcasting, musical broadcasting from TV, minibar, telephone, air-cooling system, electronic safe, balcony, carpet, bathroom with shower and WC, hairdryer, bathrobe, slippers. 32 m².
Deluxe Room, Sea View
Enjoy our 32 m² Sea View rooms, with your own private balcony and breathtaking views of the Sea, relax and benefit from both the sunrise and sunset. Bright and spacious to ensure you relax and unwind.
Suites

(6 types)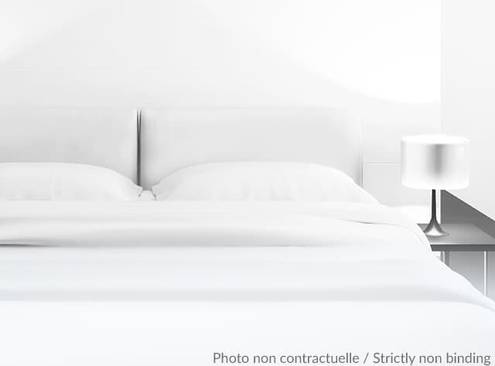 Deluxe Suite
The suite includes 1 bedroom & 1 living room, work table, 2 IP LED TV, mini bar, air condition, electronic safe, balcony, carpet & tile surface, 2 bathrooms with shower&WC, hairdryer, personal set, bathrobe&slippers, hot drinks set-up, set for kids.
Pool Suite
Room includes one double bedroom, sofa, work table, terrace, swimming pool, IP LCD TV, musical broadcasting from TV, minibar, air-cooling system, electronic safe, balcony, hot drinks set-up, bathroom with shower and toilet, hairdryer, bathrobe slippers.
Pool Villa
Perfect for families, our 2 storey 100 m² Pool Villa consists of 1 double room upstairs completed with deluxe bathroom and spacious living area downstairs, with a magnificent private terrace with direct access to the pool area.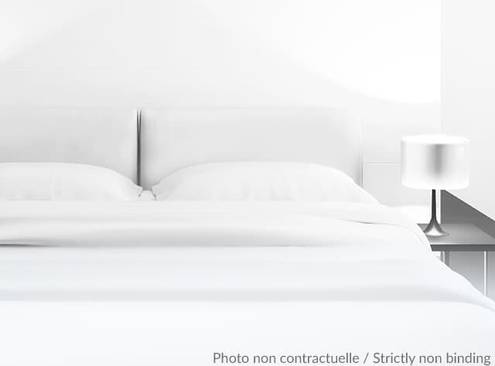 Family Pool Villa
Duplex; on first floor 1 bedroom (with french bed) and bathroom (shower / WC) on the second floor; 1 bedroom (with 2 twin beds) and bathroom (shower&WC) on the first floor. Villa has direct connection to the common pool with sloping entrance.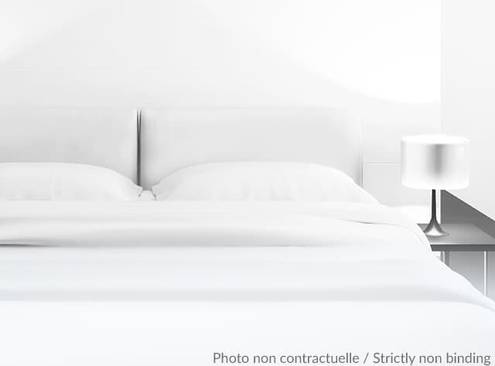 Family Suite
Family Suite have 2 bedrooms (one French and two twin beds), LED TV, mini bar, telephone, air condition, electronic safe, balcony, carpet surface, bathroom & shower /WC, hairdryer, personal set, bathrobe and slippers, hot drinks set-up, set for kids.
Family Garden Suite
Our 2 Bedroom Family Garden Suite includes 2 bedrooms and 2 bathrooms, spacious and airy with a fabulous terrace leading out into the gardens. 46 m² of space and décor, with modern bathrooms, an ideal Suite for gatherings and special family moments.
Villas

(2 types)
Executive Villa
With its unique location by the pool, the luxurious 2 storey Executive Villa has 200 m² of space, plus a pool and a garden. Downstairs includes living room and dining area plus a kitchen. 2 spacious bedrooms upstairs and 1 bedroom on the 1st floor.
Superior Villa
Our Superior Villa offers you a luxury experience with an ample private terrace and pool for special moments. Enjoy 300 m² of space with an ambience that is calm and inviting. The Villa has 4 bedrooms with 1 living area and complete kitchen.
Dining
Restaurants (11)
No fewer than 11 restaurants are available to guests at Rixos Premium Tekirova. Serving everything from authentic Turkish recipes to classic Italian favourites or ice cream treats, the chefs produce world-class food using on the finest quality ingredients. Exclusive Club restaurant is opened 7 days per week, all other À la Carte Restaurants are opened 6 days per week. All soft drinks are served in bottles in all À la Carte Restaurants and indoor Bars.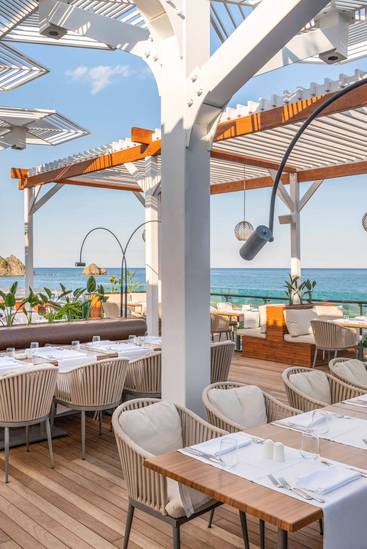 TURQUOISE RESTAURANT
Serving breakfast, lunch and dinner, the main restaurant proposes a rich open buffet with dishes from the international cuisine. Refurbished in 2017, it now offers a more comfortable experience with new constructed terrace boasting 250 extra seats.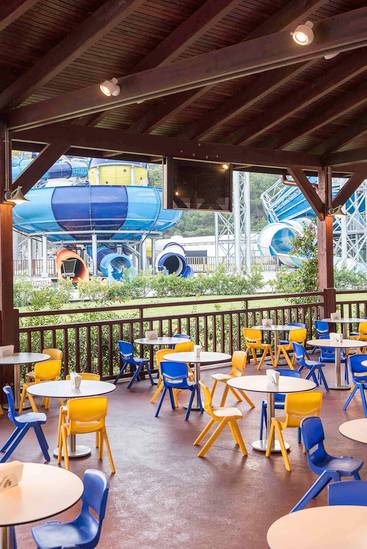 RIXY KIDS RESTAURANT
The perfect option for children and parents, the Rixy Kids' Restaurant offers nutritious, healthy and delicious dishes at the Rixos Premium Tekirova. Starting with lunch, we spoil our little guests with snacks, fruits and cookies throughout the day.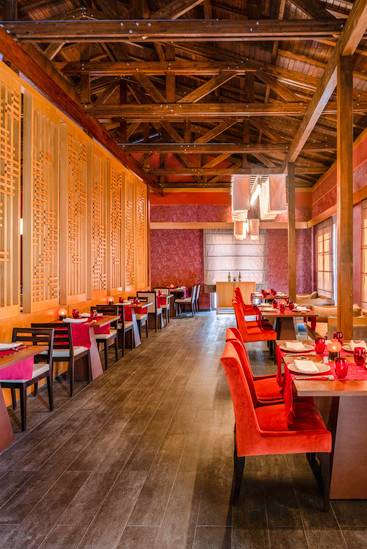 MANDARIN RESTAURANT
Feel the magic of the Far East at the Mandarin Restaurant.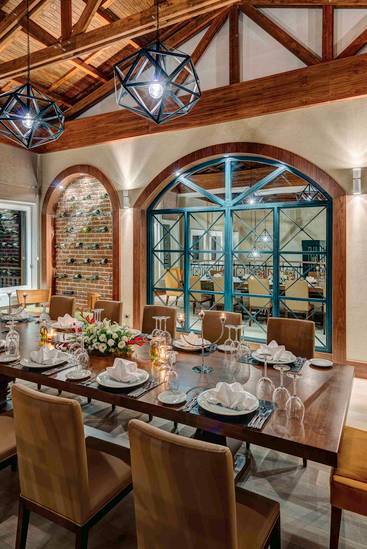 LA ROSETTA RESTAURANT
Enjoy the delicious breeze of Italy at the Rixos Premium Tekirova. The La Rosetta Restaurant has an indoor capacity of 40 and an outdoor capacity of 60 people, offering an excellent à la carte menu.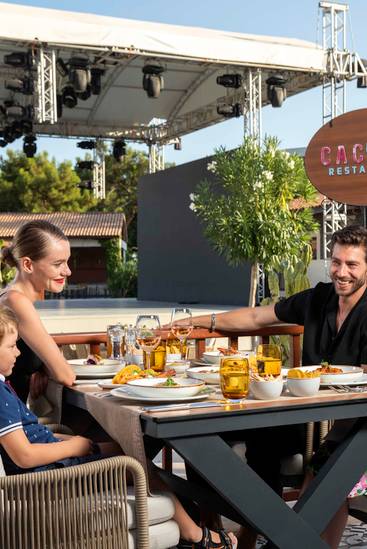 CACTUS RESTAURANT
The best flavors from the South American cuisine are combined with the soft breeze of the Mediterranean Sea. The most distinctive dishes from the South American cuisine are presented at the Cactus Restaurant.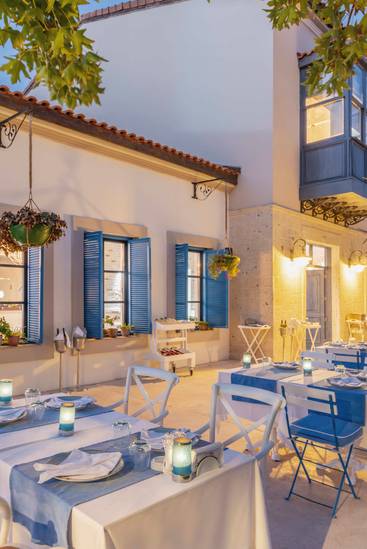 MERMAID RESTAURANT
Enjoy a magnificent banquet at the Mermaid Restaurant, which serves fresh and the most delicious seafood of the Mediterranean Sea.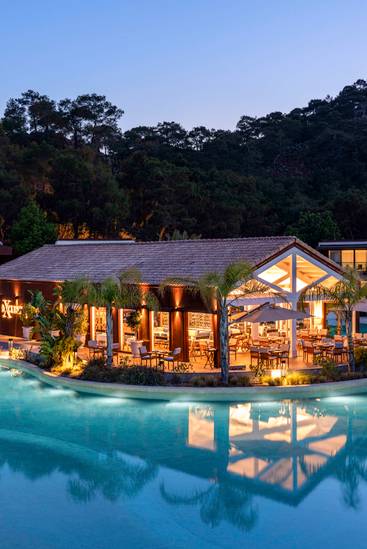 EXCLUSIVE CLUB
The Exclusive Club provides à la carte service. Offering the most distinguished examples from the international cuisine, the restaurant provides free 24h service for guests accommodated in the Executive and Superior villas.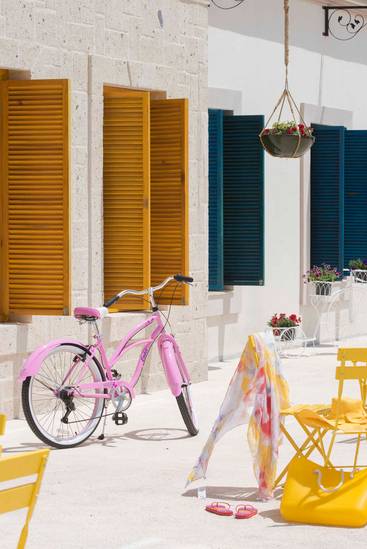 ICE CREAM HOUSE
Enjoy a cold ice cream in the summer heat. Cup ice creams and waffles add sweet flavors to your holidays.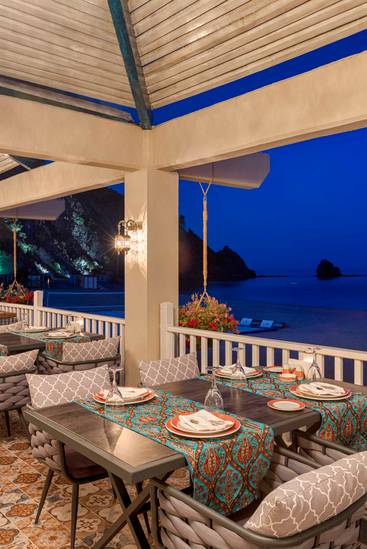 A'LA TURCA RESTAURANT
Unique flavors from the Turkish cuisine are revealed at the A'la Turca Restaurant. Old recipes, which have survived until today, show the richness of the Turkish cuisine and are prepared by our master chefs.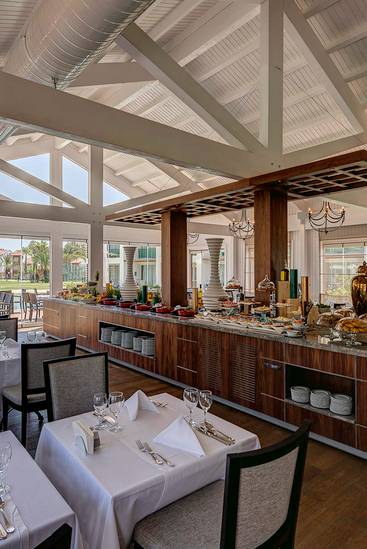 VERANDA RESTAURANT
Having a capacity for 150 people, the Veranda Restaurant serves excellent dishes from around the world for breakfast and dinner in an open buffet. Around noon, it welcomes its guests with a rich snack menu or a la carte options.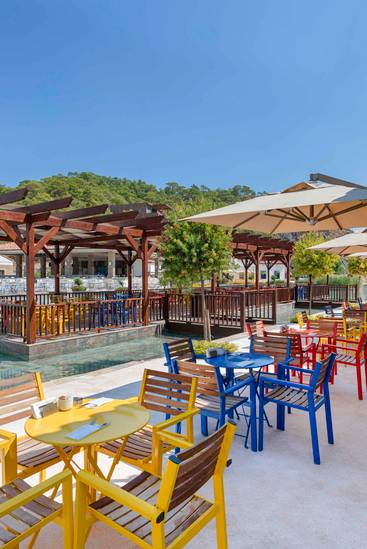 FOOD COURT
The Food Court is an excellent choice for lunch, offering a variety of dishes. The restaurant serves Turkish pastry between 11 am and 4 pm, snack buffet between 12 pm and 4 pm and tea time, noodles, sandwiches and hamburgers between 4 pm and 6 pm.
Bars and pubs (12)
The 11 bars at Rixos Premium Tekirova are a mix of cool vibes for cocktails and the latest sounds or a more relaxed ambience for kicking back away from the heat of the midday sun or at the end of the day as the sun retreats below the horizon.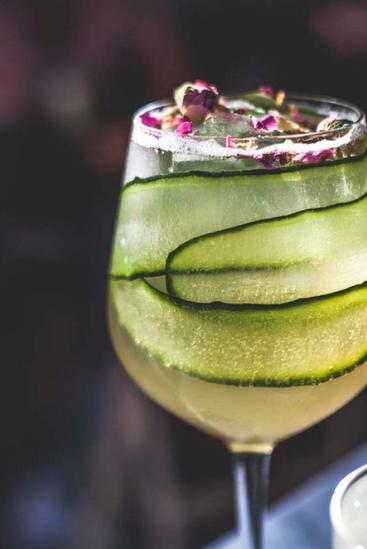 STARBUCKS
We Proudly Serve Starbucks at Rixos Premium Tekirova.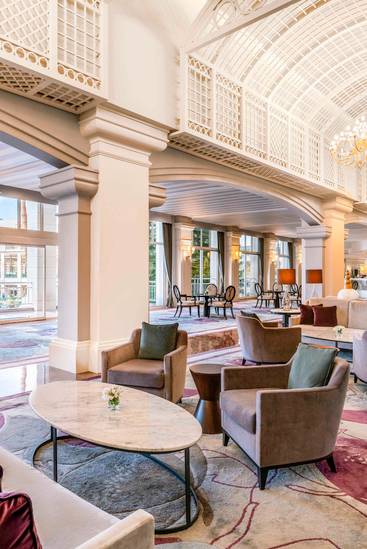 LOBBY BAR
The Lobby Bar is a special place with a wide range of drinks, where all your wishes come true.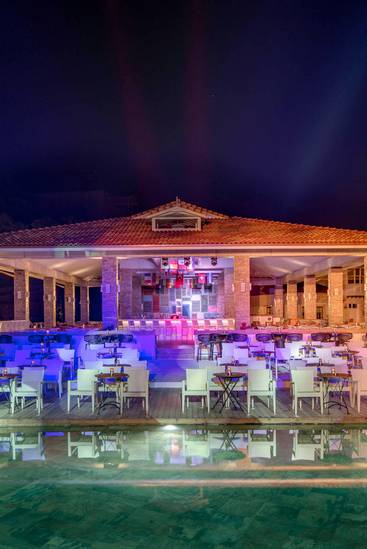 LOTUS BAR
Enjoy your time at the Lotus Bar accompanied by friendly chats.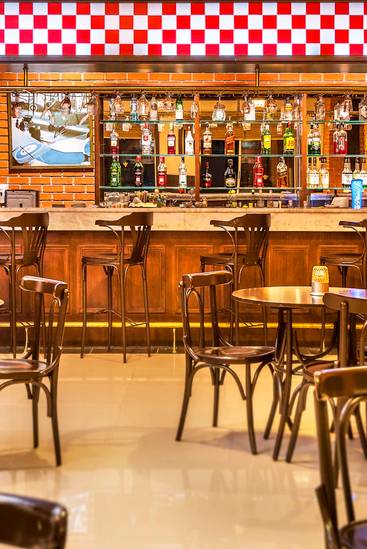 XPRESS BAR
Premium Class drinks and alcoholic drinks are served at Xpress Bar.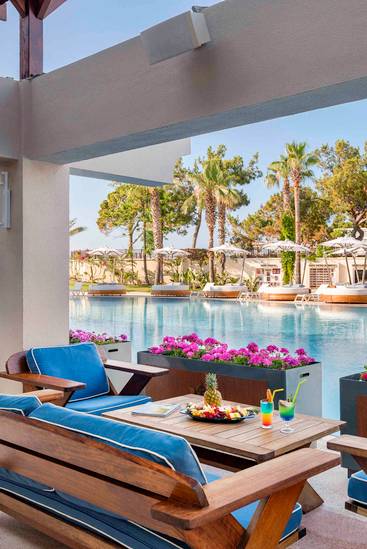 HIGHLIGHTS BAR
Enjoy an exceptionally good time by the pool and chill out with unique cocktails and a wide range of drinks at the Highlights Bar.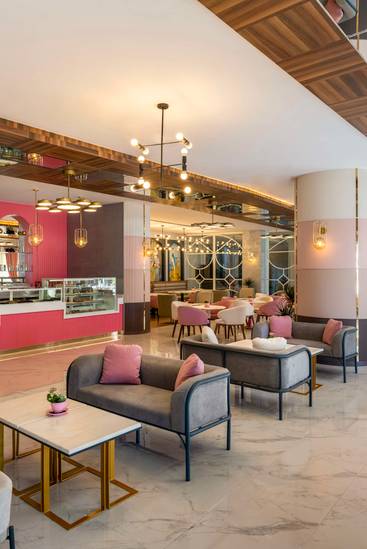 THE DEM CAFE
You will never get enough of the coffee prepared by the baristas and the high quality teas at The Dem Cafe...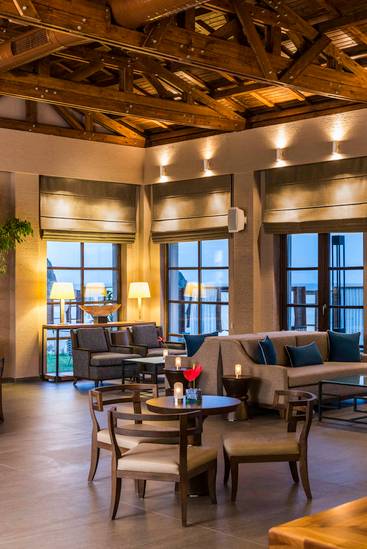 PRIVATE LOUNGE
All drinks of the concept and wide choise of snacks in Private Lounge for Villa guests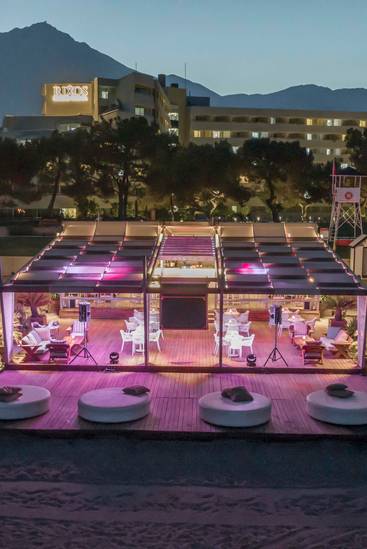 ISLAND BAR
Cool off the summer heat with light cocktails, cold towels, frozen yoghurt and ice-cream at the Beach Bar.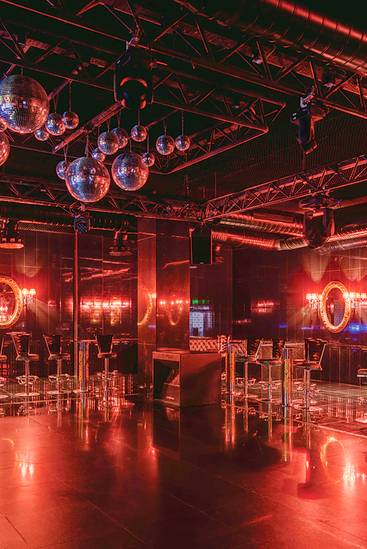 CHAOS DISCO
Service is provided in indoor area,All drinks of the concept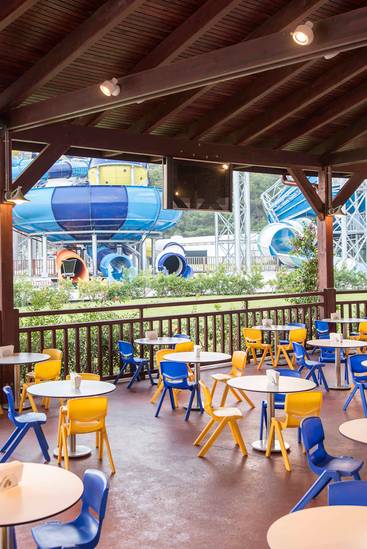 RIXY KIDS BAR
The Rixy Kids Bar serves healthy drinks for our little guests at the Rixy Kids Club.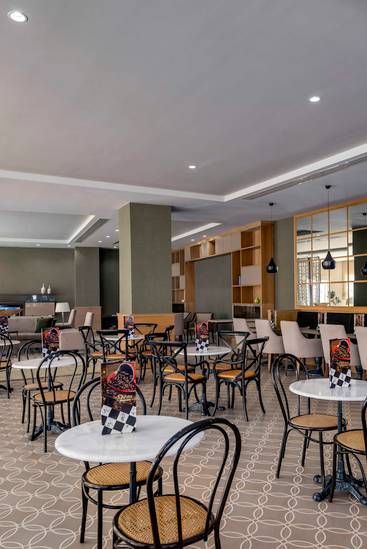 RIXOS LOUNGE
Variety of special tea's and coffee's preparing by our certificated Barista's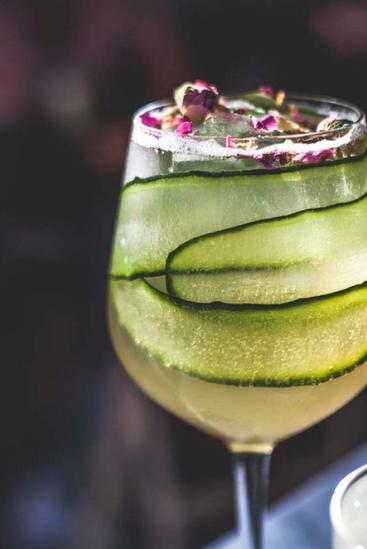 POOL VILLA BAR
Pool Villa Bar offers a wide variety of drinks and is ideal for guests staying in the Pool Suite, Pool Villa and Family Pool Villa.
Vegan & Gluten Free Corner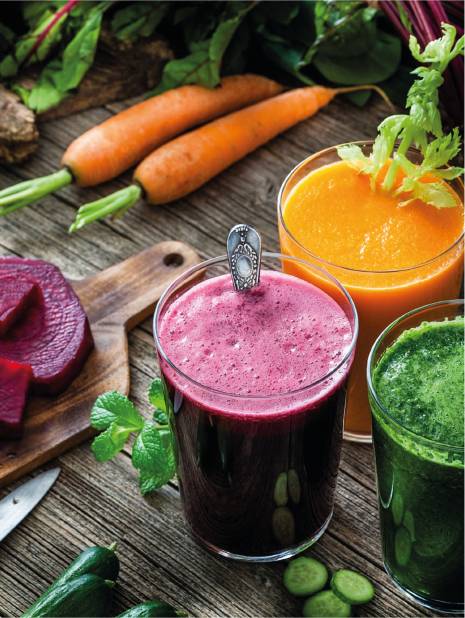 Vegan & Gluten Free Corner In a section of Dem Cafe, a special menu is created with the motto "Everything is Vegan and Gluten Free Here", personal orders will be taken and dishes will be served in the main restaurant in order to complement our guests' holidays, add convenience to their lives and support their desire to live in a more peaceful world.

Detox Corner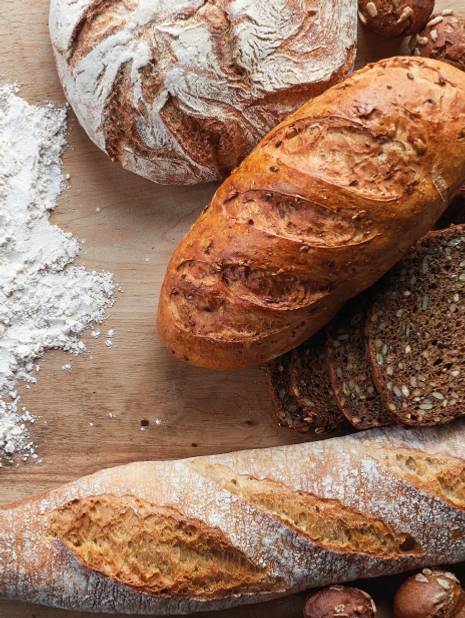 Rixos Premium Tekirova has everything our adult guests need to ensure that they have a controlled diet and that they feel better. A corner was created in our main restaurant for those who want to have fresh fruits and vegetables at breakfast. In the afternoon, you will feel healthy and fresh with our detox tea varieties, specially prepared for you at Dem Cafe. We know you will never forget our gourmet flavors and will want to savor every taste. Our guests will adopt the sense of "taking care of themselves" based on the philosophy "you are what you eat". You will be able to easily cook at home and at work the recipes that you will learn.
Activities and Entertainment

Exclusive Sports Club
For those who like their holiday with a healthy dose of activity, Rixos Tekirova has more than 20 different sports and classes on offer. Whether you are looking to restore mind and body in a pilates class, energise the whole family in a game of beach volleyball or challenge yourself in our Olympics, there is an activity for everyone. New friendships (and rivalries!) are made in the team sports. The spirit of our all-inclusive nature means everyone is welcome regardless of being a novice or an expert. Our professional team are on hand to guide and challenge for anyone who needs a little extra motivation.
go to active tab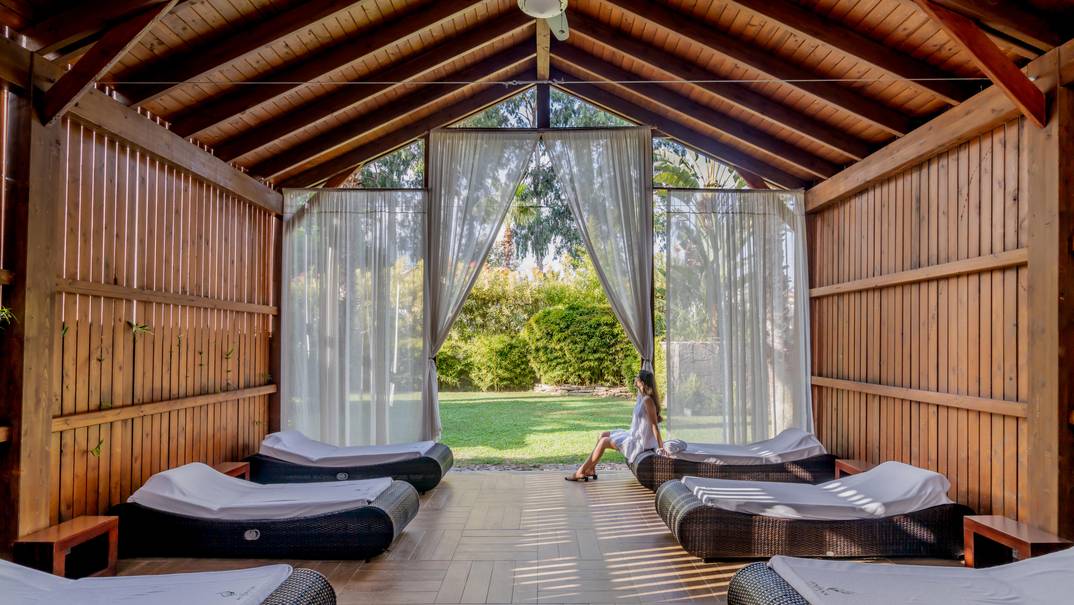 Anjana Spa
Let yourself be in the healing hands of experts in Rixos Premium Tekirova, which allows you to be purified from head to toe with its luxury and quality service among Antalya SPA hotels.
go to active tab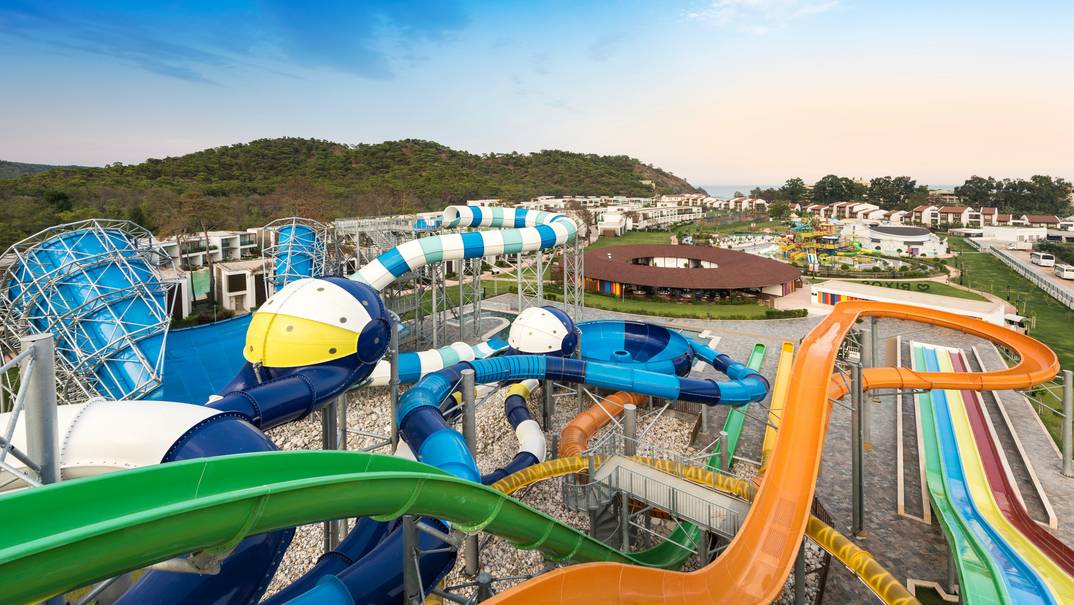 Aqua Park
There are eight swimming pools at the Rixos Premium Tekirova. The main pool is located in the garden and is the ideal spot for lazy hours whiled away on a sunlounger. The kids' pool offers children a safe place to enjoy the water and stay cool. In the Rixy Kids Club, the Rixy Aqua Park is for children offering four fun slides and a lazy river; all the thrill of the aqua park perfectly sized for our smallest guests. The adult aqua park, however, is a thrill-seekers paradise! Here, nine slides, each designed for adrenaline-pumping fun. The lazy river offers much-needed respite from the crazy rides!
go to active tab
Live(ly) Entertainment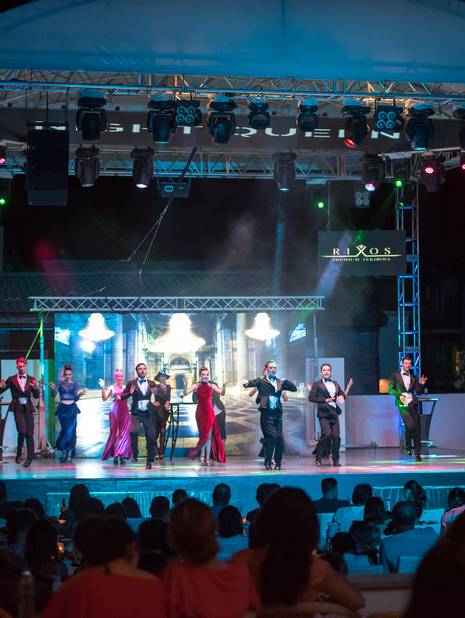 The nightly entertainment at Rixos Premium Tekirova is a dazzling array of shows. Gravity-defying acrobats, theatrical circus performers and dynamic, pulsating beats from DJ's and bands are on offer each night. These breathtaking performances are the hallmark of a Rixos resort.
Exceptional Events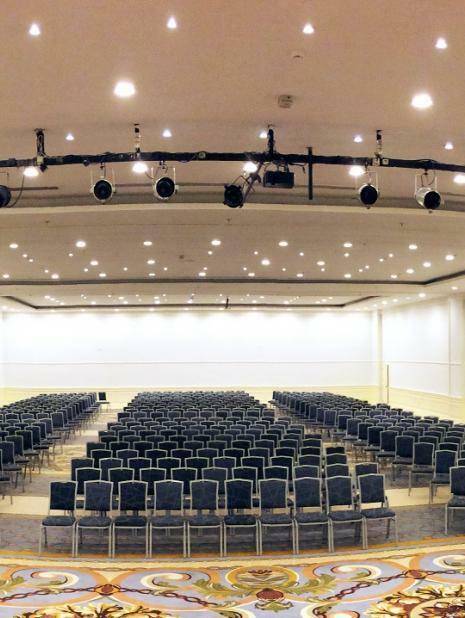 Whether you are looking to throw an extravagant family celebration or an intimate soiree, Rixos Premium Tekirova has a host of meeting rooms suitable for gatherings from 20 - 600 people.
The venue has been designed for maximum flexibility and can be divided into three separate halls. All meeting rooms and halls are equipped with cutting-edge technologies and our professional banqueting team are on hand to respond to all your needs and wants.
Wedding Package - Rixos Premium Tekirova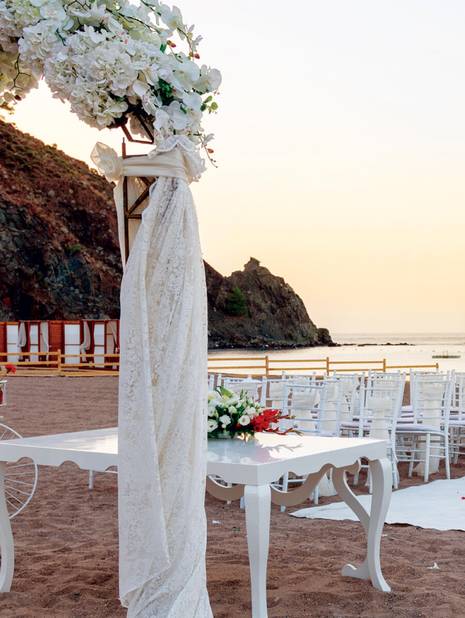 Mercedes Vito transfer service to the hotel (Bride & Groom)
Room upgarde for Bride & Groom couple
Welcome cocktail
Special Wedding Dinner Reception
*unlimited local alcoholic and non-alcoholic beverages (4 hours between 18:00 -24:00)
Wedding cake
Table flowers...
Discover more
Our offers
Rıxos Premıum Tekırova
Start Your Premium Holiday with CIP Service at the Airport!
See details +
Rıxos Premıum Tekırova
Pool Villa privileges and Summer specials await you...
See details +
Rıxos Premıum Tekırova
Let's discover the Rixos priviliges for your Honeymoon!
See details +
Rıxos Premıum Tekırova
Ballet, dance and music combined with vacation.
See details +
Guests reviews
100% genuine reviews from our guests
Perfect stay
Overall, we are very satisfied with our stay. The hotel is well located with beautiful view on mountain. Food was delicious. We liked the spa zone with saunas and hammam. We were positively surprised with the Sports program, it was very professional and modern, we have experienced through the stay different group activities from antigravity yoga, paddling to mountain biking as well. Perfect for those who want to have an active vacation in combination with relaxation. Thank you!
New level of vacation
I have just returned from resting at the Rixos Tekirova Hotel. The highlight of this hotel was for me an exclusive and professional team of trainers led by the inimitable Korhangez. These were busy, sporty, beautiful and positive days. The guys from the team will use all the verses: earth (trx, tabata, group cycle, Zumba) water (puddling, aqua jumping) and air (fly yoga). This is a completely new level of spending a long-awaited vacation. A diverse training program is formed every day, coaches select the optimal load depending on the group and the level of training. All the trainers are highly professional specialists, each in his element, the airy Diana and my beloved flyoga will not leave anyone indifferent, it is useful and beautiful, and Diana's voice at the end of the practice relaxes so much that you can plunge into sleep. An excellent option to start a new day is a trip in a group on mountain bicycles through the picturesque places of tekirova, Ruslan offers different routes from walking to extreme, where sometimes you need to crawl into the mountains on foot, but it's worth it to then find yourself in a beautiful picturesque bay. Also, in a team under the guidance of the imperturbable Grigory, you can go to sea on SUP, train coordination, balance and load all the muscles of the body. During the day, it's really hot on the sports terrace and in the pool. Hot tabata, aqua jumping from the magnificent Obi, is an incendiary, charming and smiling coach, whom children also adore. A wonderful Dasha who gathers and lights up children's groups and keeps the attention of each participant. It is simply impossible to lazy at Dasha, she will pump everyone! Next, you can choose from a powerful trx workout, tabata from a super professional and charming Irina. Every workout Irina has is a fire!! A different set of exercises, interesting intervals and approaches, I went every day. And in the evening, an incendiary Zumba with a view of the sea. And of course if you have the stamina, strength and desire to become as athletic as possible, welcome to cross fit and cycling to Korhangez. It is impossible to leave the workout dry! The whole training is on fire! All coaches charge with positive emotions, energy and their unique charisma. I am full of vitamin D, vitamin Sea and energized. Thanks guys! I want to express my special gratitude to Cagri Gedik. A professional in his field. Organizing, coordinating, participating and resolving various issues during our stay at the hotel, always professionally, quickly and with great care, my family and I felt safe and comfortable. The restaurant staff is great! Special thanks to the waiter Ali, who works in the evening on the outdoor veranda next to the barbecue. He knew all our wishes and reacted instantly to any request. The most caring waiter. I would like to express my gratitude to all the hotel staff for organizing our vacation, my family and I had a great vacation and are ready to come back again! ️
Beautiful hotel, not too professional staff, terrible cocktails...
We have been in Rixos hotels for over 20 times, maybe more. I think for now it is time for change... Pool water for kids is 19c, 19c in this weather - I don't know how you do it but it seems like a huge waste. Kids aquapark water is 19c. We spent most of the time on the beach but still - it would be nice for the kids to go to the aquapark for a short visit everyday. Cocktails were of terrible quality, the only way for us to get a decent cocktail was after dinner in the lobby bar, where there was a man with a mobile bar/cart moving around making cocktails. Keep in mind there was only ONE man making these cocktails for the whole lobby and you could see this guy was tired. Even the newer deluxe rooms already need upgrading, cabinets, doors, lamps all need to be taken care of, they look old and tired already. All in all, we will start trying some other hotels to maybe find our new favourite...