Our services
Air conditioned
Babysitting on request
Bar
Breakfast
Child facilities
Coffee machine
Meeting room(s)
Car park
Swimming pool
Restaurant
Tennis
Internet access
Overview
Every morning at sunrise, the silhouette of Tahtali, which is the most magnificent peak of Taurus Mountains, reflects on Rixos Premium Tekirova facing the serene waters of Mediterranean. Offering an unforgettable vacation for its guests with a sense of luxury service nested in nature, Rixos Premium Tekirova is located under this silhouette and right next to Phaselis, the harbor city of Land of the Light, Lycia. Rixos Premium Tekirova creates a mystical and mythological ambiance in a quiet bay surrounded with red pine trees in the Olympos - Bey Mountains Coastal National Park by blending comfort, convenience and privileges. Rixos Premium Tekirova offers 24 hours full of activities for all ages from the youngest member of the family to the oldest, with its motto "Happy Child, Happy Family", and also highlights healthy life. Our hotel supports the increase and preservation of the quality of life of its guests, while enabling those who want to stay active during their holidays to motivate themselves with body and soul regeneration.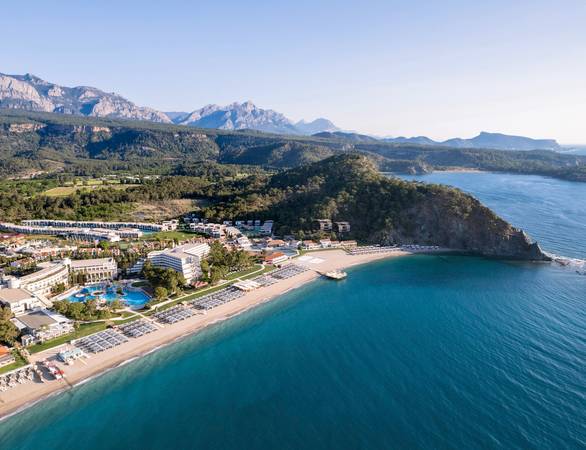 Tekirova Beldesi P K 137, Kemer
Turkey, ANTALYA
Holiday Assistant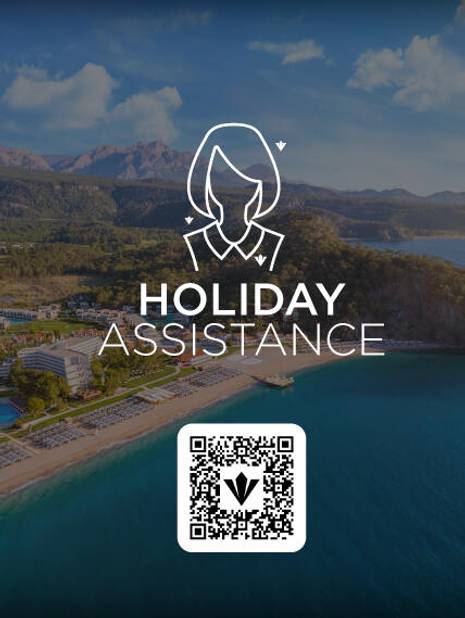 The Rixos Holiday Assistant team on vacation provides its services by identifying and taking into account the wishes of the guests before their arrival at the hotel. A warm welcome and accompaniment at check-in, a personal approach to each of the guests, taking into account their wishes and needs for organizing unforgettable and happy moments during the holidays.
To enjoy the benefits of the Rixos Holiday Assistant service, you can send your booking number and phone number to our email address by scanning the QR code.
See you on this unforgettable vacation in the heart of nature...
Always Family Always Happily in Renewed Rooms: Deluxe Family Suite
Rooms & Suites
Rooms
(2 types)
Deluxe Room, Land View
Room includes 1 double or 2 single beds, work table, LCD TV, satellite broadcasting, musical broadcasting from TV, minibar, telephone, air-cooling system, electronic safe, balcony, carpet, bathroom with shower and WC, hairdryer, bathrobe, slippers. 32 m².
Deluxe Room, Sea View
Enjoy our 32 m² Sea View rooms, with your own private balcony and breathtaking views of the Sea, relax and benefit from both the sunrise and sunset. Bright and spacious to ensure you relax and unwind.
Villas
(2 types)
Executive Villa
With its unique location by the pool, the luxurious 2 storey Executive Villa has 200 m² of space, plus a pool and a garden. Downstairs includes living room and dining area plus a kitchen. 2 spacious bedrooms upstairs and 1 bedroom on the 1st floor.
Superior Villa
Our Superior Villa offers you a luxury experience with an ample private terrace and pool for special moments. Enjoy 300 m² of space with an ambience that is calm and inviting. The Villa has 4 bedrooms with 1 living area and complete kitchen.
Our offers
Rıxos Premıum Tekırova
A Holiday Culture Of Your Own
Become a part of it with your family
See details +
Rıxos Premıum Tekırova
Feeling The Heart Of Nature Is A Culture Here.
Enjoy it with your family.
See details +
Rixos Premium Tekirova
Making The Whole Family Happy Is A Culture Here.
Join us.
See details +
Rixos Premium Tekirova
Happiness For Kids And Parents Is A Culture Here.
Live it with your family.
See details +
Rixos Premium Tekirova
Sunrise Yoga Is A Culture Here
Feel it together.
See details +
Rixos Premium Tekirova
Discover A Horizon Is A Culture Here
Enjoy it with your family.
See details +
Rıxos Premıum Tekırova
Start Your Premium Holiday with CIP Service at the Airport!
See details +
Rıxos Premıum Tekırova
Pool Villa privileges and Summer specials await you...
See details +
Rıxos Premıum Tekırova
Let's discover the Rixos priviliges for your Honeymoon!
See details +
Rıxos Premıum Tekırova
Ballet, dance and music combined with vacation.
See details +
Rixos Premium Tekirova
Stay at Rixos Hotels and earn more Miles;
See details +
A HOLIDAY CULTURE OF YOUR OWN Become a part of it with your family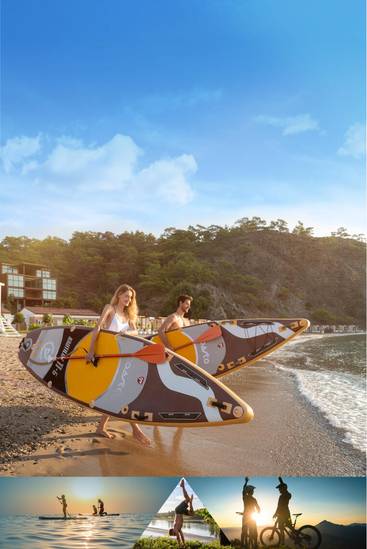 Boosting up with triathlon is a culture here.
Every Thursday
A brand new event organized by Exclusive Sports Club is meeting our guests. In the event that combines mountain bike, paddling and functional training, the first group of event participants divided into two groups will go to Cennet Bay by mountain bike, while the second group will go to Cennet Bay by paddling. The participants who meet at Cennet Bay will perform their functional training here in a specially designed area. The event, where those who come by mountain bike return by paddling and those who come by paddling return by mountain bike, will end in Rixos Premium Tekirova, the heart of nature.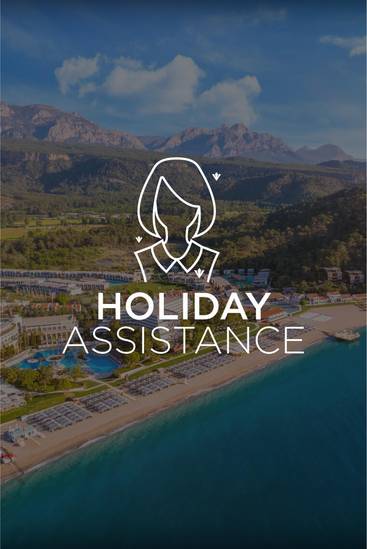 Holiday Assistance
Rixos Premium Tekirova offers a holiday assistant service that starts with fresh fruit juice, cold towel service, where our guests will relieve their fatigue during check-in, and will help them 24/7 with everything they need during their holidays.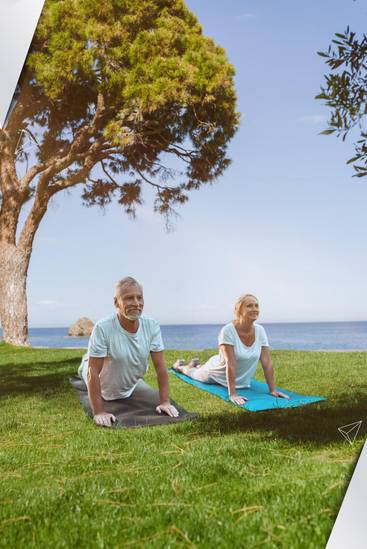 Age is Just a Number
FOR THOSE WHO WANT TO
STAY IN SHAPE WHILE ENJOYING
THEIR HOLIDAY…

We offer superb vacations in this ancient land that is still living and breathing today. Find inner peace and relaxation as you embrace the healing power of nature. Gain new energy at our Exclusive Sports Club that will bring your mind and body back into harmony with the help of our team of professional trainers and outstanding program of sports activities...

In 2023, we are expanding our program of sports and other activities for adults over the age of 40 and are adding a fourth group under the motto 'Sports for all ages'. You can now select the program that suits you best and indulge in a holiday experience that will boost your energy levels leaving you feeling fitter and better prepared to face the challenges of your life back home...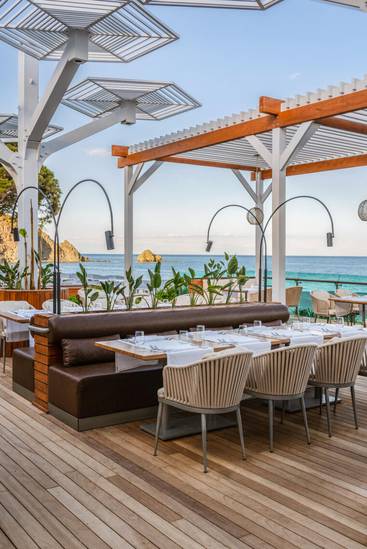 Turquoise Restaurant
Rixos Premium Tekirova is a place where natural beauty meets exquisite flavours. Our revamped Turquoise Restaurant offers a mouth-watering blend of international recipes all lovingly prepared and presented by local chefs.
 

People's Restaurant
People's restaurant was completely redesigned in 2023 with spectacular architecture that mesmerizes guests, and never fails to deliver top quality day and night services.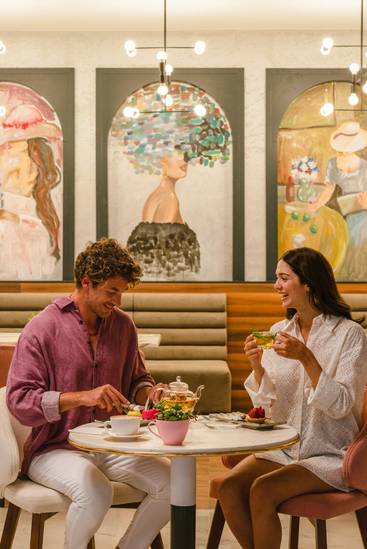 Patisserie Art
Situated right next to People's Restaurant, 'Patisserie Art' is where the scent of vanilla will always be with you. With its new, contemporary architecture, it will be indispensable for guests who like to spend their holiday productively.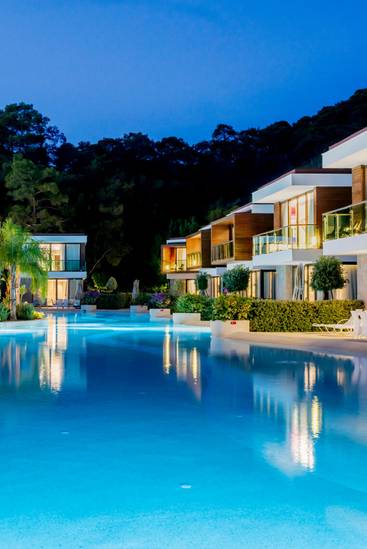 Our Renovated Villas
Imagine a setting that caters to your every whim: Blending natural exuberance with luxury, our freshly renovated villas offer Rixos privileges from morning to night...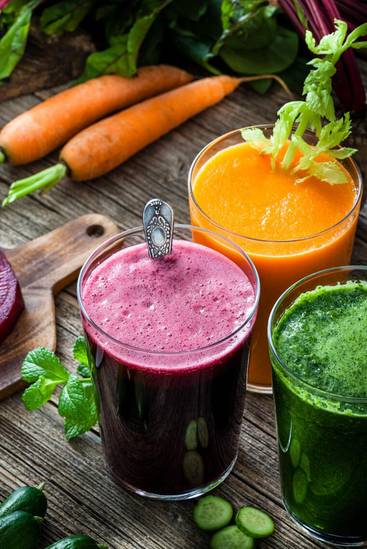 Detox Corner
Aiming to provide guests with healthy lifestyle options, Rixos Premium Tekirova has expanded and renovated its Detox corner, where you can savour exclusive detox drinks and recipes that will leave you feeling cleansed and rejuvenated...
Abundant Flavours
At Rixos Premium Tekirova guests are spoilt for choice with restaurants and bars. Family-friendly or romantic? Casual or stylishly elegant? Buffet or a la carte? Wine or cocktail? The resort has an outstanding collection of places to eat and drink.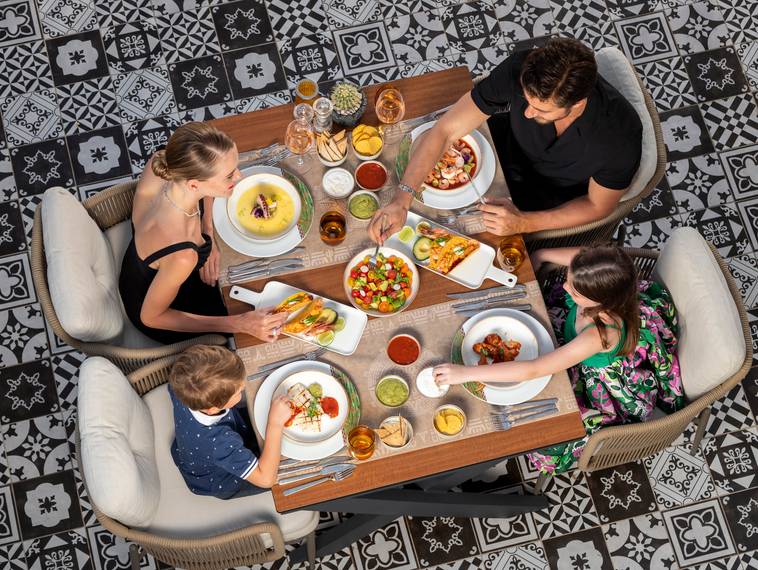 At Rixos Premium Tekirova guests are spoilt for choice with restaurants and bars. Family-friendly or romantic? Casual or stylishly elegant? Buffet or a la carte? Wine or cocktail? The resort has an outstanding collection of places to eat and drink.
Dining
Restaurants (12)
No fewer than 11 restaurants are available to guests at Rixos Premium Tekirova. Serving everything from authentic Turkish recipes to classic Italian favourites or ice cream treats, the chefs produce world-class food using on the finest quality ingredients.
Unique flavors from the Turkish cuisine are revealed at the A'la Turca Restaurant. Old recipes, which have survived until today, show the richness of the Turkish cuisine and are prepared by our master chefs.
The best flavors from the South American cuisine are combined with the soft breeze of the Mediterranean Sea. The most distinctive dishes from the South American cuisine are presented at the Cactus Restaurant.

The Exclusive Club provides à la carte service. Offering the most distinguished examples from the international cuisine, the restaurant provides free 24h service for guests accommodated in the Executive and Superior villas.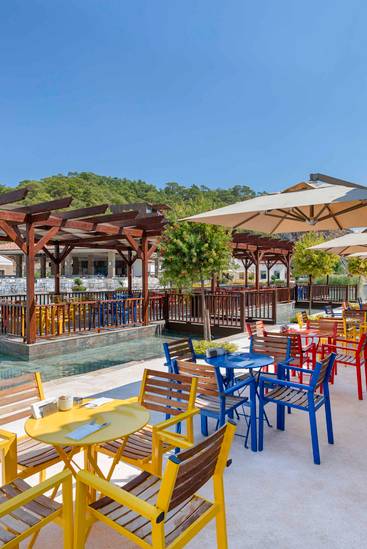 FOOD COURT
The Food Court is an excellent choice for lunch, offering a variety of dishes. The restaurant serves Turkish pastry between 11 am and 4 pm, snack buffet between 12 pm and 4 pm and tea time, noodles, sandwiches and hamburgers between 4 pm and 6 pm.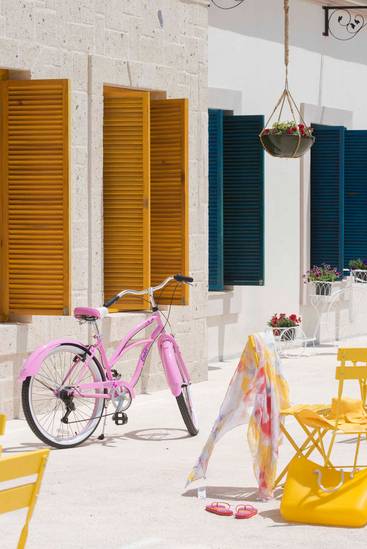 ICE CREAM HOUSE
Enjoy a cold ice cream in the summer heat. Cup ice creams and waffles add sweet flavors to your holidays.
Enjoy the delicious breeze of Italy at the Rixos Premium Tekirova. The La Rosetta Restaurant has an indoor capacity of 40 and an outdoor capacity of 60 people, offering an excellent à la carte menu.

Feel the magic of the Far East at the Mandarin Restaurant.
Enjoy a magnificent banquet at the Mermaid Restaurant, which serves fresh and the most delicious seafood of the Mediterranean Sea.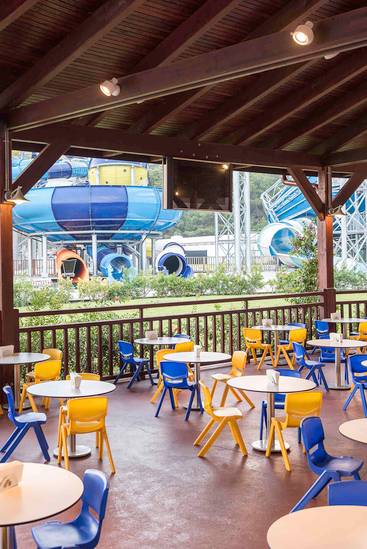 RIXY KIDS RESTAURANT
The perfect option for children and parents, the Rixy Kids' Restaurant offers nutritious, healthy and delicious dishes at the Rixos Premium Tekirova. Starting with lunch, we spoil our little guests with snacks, fruits and cookies throughout the day.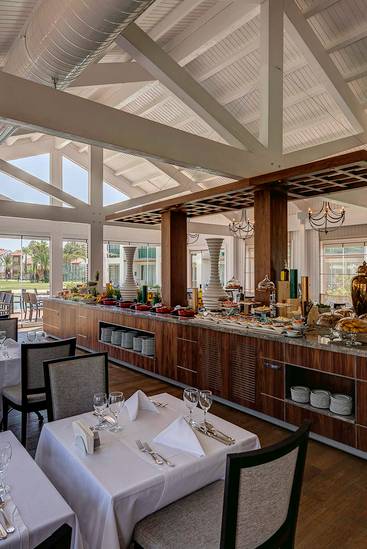 VERANDA RESTAURANT
Having a capacity for 150 people, the Veranda Restaurant serves excellent dishes from around the world for breakfast and dinner in an open buffet. Around noon, it welcomes its guests with a rich snack menu or a la carte options.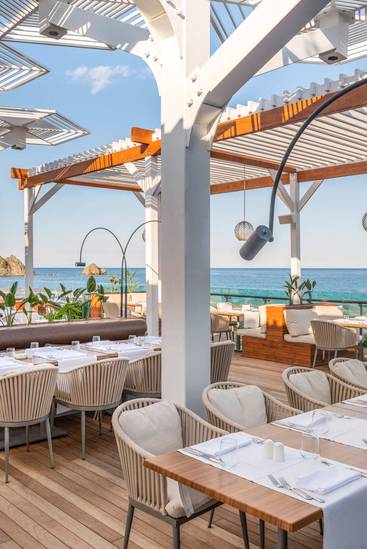 TURQUOISE RESTAURANT
Serving breakfast, lunch and dinner, the main restaurant proposes a rich open buffet with dishes from the international cuisine. Refurbished in 2017, it now offers a more comfortable experience with new constructed terrace boasting 250 extra seats.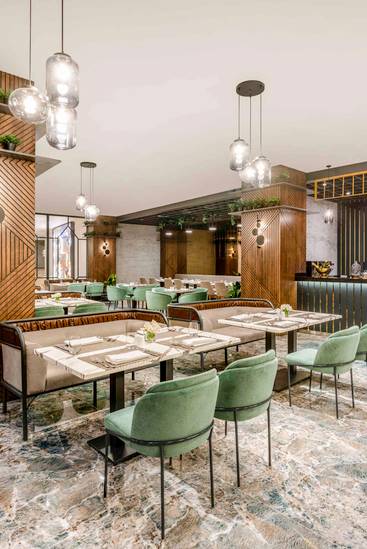 PEOPLE'S
Discover the best dining from our chef's during 24 hours 7 days in a week!
Bars and pubs (11)
The 11 bars at Rixos Premium Tekirova are a mix of cool vibes for cocktails and the latest sounds or a more relaxed ambience for kicking back away from the heat of the midday sun or at the end of the day as the sun retreats below the horizon.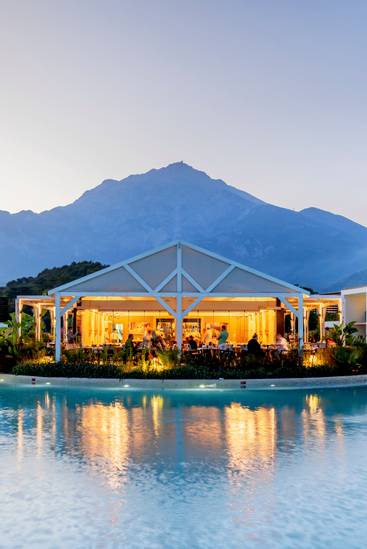 POOL VILLA BAR
Pool Villa Bar offers a wide variety of drinks and is ideal for guests staying in the Pool Suite, Pool Villa and Family Pool Villa.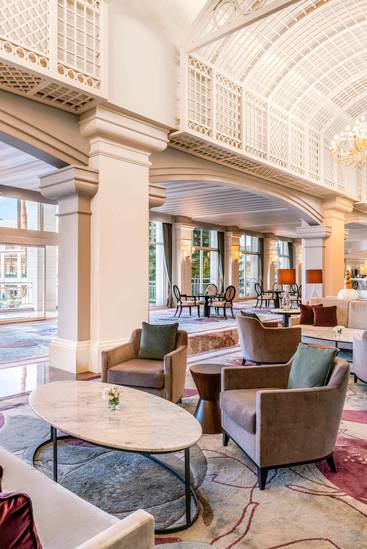 LOBBY BAR
The Lobby Bar is a special place with a wide range of drinks, where all your wishes come true.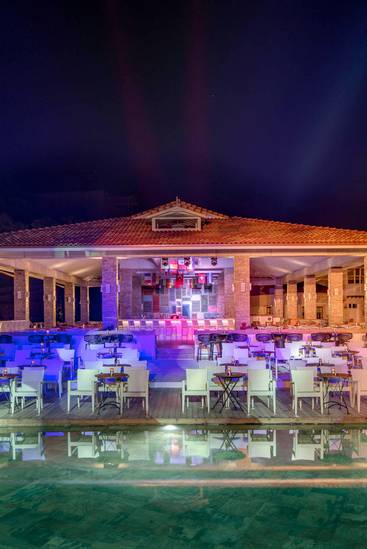 LOTUS BAR
Enjoy your time at the Lotus Bar accompanied by friendly chats.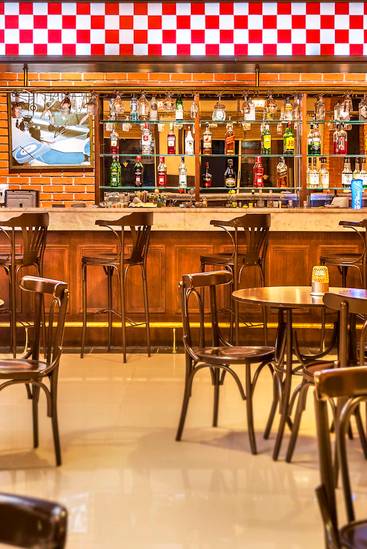 XPRESS BAR
Premium Class drinks and alcoholic drinks are served at Xpress Bar.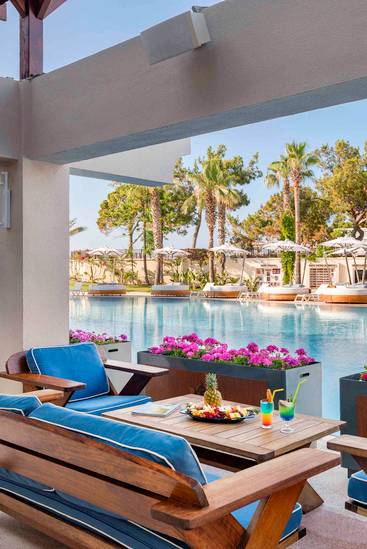 HIGHLIGHTS BAR
Enjoy an exceptionally good time by the pool and chill out with unique cocktails and a wide range of drinks at the Highlights Bar.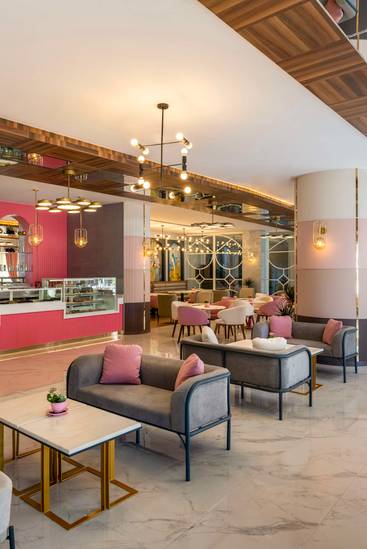 PATISSERIE ART
Enjoy delicious flavours while you work, and enjoy your time steeped in the delightful aromas of coffee and vanilla.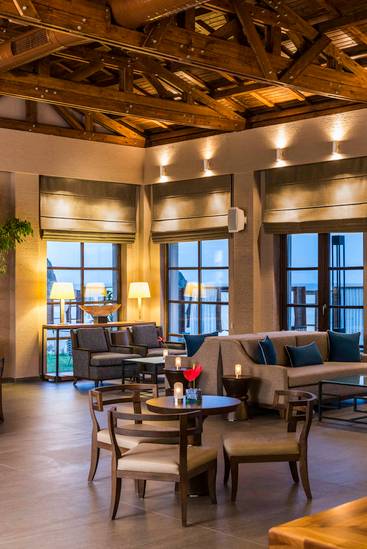 PRIVATE LOUNGE
All drinks of the concept and wide choise of snacks in Private Lounge for Villa guests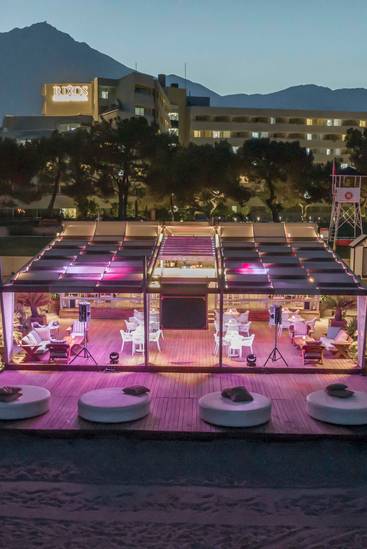 ISLAND BAR
Cool off the summer heat with light cocktails, cold towels, frozen yoghurt and ice-cream at the Beach Bar.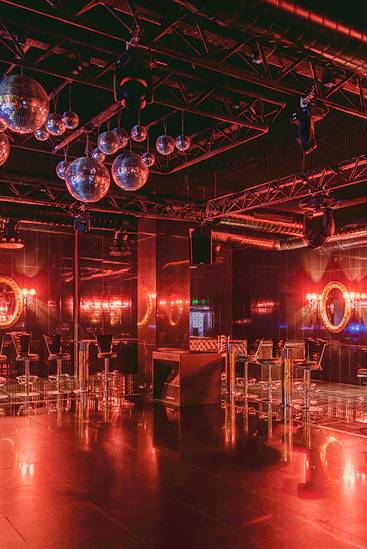 CHAOS DISCO
Service is provided in indoor area,All drinks of the concept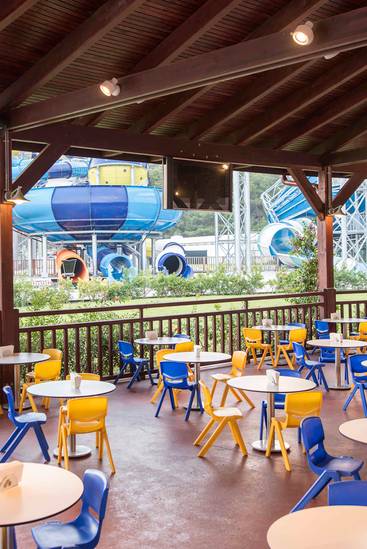 RIXY KIDS BAR
The Rixy Kids Bar serves healthy drinks for our little guests at the Rixy Kids Club.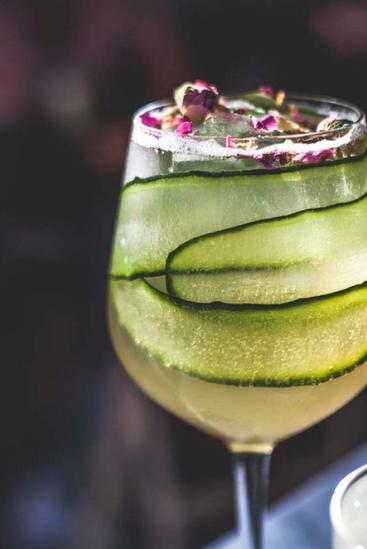 STARBUCKS
We Proudly Serve Starbucks at Rixos Premium Tekirova.
Activities and Entertainment
Happy Child, Happy Family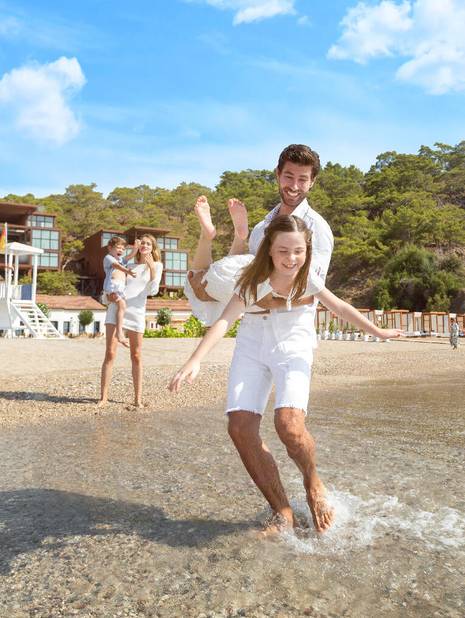 "Rixos Premium Tekirova is the gateway to nature and luxury set amongst the stunningly beautiful Taurus Mountains famed for their covering of red pines... As the wind blows, rustling leaves dance in the wind and you can feast your eyes on abundant shades of green as you take a deep breath and relax. With each breath you feel yourself drifting away and becoming one with nature.The warm sun touches your skin and the sound of the waves gently lapping against the golden sandy shores brings a deep sense of tranquillity. Time is the most valuable thing we have, and at Rixos Premium Tekirova, you can savour every single moment, enjoying all the delights life has to offer... Rixos Premium Tekirova offers 24 hours full of activities for all ages from the youngest member of the family to the oldest, with its motto ""Happy Child, Happy Family"", and also highlights healthy life. Our hotel supports the increase and preservation of the quality of life of its guests, while enabling those who want to stay active during their holidays to motivate themselves with body and soul regeneration We curate magical moments for you in the midst of natural beauty, creating memories full of happy smiles for your children, who are the future... Every member of your family has access to unparalleled amenities and privileges in our hotel. We take pride and pleasure in seeing your smile and in the knowledge that you are having a great time...'
Live(ly) Entertainment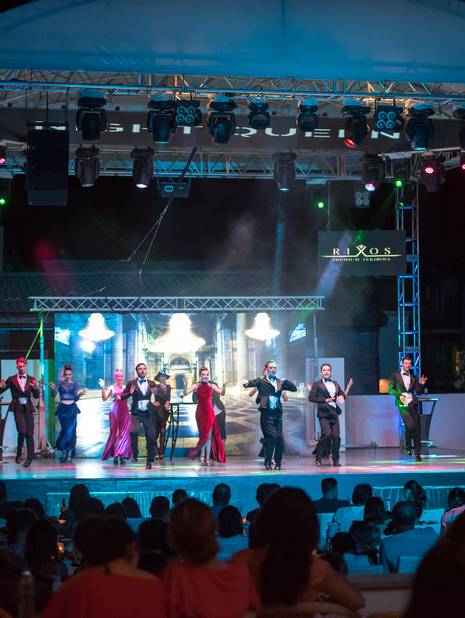 The nightly entertainment at Rixos Premium Tekirova is a dazzling array of shows. Gravity-defying acrobats, theatrical circus performers and dynamic, pulsating beats from DJ's and bands are on offer each night. These breathtaking performances are the hallmark of a Rixos resort.
Exceptional Events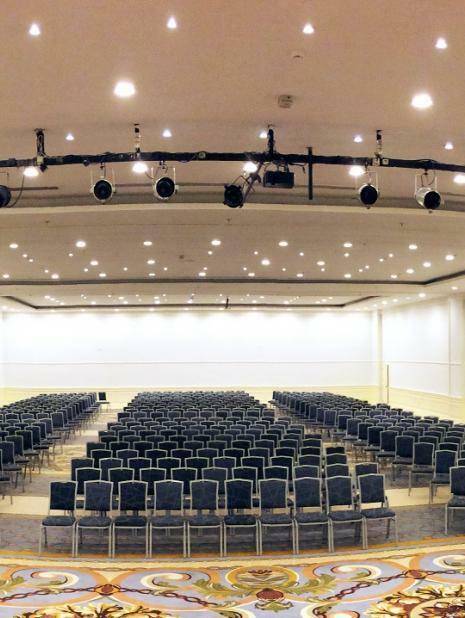 Whether you are looking to throw an extravagant family celebration or an intimate soiree, Rixos Premium Tekirova has a host of meeting rooms suitable for gatherings from 20 - 600 people.
The venue has been designed for maximum flexibility and can be divided into three separate halls. All meeting rooms and halls are equipped with cutting-edge technologies and our professional banqueting team are on hand to respond to all your needs and wants.
Wedding Package - Rixos Premium Tekirova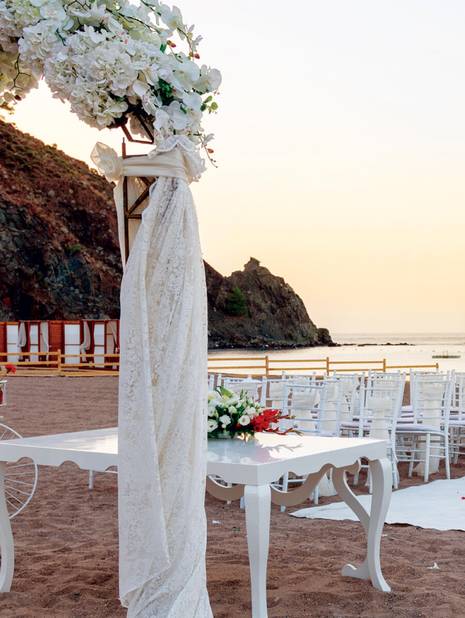 Mercedes Vito transfer service to the hotel (Bride & Groom)
Room upgarde for Bride & Groom couple
Welcome cocktail
Special Wedding Dinner Reception
*unlimited local alcoholic and non-alcoholic beverages (4 hours between 18:00 -24:00)
Wedding cake
Table flowers...
Discover more
Rixos Holidays Offers
Enjoy All Benefits Of Our Luxury Retreat Offer
Surround yourself with comfort, comtemporary design and uncompromising service.
See details +
Enjoy All Benefits Of Our Wellness Retreat Offer
Experience our traditional Turkish hammam with your friends and colleagues for a perfect socail gathering, or enjoy our signature experiences with your loved one amidst a luxuriously tranquil setting.
See details +
Enjoy All Benefits Of Our Romantic Retreat Offer
Perfect for an amazing honeymoon, a special wedding anniversary or a quiet weekend away for two. Our Romantic Escape will help you relax and unwind with your loved one.
See details +
Enjoy All Benefits Of Our Family Retreat Offer
Travel is always better together
See details +
0
Guests reviews
100% genuine reviews from our guests
Good stay
My family and I recently had the pleasure of staying at Rixos Premium Tekirova, and from the moment we arrived, we were enveloped in warm hospitality that made us feel welcome. The family suite rooms were spacious, elegantly decorated, and clean, they provided a perfect retreat for our stay. The well-maintained grounds and stunning landscaping added to the overall charm of the resort. A standout highlight for our family was undoubtedly the Rixy Club. This fantastic and fun-filled environment was a paradise for our kids. They provided a wide range of engaging activities that kept them entertained and happy. A special thank you to Begimai for her outstanding effort in ensuring our kids had a fantastic time. The entertainment activities at the resort were a blast as well, providing entertainment options for guests of all ages. We want to express our sincere gratitude to the entire team at Rixos Tekirova for providing us with such a wonderful experience.Thank you for the great memories, and we look forward to returning in the future.
Awesome stay
We had an awesome stay with family and really appreciate proposed upgrade from Garden Suite to Pool Villa Suite
Hidden Gem, Amazing Stay!
Where do I Start! My partner and I had the most incredible stay, beautiful hotel, all staff were amazing and I can honestly say without the staff we encountered we wouldnt have had such a brilliant time, the staff made the holiday so much better and that is an understatement. Firstly we were greeted by the lovely front desk team and given drinks on arrival, we were checked in very quickly and taken straight to the room and met our assistants, its the first time I have come across whatsapp groups at hotels and they are a game changer, loved it! Anything I needed or any questions I had I got an immediate response from both Tamara and Bermet. Our room was modern and spacious and was cleaned to a high standard everyday from our house keeper Munire who did a great job every time! Lots of lovely choices for food, the only downside for us is that we didn't realise that for most of the A La Carte restaurants you had to pay extra to reserve. We particularly enjoyed the food court, it was very relaxed and we could go straight from the beach. Breakfast was particularly one of our favourite meals of the day, because we pretty much sat in the same spot/area every morning, we were greeted by the lovely Ali, very quickly he remembered our drink orders for the morning so he'd bring them to us without even asking, A+ service. I was personally interested in sunbathing but my partner is very active so all the daily activities and classes kept her busy, thank you! :) The fitness team were great with her and she says they really got her motivated and they were high energy professional classes, and very knowledgable. I enjoyed more of group sports activities such as the football, volleyball, water polo and archery usually ran by the amazing Canan and Serkan, without those guys I might not have got involved in the activities, they were very welcoming, friendly and knowledgeable of all activities, I even learned archery to a decent standard! The pool games were also funny and encouraged new friendships. On the subject of friendships, my partner and I hadn't planned to be out every night but the shows and performances were so good, along with the entertainment team mentioned above (Canan & Serkan) including Cihan, they had us up on the dance floor every night, the Dj's played some great music and got everyone going, there was a number of nights there that had a very special vibe to them, we made a good group of friends that I am sure we will keep in touch with. I would also like to mention Ibrahim one of the bar staff/mixologists, he was very friendly and he would make me whatever I wanted, I would often ask him to surprise me and the reason I did is he always made the perfect drink/cocktail. We particularly enjoyed our time on the beds on the pier, this was our favourite spot even if it meant getting up early to secure a bed! Haha This is also where I met Ali the lifeguard, we often had chats via Google translate, he would tell me all about the marine life and he was super friendly and seemed very good at his job, always watching and keeping guests safe. I visited the spa on two occasions, after having had a complimentary few minutes massage on the pier by Nizam and his team I decided to go for a massage and the first one was so good I had to book another one in on the final day! We checked out officially at 12 midday, as we weren't leaving till later in the evening I was feeling a little apprehensive about not having a room to go back to but the facilities at the spa was fantastic, it was really good that we had access to all facilities until departure, its a nice touch and a nice way to end the holiday, as mentioned above I was able to have my massage on the last day, get washed and changed and enjoy our final meal which I must say the buffet on my last night was the best! We enjoyed a few trips to the art patisserie, I only wish I discovered the chocolate pieces sooner! The restaurants we went to were the peoples restaurant, the mandarin and the Turkish, had great experiences there and even enjoyed a late night dinner at 'peoples' after partying and a visit to the lovely private lounge, again these are great assets and would recommended guests take advantage of these. The ice cream parlour was a nice touch, we are going to miss our daily trips there! The staff in there always friendly aswell. I could go on and on about the hotel and the staff but I think I am starting to run out of characters. The overall experience was a 10/10, there was really something for everybody, the hotel itself was always clean including the beach areas, the staff are a credit to Rixos, I can't express enough the importance of each and everyone of them that made our time extra special. This was our first time at a Rixos hotel and our first time to Turkey, it was an unforgettable experience and can't wait to return and try other Rixos Hotels.
Perfect stay
This is already the 8th time we spent our holiday in Rixos Tekirova. Every year we increase the number of vacation days, and this year we had 18 days off. The staff tries to do a great job, the main restaurants for us were Veranda and Yummy. The team of the Veranda restaurant has been holding the high mark for many years, Oktay and his employees do everything possible to make all guests happy, they are great guys. At the Yummy restaurant, as always, the perfect and unbelievable Maria and her team do the great job Many thanks to the hotel management and especially to Mr. Tahir, who listens to the requests of guests and every year I can see how Rixos Tekirova improve the infrastructure and do all best to improve the services. Personally, my topic is volleyball and football, there are 2 excellent volleyball fields and the football field with natural grass, by the way, a separate topic is the Rixos Football Academy for children under 15-16 years old, excellent coaches, tournaments for children between all Rixos hotels on the coast Antalya and Kemer, it's just a bomb, mesmerizing... installing stands, floodlights, football stars, the sound of drums, it's impressive... the girls at the reception (Olive Tree) always helped us. Tamara and Ekaterina are excellent employees and always resolve questions very quickly, the main thing is don't be shy to ask them . Since I have visited two more premium hotels this year, I can say for sure that Rixos Tekirova is excellent and best of the best, and next year we are going to this hotel again and it will be 9th time for our family